It's that time again — NCDOT SPOT Prioritization time! Yes, unless you are thoroughly engrossed in transportation planning that sentence makes no sense, but it actually is an important opportunity to show your support for local bicycle and pedestrian projects, and especially for extending the Bolin Creek Greeenway in both Chapel Hill and Carrboro.
Read on!
How this works
Much of the transportation funding in North Carolina is allocated through the Strategic Transportation Investments law, which took effect ten years ago. Most of the funding is allocated to major, statewide roadways, but there are opportunities for funding transit and greenway projects (as well as bike lanes associated with road projects, typically widenings).
Through the "SPOT" process, transit and greenway projects are scored using data such as projected cost and potential number of users of the facilities (e.g. number of people who would use a greenway, or ride a bus).
However, the elected officials who represent the regional transportation planning agency — the Durham Chapel Hill-Carrboro Metropolitan Planning Organization, or DCHC MPO — are also allowed to list priorities, which is added to the project score and used to rank the different projects. The higher a project's score, the more likely it will get funded and built.
It's a long process. Even projects that score well and are a high priority may not get built for a decade or more because of a lack of money. So it's important that projects get included early, score well, and continue making progress in design so that there may be money available when construction is ready to begin.
Our recommendations for the survey
We urge you to take the survey and list your priorities. There are some good projects included. We have two recommendations:
1. Voice your support for extending Chapel Hill's Bolin Creek Greenway to Estes Drive
Support Chapel Hill's plan to extend Bolin Creek to the Carrboro town line (currently it ends near Umstead Park).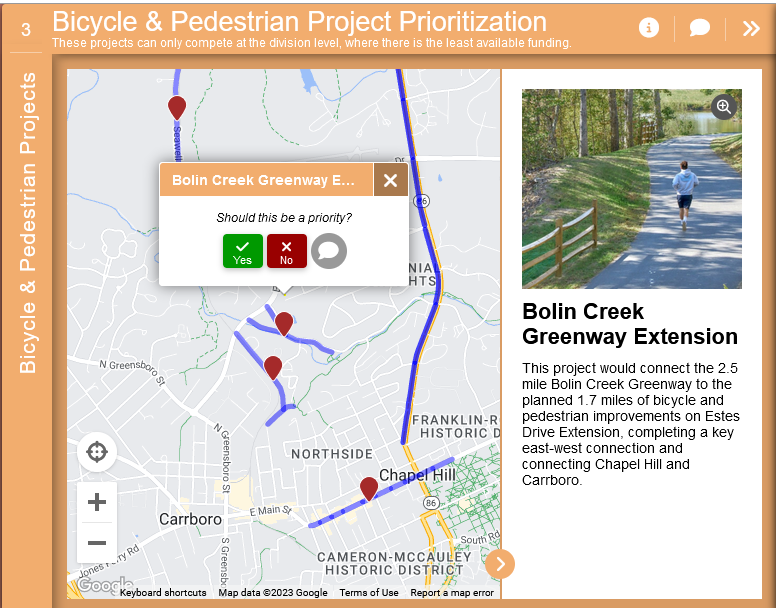 2. Leave a comment about the Bolin Creek Greenway in Carrboro
A project that is conspicuous in its absence is Carrboro's Bolin Creek Greenway. It is not included in the list of projects that the MPO is considering, even though there is an extensive study of the project, even though the Town is conducting public engagement, and despite the Council's clear interest in pushing the project forward. (As we've reported earlier, the Council is going to decide on an alignment for the greenway. The greenway can be submitted before that alignment is decided.)
There are other projects included in the MPO's list of projects that have not been studied at all, such as a proposed pedestrian bridge over US 15-501 at Eastgate, and a sidepath along Seawell School Road (which is a fine project, but not a good alternative to the greenway). Frankly, it's stunning that the Bolin Creek Greenway was not identified as a project in the SPOT process.
The MPO needs to know the Bolin Creek Greenway project is a priority, even though it's not included in the project scoring. At the end, you'll have an opportunity to leave additional comments. In the comment box, let them know that you're disappointed that the Bolin Creek Greenway is not listed as a project. Tell them that it should be the top bicycle/pedestrian priority (or even transportation priority) within the Town of Carrboro.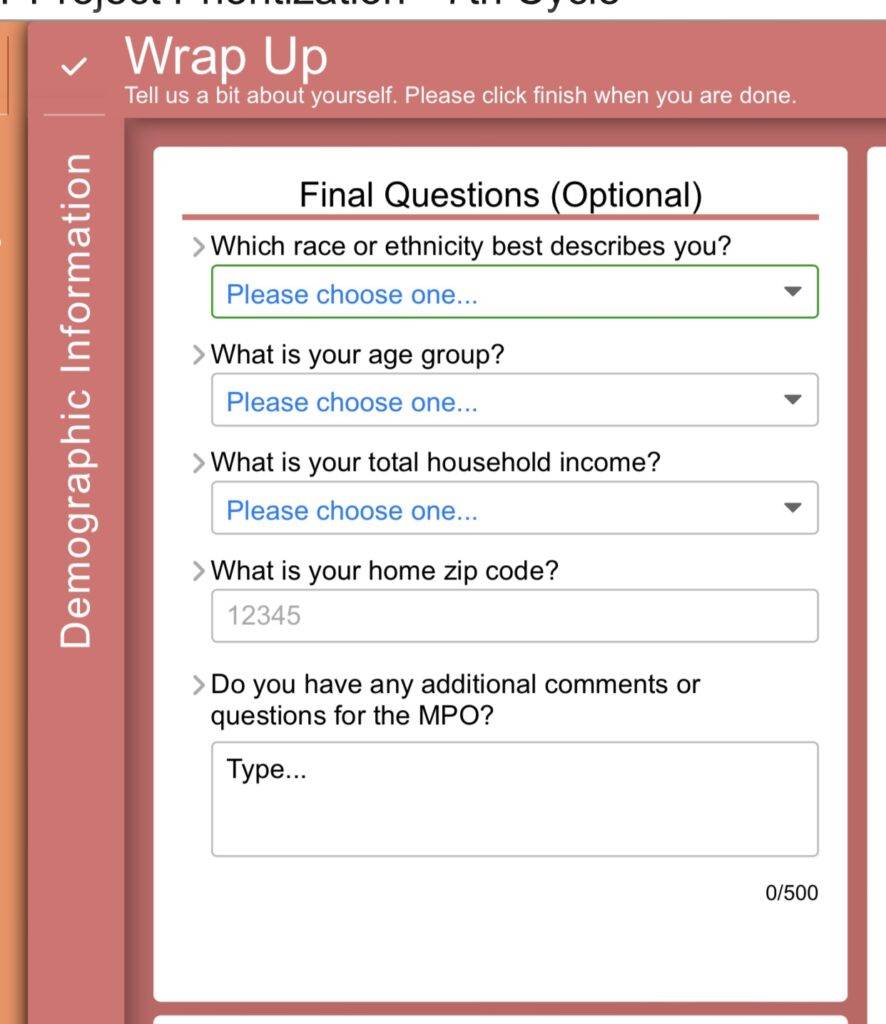 Improving Seawell School Road would be great as well – this project is also listed – but we see this as a yes and. It's important the the MPO leaders understand all of Carrboro's priorities.

Take the survey, and show our local leaders that you want the Bolin Creek Greenway in both Chapel Hill and Carrboro to be a priority!