In 2009, the Carrboro Town Council approved a conceptual master plan to build out a greenway network across Carrboro. The conceptual plan outlined common goals, listed existing connections across the town, and recommended that each part of the greenway (numbered 1-4) be implemented in phases. Funding for each phase has been separate, and obtained through a combination of federal and local money.

Sign up for the Carrboro Linear Parks Project mailing list to get updates on building out Carrboro's greenway network. Visit the Carrboro Linear Parks Project website for more information. There's also a helpful FAQ with answers to many questions.
Update: There is now a town survey asking residents for input about future greenway alignments. We support the creekside alignment for the reasons detailed here. Please take the town survey!
Right now, our greenway system is not complete — there are bits and pieces that have been completed, like the multi-use path in Wilson Park (Phase 1A) and the path between Homestead Road and Chapel Hill High School (Phase 1B). In each phase, the Town Council solicited public input, agreed on an alignment, and then solicited engineering and design input. This is typical for greenway development.
This summer, Carrboro Town Council will solicit public input for the alignment of Phases 3 and 4, the largest parts of the greenway, which will connect the separate existing parts of the greenway and create a 5-mile long corridor of safe, accessible, and car-free walking/biking/rolling paths for all of Carrboro to enjoy.
Recently, opponents to the greenway have suggested that instead of building a paved 10-foot-wide path along the existing 30-foot-wide sewage easement along Bolin Creek, that we consider building a "bikeway" along the busy roads of Homestead and Seawell School Road.
This alignment is not an acceptable alternative to the creekside greenway. In this post, we explain why.
Greenways serve everyone, not just bikers
First, we want to make it clear: greenways serve people of all mobility levels and modes of transportation (including feet!) Adding bike infrastructure to the town is great, but is not a substitute for a greenway. In Chapel Hill, we know that pedestrians are the primary users of the greenway. In addition, this proposed route will do nothing to help with the increased runoff or sedimentation into Bolin Creek. There are many reasons – including environmental ones – that the creekside alignment would be preferred.
What does Seawell School Road look like now?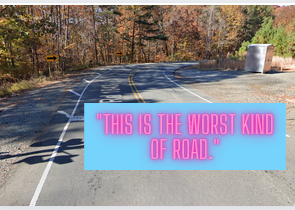 Currently, Seawell School Road is a narrow, two-lane road with no sidewalks for most of the long stretch between Seawell School Road and Estes Drive Extension. (Seawell School Rd *does* currently have continuous sidewalk on the W side from Homestead Rd to the schools.) It lacks a paved shoulder, much less sidewalks or any multi-use path. There's no plan to add these facilities in the near future, and one big challenge is that the route crosses the still-active railroad that brings coal to the UNC cogeneration plant. Along with the safety issues that poses, there are massive coordination challenges in building bicycle and pedestrian facilities across active railroad tracks. There is no plan to take the railroad tracks offline. A 2040 transportation plan suggests using the tracks for light rail.
Related: Bolin Creek Greenway Alternative Bike Map: "Not something I'd ever let my kids ride on"
Would you feel safe biking or walking along this road?
As anyone who drives on this road—it's not safe enough for even the most foolhardy walkers or cyclists—knows, this is not a safe street. At points it feels like a rural stretch of highway, but during school drop-off and pick-up it becomes as congested as Fordham Boulevard. It has a blind curve. (Note: seven years ago parents petitioned Chapel Hill to make the street safer, and while some improvements were made, the fact that the NCDOT considers it a "collector/minor arterial" road means that it will be difficult, if not impossible, to lower the speed limit or add other safety measures).
What if they added a sidewalk?
In 2018, Chapel Hill put together a request for bids for improvements on Homestead Road and a short section of Seawell School Road, including bike lanes, multi-use path, and a sidewalk. In April of 2023, the project was put out for rebid, but, crucially, the planned improvements do not extend to Chapel Hill High School, Smith Middle, or Seawell Elementary.
Even if the town built a sidewalk along the entirety of Seawell that currently lacks sidewalk, we would worry about distracted drivers, including high school students, hitting someone. It would not be a place that would attract walkers, and it doesn't provide access to nature. 
Is there even a plan?
In a word, no. The process by which street improvements are made on state-maintained roads (like Seawell) is too complex to go into detail here, but, essentially, local and regional government authorities regularly propose a wish list of projects they would like to see built in their community. After the list is submitted, the state scores the projects using a formula that is heavily weighted toward moving cars and trucks quickly through the state.
Normally, towns do some preliminary planning work before they submit a project to be funded. This helps ensure the project is feasible and consistent with public goals and the interests of stakeholders, like major property owners whose property might need to be taken to build a project. Even though the Carrboro Town Council recently recommended the Seawell Side Path for state funding, staff have acknowledged there are "no planning documents" associated with the project. Which side of the street will it run on? How much is it expected to cost? Will UNC and the railroad be willing to work with the town on making this happen? We don't know, because there is no plan. Meanwhile, the Bolin Creek Greenway has been studied extensively, and has already been adopted by the town. (We're debating the alignment now).
Greenway opponents are not acting in good faith
In December 2010, the Chapel Hill News, a local newspaper owned by the News & Observer, published a long piece on the debate about extending the Bolin Creek Greenway into Carrboro. In this piece, Save Bolin Creek, a group led by many of the same people that are currently behind the Keep Bolin Wild posters, proposed their preferred alternative. (Dave Otto, a greenway supporter, explains why this alternative route wasn't viable: it wouldn't serve any of the neighborhoods along Greensboro or Hillsborough in Carrboro, and any connectors would result in trees being removed).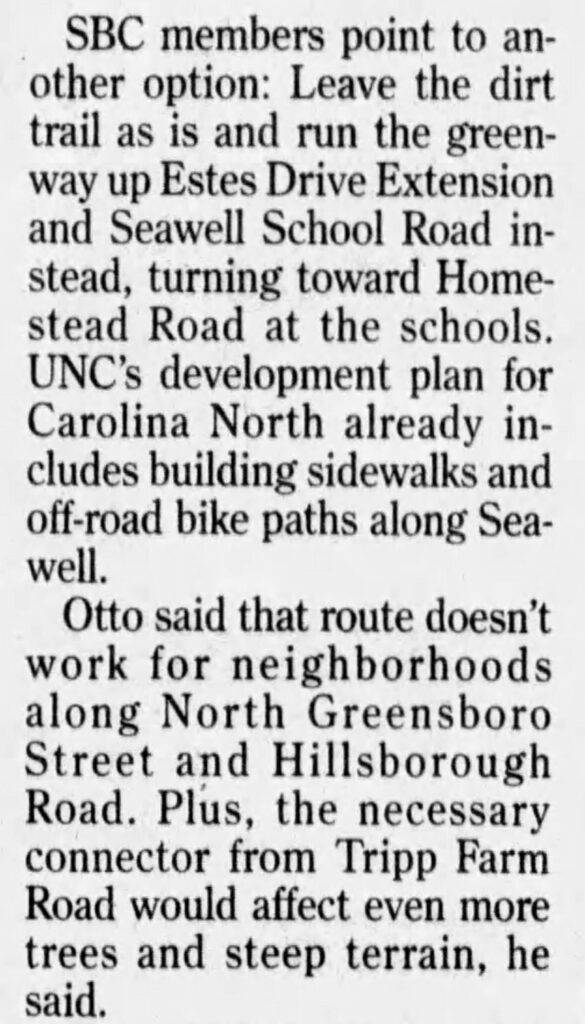 If you're having deja-vu, you're not alone. This is the same exact alternative that's being proposed now. If greenway opponents, a group that includes Randee Haven O'Donnell, who has been on the Carrboro Town Council since 2005, were serious about bike and pedestrian access to Chapel Hill High School, Smith Middle School, and Seawell Elementary School, they would have spent the past fourteen years advocating for improvements on these roads, which, to our knowledge, faces zero opposition.
The fact that they haven't suggests that the only reason to propose this alternative is to stop the plan to complete the Bolin Creek Greenway from going forward. (Sadly, advocating to block a project because of a supposedly feasible alternative and then doing nothing to make that alternative a reality, or even trying to block it, is something that happens all too often in our community.)
You don't have to press greenway opponents very hard to learn that they don't care all that much about whether our kids have a safe route to school, or whether we can move away from car dependency to protect the environment, or if people of all ages and abilities have access to nature. They are pushing this plan, even though a major argument for co-locating the greenway with the sewer easement is that doing so would actually shrink the total amount of impervious surface along the creek because in dedicating ten feet to pavement for trail users we can reclaim the other twenty to forty feet with seeded shoulders and other vegetation.
Instead, they want to keep people out of their backyards. Every street should have a sidewalk and a side path, and Seawell School Road is no exception. But putting a side path on Seawell School Road is not a viable alternative to completing the Bolin Creek Greenway.
Martin Johnson contributed to this post.