Earlier this week, the Chapel Hill Town Council held their first discussion on a proposed 11-story building on Rosemary Street (157 E. Rosemary) which would sit next to a seven-story parking garage and allow residents to commute by foot to UNC, UNC Hospitals, or the new wet lab (150 E. Rosemary) right across the street.
If approved, it would replace one of the ugliest buildings in town. The lingering smell of Bub O'Malley's alone is reason enough to push this through quickly.
The proposal comes with 50 homes (including condos), 3,000 ft of ground floor retail, and just 23 parking spaces (additional parking would be provided in the town's new deck, which was designed to support shared parking like this developer is proposing). The five proposed affordable units are quite large, though they're all on the same floor.
So what was haggled over last night at the TOCH meeting? The segregation of the five affordable units on a single low floor, which is a legitimate concern, and whether the building's height was "scary" or not.
But are tall buildings scary? Given the council's response last night, one would assume that council members—or perhaps a faction of the people of Chapel Hill–live in fear of tall buildings. Perhaps they all saw The Towering Inferno (1974) at an impressionable age.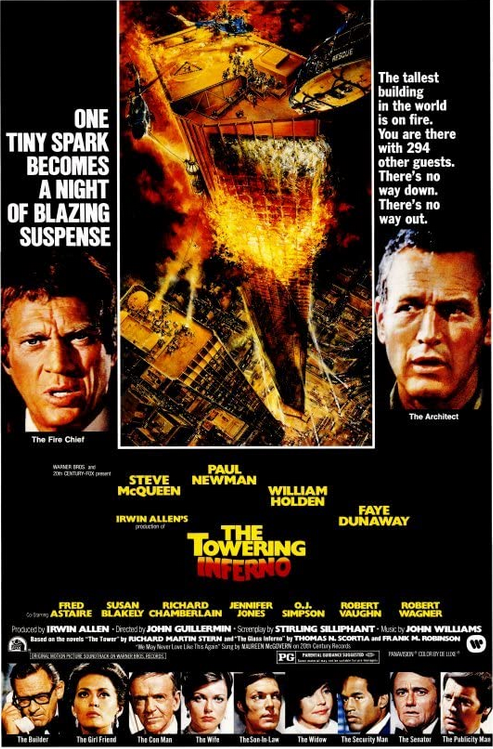 Bravely, several council members expressed that they are not afraid of height, while others expressed concerned or were agnostic:
| Councilmember / Mayor | Is height scary, worrisome, concerning, problematic, or otherwise troubling? | Proposal to address height |
| --- | --- | --- |
| Hemminger | "I'm really struck by the height at this particular point on Rosemary Street" | "I do agree with [town urban designer] Brian Peterson's comments about transitions" |
| Miller-Foushee | "11 stories, that's pretty audacious" | Ideal height is "between lab building and lower scale resident buildings to the north" |
| Berry | Berry did not address height | Berry did not address height |
| Anderson | "I don't think we need to be terrified about height" | A "transition from the lab to the the lower residential is a reasonable ask" |
| Searing | "I just would echo some of the concerns of the community design commission … about the proposed height" | A "transition between the lab and the residential area was a important [CDC] consideration when you're thinking about how high building is" |
| Ryan | "I have a real problem with the height" | "This should be like maybe TC2 [zoning], but I don't know that I could support TC3 here, we need that transition. The TC2 gives you like a 90 foot core height, it's still a big building." |
| Stegman | "I'm not afraid of height" | "The transitions are really important" |
| Huynh | "Also not scared of the height as long as we have the great design." | "Everything [Stegman] just said, I think the only thing I'll add is, this would be a great opportunity for a rooftop amenity. …I think this is a prime opportunity for some really dope architecture in our downtown." |
| Parker | "I think the height is problematic" | "It would be hard for [Rosemary] to carry buildings that tall on both sides of the street. You're really looking at canyoning and saying goodbye to the sun." |
To summarize, 33 percent of councilmembers are explicitly not scared of height, while 89 percent find the building's proposed height to be too high [Editor's note: We do not know if Berry did not discuss height because she is so unafraid of tall buildings that it's not worth mentioning, or is perhaps so terrified of height that she is not comfortable discussing it in public. We will reach out to her for comment.]
But instead of fearing tall buildings, or asserting that we're not afraid of them, we should be celebrating the fact that we might get more homes downtown. Why?
Approving a building downtown is like finding free money
This is a condo building, and, given the location across the street from a major research university, the council expects that these will be pricey houses. A single-family home down the street is selling for almost four million dollars, so a million-dollar apartment here will seem like a bargain by comparison. And, with 45 market-rate apartments, this property might have a tax value of $50 million or more.
At current tax rates, a $50 million property will generate almost $300,000 for the town every single year, plus more for the schools and county. And, it will cost very little in services. And, the people who live there will likely shop and dine downtown, contributing to our local community.
It's the same height as the lab building the town council approved just across the street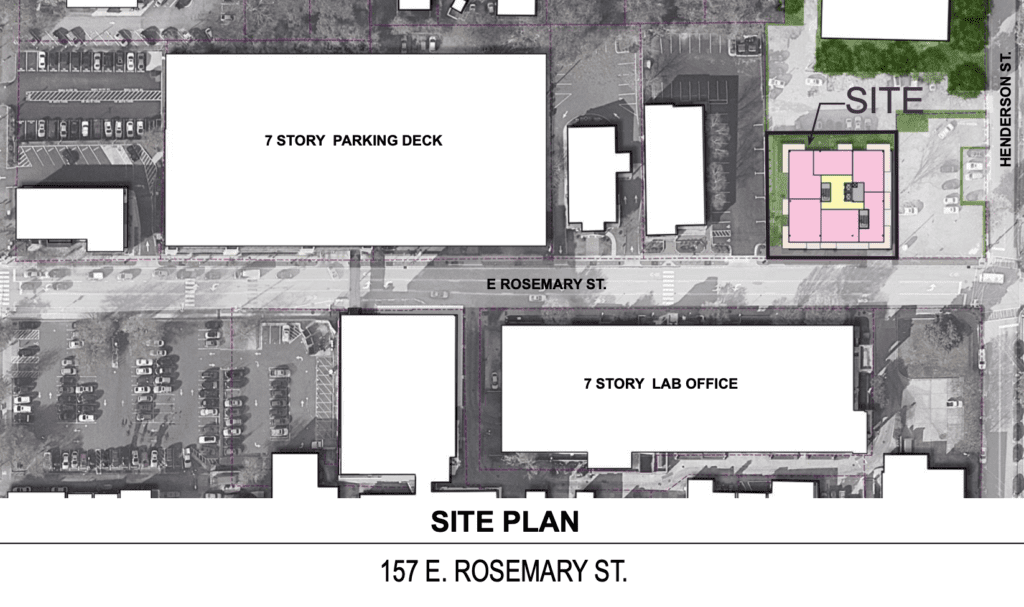 And not that much taller than the parking garage the town council approved just to the west on Rosemary St. Council's expressed concerns about the height of a residential building affecting existing neighbors are hard to square with their support of a hulking shrine to parking that will render Rosemary St. an uninviting block and loom over North St. for decades. The battle for East Rosemary St. is over, and cars have won out over pedestrians. At this point, we should be trying to use tall buildings to partially conceal the new garage—and we need new residents nearby to fill the deck and offset its hefty price tag.
Council also doesn't like squatty buildings
Council wants this developer to reduce the height of the building, buy the lot next door, then make the building wider. The result of which sounds like every proposed building Council dislikes elsewhere in town.
If we want a "transition" between downtown and the surrounding neighborhoods, we need to allow for taller buildings in our neighborhoods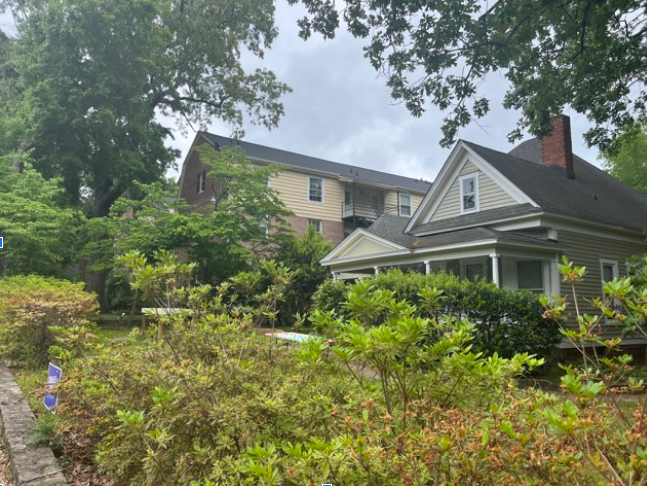 Council often balks at the height of buildings downtown because the surrounding neighborhoods are part of historic districts and neighborhood conservation districts that prohibit tall buildings. But if we allowed buildings as tall as the 1928 Graham Court Apartments, a four-story building on McCauley Street that was built before the town's zoning codes were in place (and long before we created "historic districts" to prevent people from building apartments just like this), it wouldn't seem quite so strange to have six-, ten- and twelve-story buildings downtown. We could also remove some blocks from the historic districts to allow for more people to live near downtown.
This is why we can't have nice things

If I were this developer, hearing Council's request to spend more money to build a less feasible project, I'd thank them kindly for their time and take my business to Raleigh, Durham, Asheville, Wilmington, or any other town that is serious about building a thriving and walkable urban core.
In the meantime, to gin up some foot traffic, maybe we can convince another pizza or chicken joint to take over Bub's old space.
What can you do?
Write to the town council and let them know that you're not afraid of tall buildings downtown.
Share this article with your neighbors. Maybe they don't love the idea of tall buildings, but they would enjoy having more restaurants downtown, better transit, and a more lively community, all good things that come with adding more housing in downtown Chapel Hill.
Visit a downtown business, and tell them that you support tall buildings downtown. Too often, businesses only hear from customers who are grumpy about not being able to park right in front of their shop. Tell them that you want more people to live downtown so they can thrive without being reliant on those who drive downtown.
This piece was written by Stephen Whitlow, Martin Johnson, John Rees, and Melody Kramer (subtle humor).