157 East Rosemary Street is heading to the Chapel Hill Town Council on Wednesday for a first look and — it's kind of wild. The proposed building has 11 stories, 50 dwelling units (including condos), 3,000 ft of ground floor retail, and 23-parking spaces (with additional parking in the town's new deck.)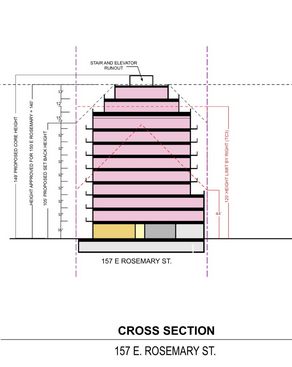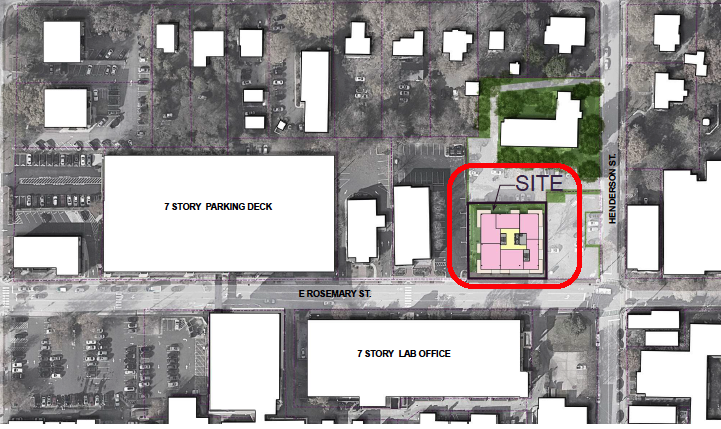 As they say in one of our favorite movies
If approved, 157 East Rosemary Street would be the tallest building in Chapel Hill.
Our initial thoughts:
What we like:
This replaces an eye-sore and an underutilized space.
Residents will be able to support downtown businesses.
The proposed affordable units (5) are quite large.
The ground floor will have retail that will increase foot traffic, and be useful for office employees at the wet lab and for residents nearby.
But there's also room for improvement as this project chugs through our development pipeline:
Currently, the affordable units are all on one floor
We like that the affordable units are large, but we don't like that they're all bundled together on one floor.
We encourage the town to think about parking
It seems that developers love the new parking deck. This is the second project on E. Rosemary that has proposed that its residents will rent spaces in the town's new deck (The first, at 101 E. Rosemary, remains on hold). One of the reasons contracting for parking is attractive is that parking is enormously expensive to build, upwards of $40,000 per space in a parking garage.
In recent years, Chapel Hill has been content to lose money on parking, thinking that it will lead to more business activity downtown.
While there is an argument to be made for making it inexpensive to park in town for a few hours so people can eat and shop downtown, we shouldn't be in the business of subsidizing car storage day or night.
Monthly parking in Chapel Hill is just $125/month. At the rate, it would take almost 27 years for the town to break even, giving them just three years of profit before the garage will be due to be replaced.
One strategy would be to offer monthly permits for daytime use (M-F, 7 am – 7 pm) and nighttime use (M-F, 7 pm – 7 am). That way, we'll make sure that people who are parked when demand is high (during the day) have access to plenty of spaces. Downtown apartment dwellers who wanted to have access to their car day and night would pay $250/month for space in the deck, making their use of the parking deck profitable after just 13 years. (Note: after publication we learned that the town is now charging $175/month for 24-hour parking, which means the town will recover costs in 19 years).
We should offer people who want occasional access to their car space in one of our remote park-and-ride lots, all of which are easily accessed via Chapel Hill Transit.
Whatever happens, this shows the need for bike infrastructure on Rosemary Street
The proposed building is a good reminder that we need bike lanes on Rosemary, instead of turn lanes that help cars speed. Do we want these new residents to bike or drive to Brandwein's bagels or Italian Pizzeria III?
We imagine there will be protests against the building's height. Given that the town approved the large parking structure nearby, it would be hard to argue that residences are not appropriate.
However, should residents choose to protest, we encourage them to read this banger of an article from the March 18, 1970 issue of Chapel Hill Weekly, in which a heated protest against a tall bank in downtown Chapel Hill involved a helium balloon, red yarn, and unsuspecting passerby that went hilariously awry.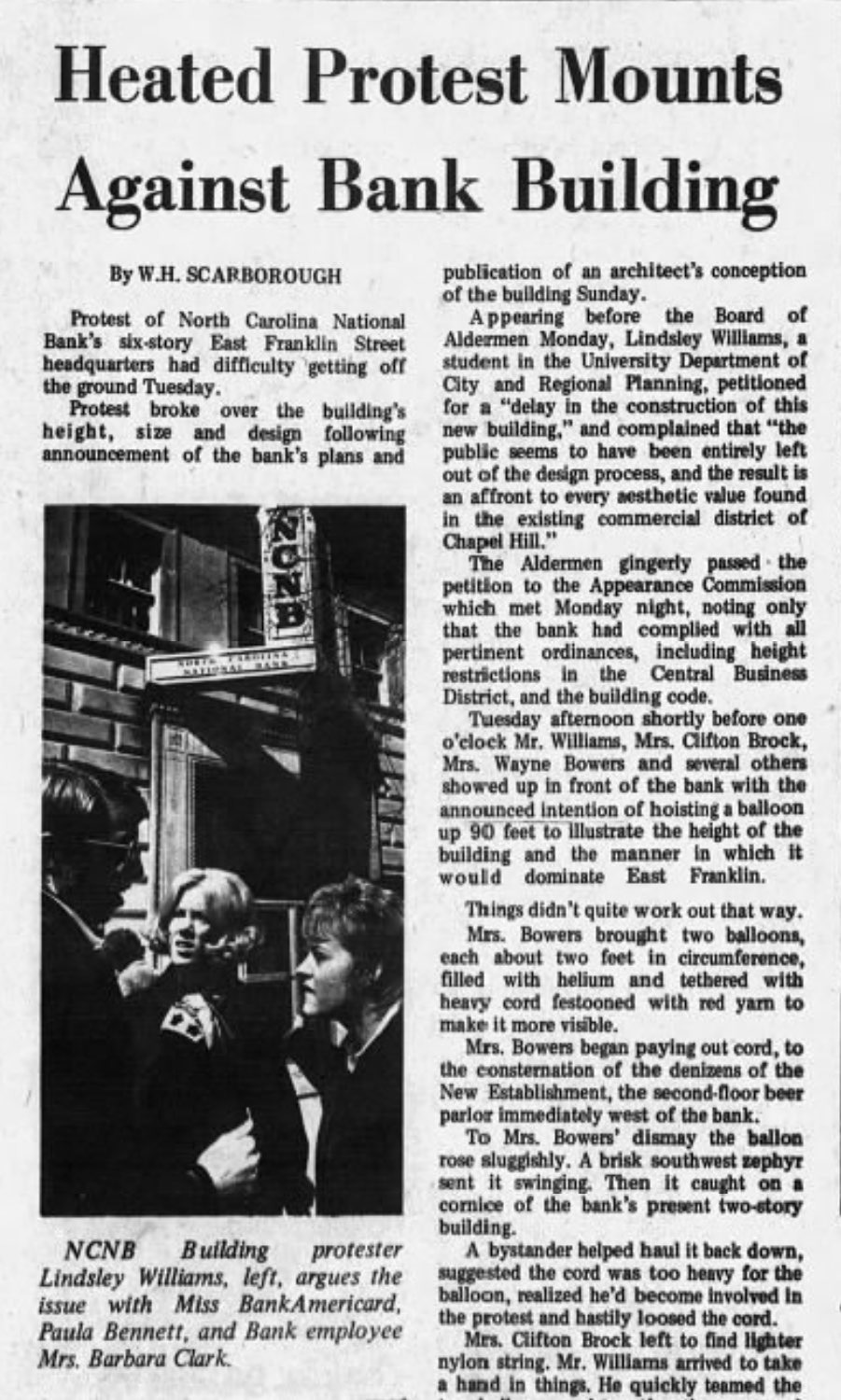 Note: An earlier version of this piece asserted that parking is $125/month for 24-hour access. Apparently, the fee is $175, but this fee is not listed on the town's website.