It's the last week to fill out the survey regarding Carrboro's greenway. We're strong proponents of the creekside alignment – it will connect the most neighborhoods, help kids across Carrboro walk and bike safely to elementary, middle and high school; will make it easier for people of all ages and mobility levels to be near nature, and will help mitigate the environmental damage and sedimentation caused by the existing sewage easement along the creek.
As you might expect, the approaching survey deadline also means there's a flurry of misinformation that is circulating by the anti-greenway folks. The latest is an email sent to a popular running listserv with an image purporting to show the route that elementary students living in Estes Park Apartments could take to get to Seawell Elementary School.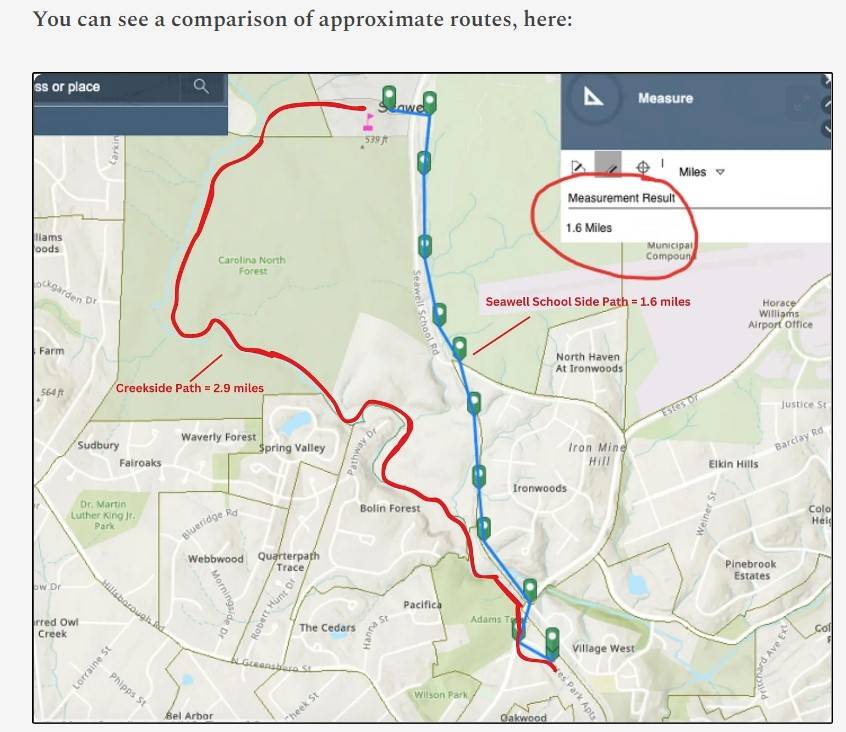 This is a doctored photo – the original appears on the Durham-Chapel Hill-Carrboro Metropolitan Planning Organization website and looks like this: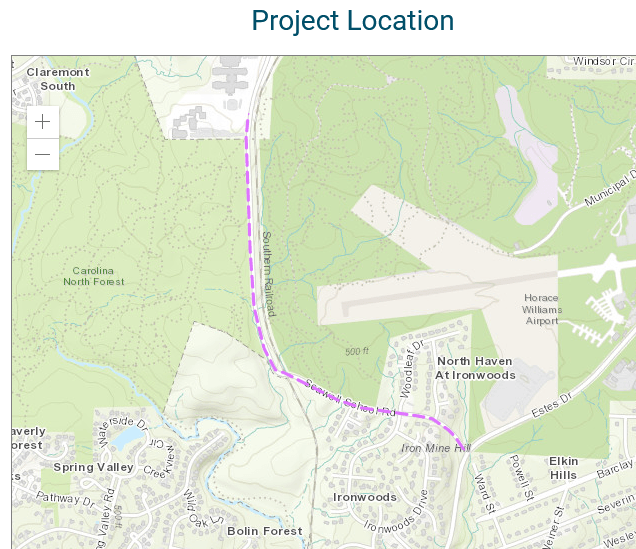 You can see the differences between the doctored version and the original in the image below. What you are seeing in this misleading map is about half of the Seawell School Road Sidepath (in brown) and other half is on top of an active railway line that delivers coal to UNC (highlighted in yellow).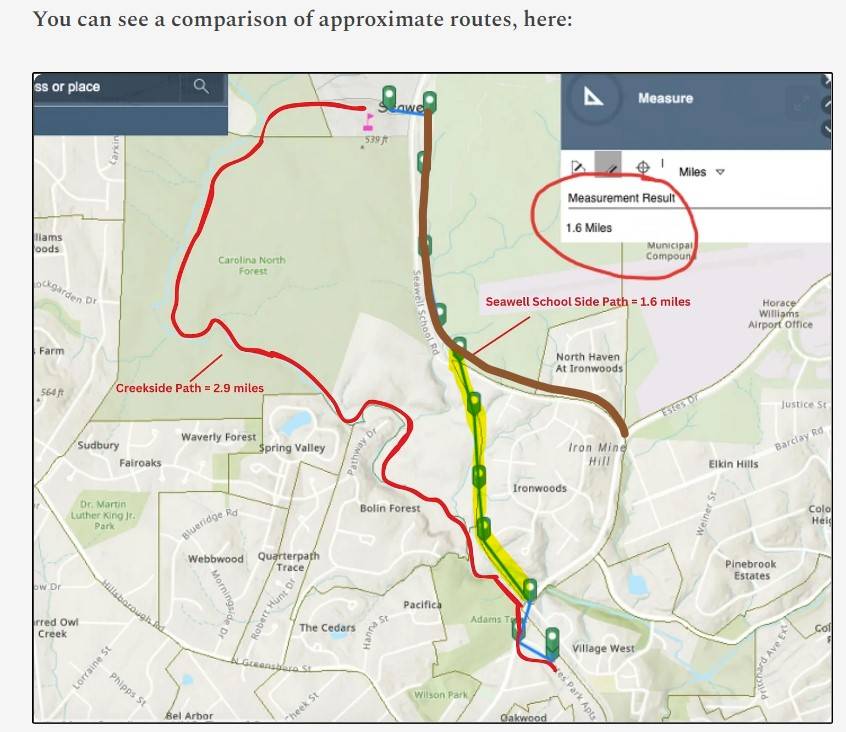 The problem with the parts in yellow, above, is that the route shown is over active railroad tracks and a railroad trestle, which have no plans to shut down – they are mentioned in our region's 2040 Transportation plans as a possible light rail connection between Carrboro and Hillsborough, if and when UNC stops using coal. But the train would never, ever permit people – especially kids – to bike and walk along active tracks. That's a liability and dangerous. This is what they are suggesting kids ride or walk over: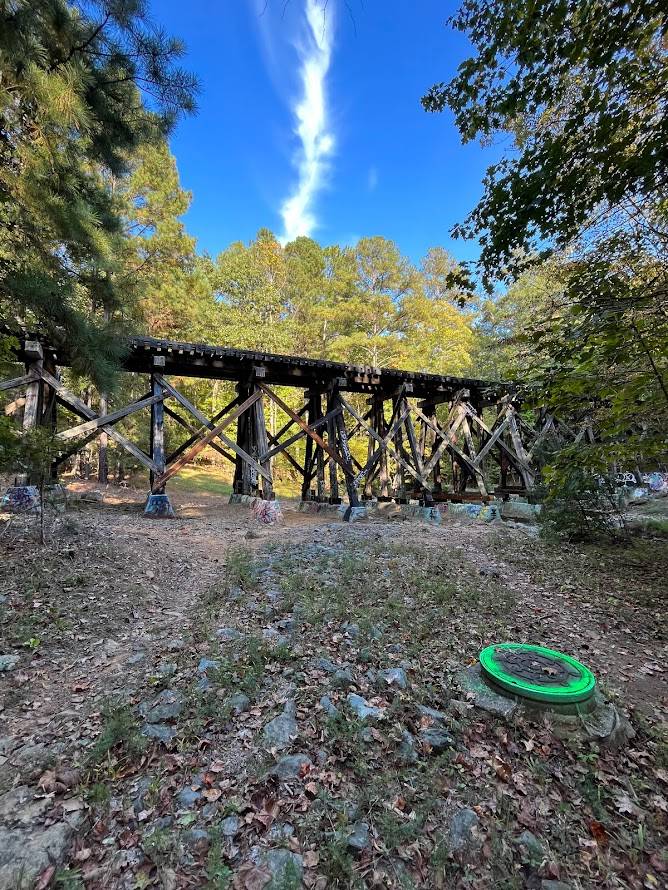 While there are plans in place to put in a side path along Seawell School Road – which is excellent – it doesn't have funding (and may not receive funding any time soon) and it doesn't make the same connections the greenway does. In 30 years, these two pieces of infrastructure will complement each other, further helping Chapel Hill and Carrboro residents bike and walk for 1-3 mile trips.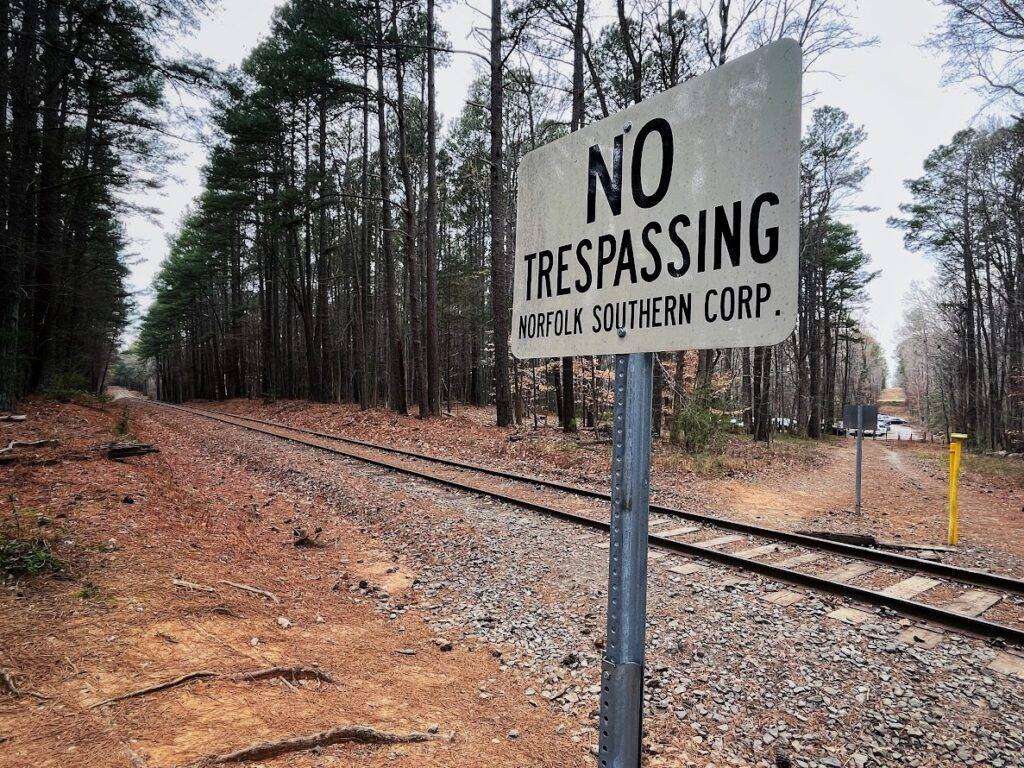 It would be super dangerous for kids to use the proposed route along the railroad and trestle suggested by the anti-greenway group – and it wouldn't connect any of the kids who live in Webbwood, Quarterpath Trace, Bel Arbor, Spring Valley, Sudbury, Fair Oaks, The Cedars, Oakwood, Bolin Forest, Pacifica, or in the mill houses near Carrboro Elementary – most of Carrboro – to their middle and high schools. In other words, this proposed route is:
Not feasible
Not safe
Not connecting most of Carrboro
Not mitigating the ongoing environmental issues with the creek, largely caused by bikers, runners, and trucks that maintain the sewage easement.
If you see misinformation like this, please forward it to us. We're at triangleblogblog@gmail.com

Sign up for the Carrboro Linear Parks Project mailing list to get updates on building out Carrboro's greenway network. Visit the Carrboro Linear Parks Project website for more information. There's also a helpful FAQ with answers to many questions.
Update: We support the creekside alignment for the reasons detailed here.