I recently attended a Carrboro candidate forum at Dr. Martin Luther King Jr. Park in Carrboro. One of the questions asked by the moderator was if the candidates supported building the Bolin Creek Greenway along the "creekside" alignment that best connects Carrboro neighborhoods to schools and parks.
Most of the candidates answered in the affirmative, but April Mills expressed a number of misgivings, including one that made me visibly wince: "From my understanding [the greenway] would need to be 30 feet away from the OWASA right-of-way, and so I do have concerns over where the path would go." (You can watch the entire forum conversation here.)
A similar comment was made on a very popular local Facebook group recently by Mills' ally in the town council race, Stephanie Wade. Wade, much more confidently than Mills, claims: "…you can't put a Greenway on the owasa easement. It has to be thirty feet back from the owasa easement. There will be hundreds and hundreds of trees removed…" 
This claim – that the greenway has to be located 30 feet outside of the easement and will require lots of tree cutting – has been made so many times by greenway opponents over the years and I am so perplexed by it because it's just so false. And I mean the "go outside and tell me the sky ain't Carolina Blue" sort of false. In fact, it is nearly impossible to find a greenway in Carrboro or any other town in the Triangle that is not located within a sewer easement, which is already cleared of trees.
Let's look at a few greenways in sewage easements!
The Jones Creek Greenway (technically an Orange County facility) runs from Morris Grove Elementary almost the entire way to Lake Hogan Farm next to a buried sewer main within an OWASA easement. Just zoom into Google maps and you can see the manholes next to the path.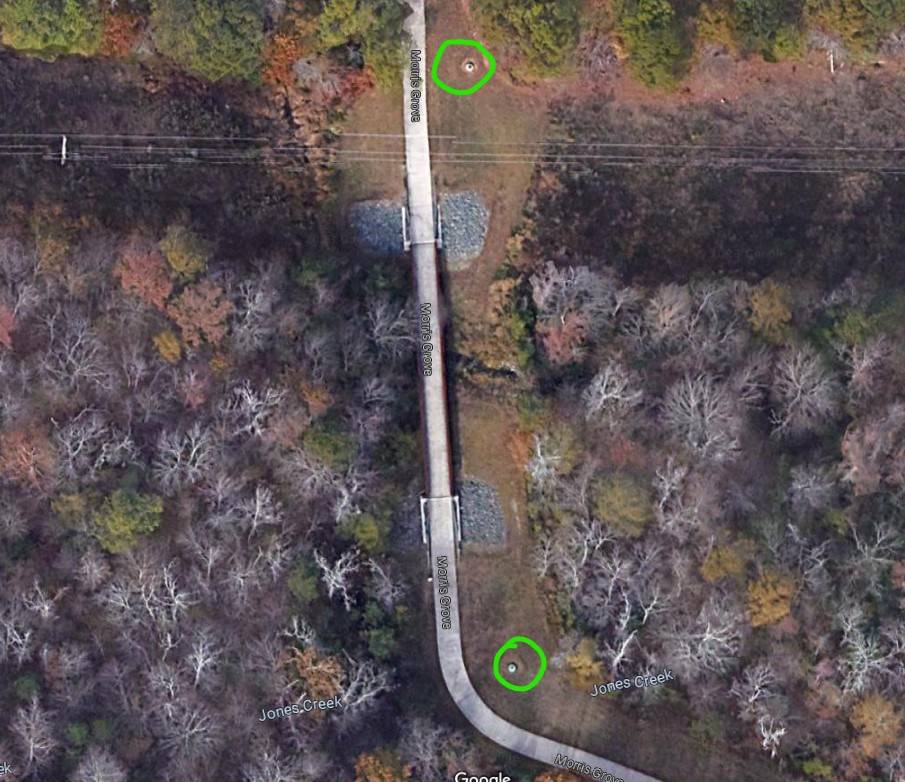 The Francis Shetley Bikeway is another example of a greenway that intersects with a sewer easement. Here's a manhole actually embedded in the greenway path.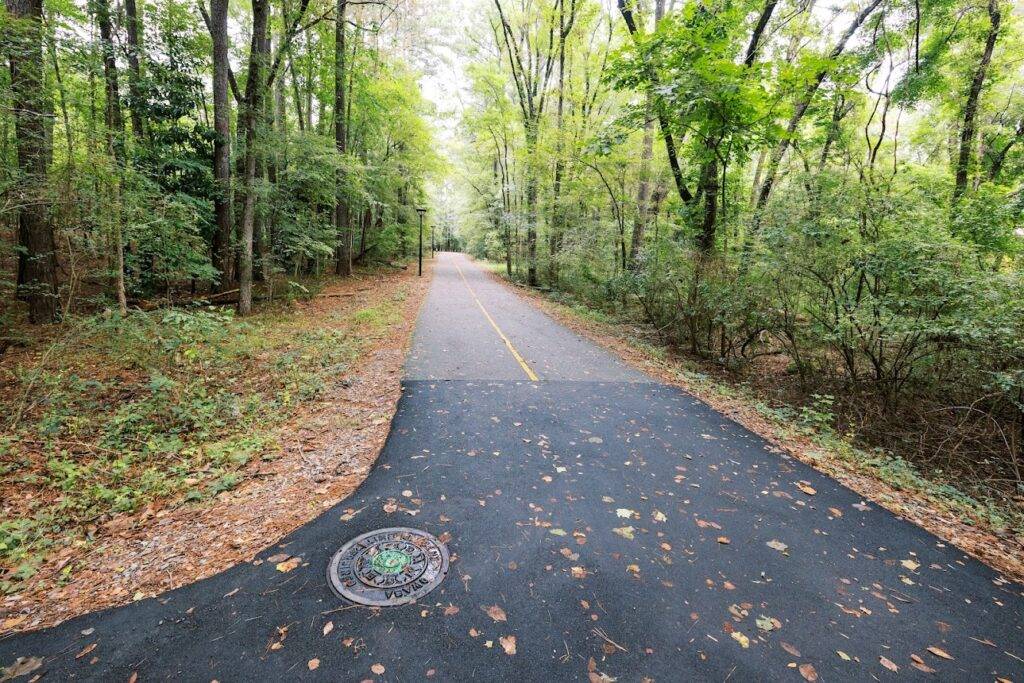 Let's stop for a second and admire the amazing tree canopy along this beautiful greenway.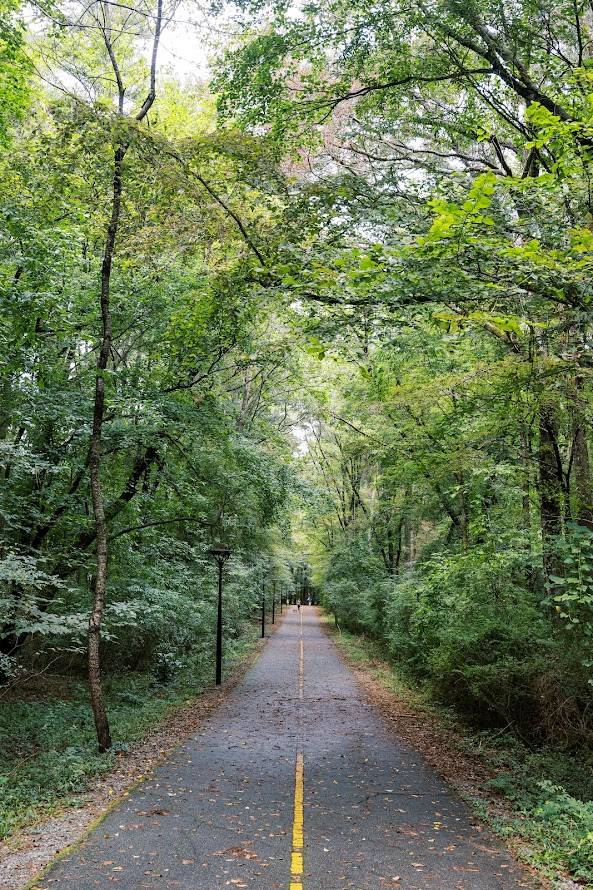 You can't even see the sky because the trees are so thick, which makes this travel corridor much cooler and more pleasant than a sidewalk next to a roadway in North Carolina in August. Greenways are the resilient transportation infrastructure we should be investing in right now.
Back in July the Carrboro Linear Parks Project hosted a greenway walk with Bill Webster, who helped design and build almost every greenway in Chapel Hill, including Chapel Hill's Bolin Creek Greenway which also happens to be (you guessed it!) built on top of the OWASA sewer easement.
Mr. Webster stated that the Town of Chapel Hill has an excellent working relationship with OWASA around building greenways in sewer easements. And for the Bolin Creek Greenway portion between MLK and Umstead, the town only had to remove twelve trees that were all less than 15" in diameter.  That's not hundreds of trees, that's twelve trees to build something that thousands of people use every year. This is possible because the trees are already cleared from the easement, which is one of the reasons greenways often find a home in sewer easements.
Greenways built in sewer easements are so common in the Town of Cary that they have combined greenway refurbishing and sewer main rehabilitation into a single multi-year capital improvement project. You can learn all about how these municipal facilities are maintained by watching this great video the Town of Cary put to together:
Alright, I think you get the idea: greenways can be constructed in sewer easements, which is precisely why we don't have to cut down hundreds of trees to build this greenway.
But why do greenway opponents keep repeating this obvious falsehood? A friend of mine recently said, maybe quoting Mark Twain, that a lie can get halfway around the world before the truth can lace up its shoes. Repeating this kind of misinformation at public forums or on social media sows confusion far and wide and it takes a lot of work to undo that. (I had to write all this!) Insisting that greenways can't be in easements or that they violate state water quality rules – also not true! –  is a way of conjuring a fictional regulatory reality in which something that is permissible everywhere else is somehow not permissible next to this particular creek near these particular neighborhoods in Carrboro.
Thankfully, the majority of the current Carrboro Town Council understands where greenways can and cannot be built. They also understand how greenways can move Carrboro to where it needs to be with respect to safe routes to schools, climate resilience, and making natural areas accessible to everyone. I look forward to the town council voting to settle the Bolin Creek Greenway alignment so we can stop arguing about what color the sky is in Carrboro.