Last night, the Board of Education for the Chapel Hill Carrboro City Schools met to discuss our school bus crisis. While we knew that things were bad, the presentation by Dr. André Stewart helped clarify the trouble we're in. A few highlights:
Since November, there have been 52 school days. On 42 of those days, there were students who did not have bus service to school.
The transportation department begins each day 15 drivers short. Office staff are filling in to help drive the buses, but that's not sustainable.
In addition to having trouble recruiting drivers, the transportation department is having trouble retaining drivers.
The school board was presented with three recommendations:
Recommendation #1: Increase driver pay to $20/hour
Recommendation #2: Adjust school bell start times and consolidate stops so the bus system can function with the drivers they have. (Note: this means that if the transportation department continues to lose drivers, even changing the start of elementary school to 7:30 am won't be sufficient). 
Recommendation #3: Institute a new transportation model for magnet school students, which involves using transfer stations.
After some debate, the board opted for Recommendation #1, even though it was acknowledged that even this pay raise might not be enough to attract drivers. There seemed to be more willingness to explore support Recommendation #2, which will likely be revisited in the near future. There was also some interest in supporting efforts to make it easier to walk to school.
What was missing from this discussion was the voices of transportation planners who can look at these challenges from a systems-level approach, as opposed to a narrow focus on operations. While the school board seems clearly concerned about these challenges, there was little discussion of the many ideas offered in the survey, such as supporting bike buses, and no discussion of how the schools might partner with Chapel Hill Transit to give students an alternative to relying on the school buses. To give one example, here's how a student at Smith Middle School would get downtown on Chapel Hill Transit: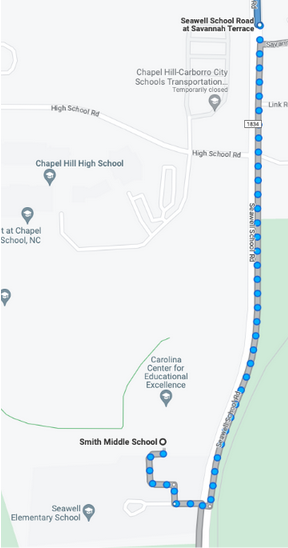 This is a fifteen-minute (or so) walk along a street that doesn't have a sidewalk, just to get to the bus stop. Could Chapel Hill Transit adjust its schedule to serve both the middle school and the high school? Would it be possible to prioritize completing the sidewalk on Seawell School Road? Has the school system considered hiring a teacher to walk with students to the bus stop to lower the strain placed upon the school bus system?
These are questions that probably can't be answered at a school board meeting. But we need someone to think about how our community can work together to solve this problem, because even a salary of $20/hour (or $30/hour) is unlikely to help us address issues that are caused by the suburban-oriented design of our neighborhoods, streets, and schools.
A final observation: When it came time for public comment on this issue, no one spoke at the meeting. If you're reading this, care about whether our school buses can get your child to school on time, and have time to speak at school board meetings, we hope you can attend the next one in person so you can voice your concerns. Please be in touch with us (triangleblogblog@gmail.com) if you'd like to discuss this more.