Valentine's Day is the perfect time to talk about missed connections – and there are two meetings tonight that will center missing connections in Chapel Hill and Carrboro's transportation infrastructure.
The first is Carrboro Town Council's work session (7pm, Town Hall, livestream) to discuss the public input process for Bolin Creek's missing greenway. Without Carrboro's paved greenway, we're missing an important link in a transportation network that would make it easier and safer for kids to get to school. The meeting is a work session, so no comments are allowed — we're planning to liveblog the meeting and will have a recap here for you on Wednesday. More on this later.

Sign up for the Carrboro Linear Parks Project mailing list to get updates on building out Carrboro's greenway network. Visit the Carrboro Linear Parks Project website for more information. There's also a helpful FAQ with answers to many questions.
Update: There is now a town survey asking residents for input about future greenway alignments. We support the creekside alignment for the reasons detailed here. Please take the town survey!
The second is related: because there aren't safe routes to school for many kids, we rely heavily on the school bus network. As we've written before, our school bus system is in big trouble. Also tonight, the Chapel Hill-Carrboro City Schools Board of Education will hold an in-person meeting at 2501 Homestead Road, Chapel Hill NC 27516. The board will meet in closed session at 6pm and then hold an open session as close to 7pm as possible. (Livestream)
The big item on the agenda is what to do about our school bus crisis. There are children who are spending two hours a day on the bus, and even longer just waiting for the bus to arrive. Many parents have had to give up on the bus entirely, taking an hour or more out of the day, time that they used to be able to set aside for work, or making dinner, or the dozens of other things one tends to as a parent of school-age children.
Even worse, because our buses are routinely late, students are missing class for no fault of their own. A slide from the agenda speaks to the breadth of the problem: thousands of hours of missed instruction time across all of our schools. It's terrible.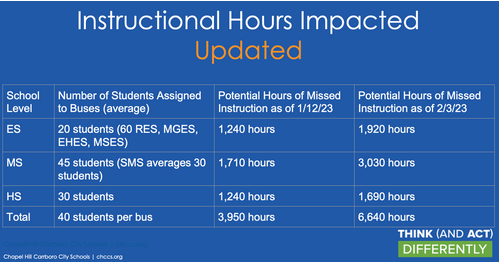 Two weeks ago, the school district sent out a survey about school bus transportation.
The survey response alone—1,536 families and staff took the time to respond, providing 5,589 comments—suggests the seriousness of the matter. (CHCCS reports 6,807 students ride the bus, which means that roughly 1 in 6 bus riding families took the time to respond to the survey.
Tonight, the Board will be asked to take action on one or more of the following:
The first recommendation involves immediately raising the minimum new bus driver pay from $16.62/hour to a local market-dominating $20/hour (currently-employed drivers would receive a three-step increase in July.) This recommendation also includes consolidated bus stops, dual roles that combine bus driving with other positions, and partnering with Chapel Hill and Carrboro on improved biking and walking options.
The second recommendation involves implementing a bell schedule change that would split elementary schools into two tiers so that the same number of buses can cover more schools each day.
The third recommendation involves changes to magnet program bus transportation.
Any action, if taken, would be for the 2023-24 school year. No changes are expected during the current school year, with the exception of a raise in new bus driver pay (if approved).
Our suggestions for these meetings
We are glad both of these meetings are taking place, and we have a few suggestions for each of them.
First, the school board meeting:
Suggestion 1: Use GIS to generate a walk and transit network analysis
Instead of relying on walk zones that are just concentric circles on a map, we'd encourage the school district to use GIS to generate a walk and transit network analysis. School bus routes should focus on places outside of these areas. UNC's Department of City and Regional Planning could partner with the district and do this analysis.
Suggestion 2: Talk to and partner with Chapel Hill Transit (and promote the town's free bus service!)
We have a transit network in town that goes to many of our schools. Parent and student education, communication about these alternatives, and partnering with Chapel Hill Transit could reduce the pressure on the bus system. This could include: talking about alternatives at every meeting where school buses are discussed, showing the routes and schedules, and taking kids/parents on mini field trips to get used to the bus and alternatives. More kids riding transit reduces the need for school buses.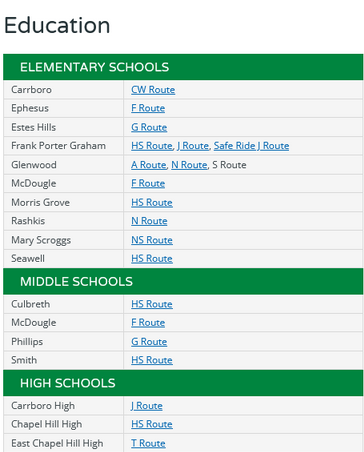 Suggestion 3: Reduce bus routes to what can be provided based on the existing number of drivers (with contingencies). Tell everyone else to find alternatives.
One of the worst things about this crisis, for me — this is Mel, and I have an elementary student — is not knowing what our transit situation is on any given day. The unpredictability is really hard. I get a text most days telling me that my son's bus will be late or combined. But some days, it's on time. Having consistency would allow me to make plans, which leads me to…
Suggestion 4: Help people find alternatives!
Launch a tool to match carpools, organize walking school buses and transit "pools" where parents take turns riding with a group of kids. The bike bus in Portland Oregon is something that could work here, with enough parent/grown-up help.
Suggestion 5: Provide extra support to students who receive free/reduced lunch
We don't know the demographics of who filled the survey out, but want to ensure that families who receive free/reduced lunch receive extra support, which can include the prioritization of services for families that do not have access to a car, free or subsidized membership in the planned e-bike share program, and inclusion in the carpool networks and other strategies discussed above.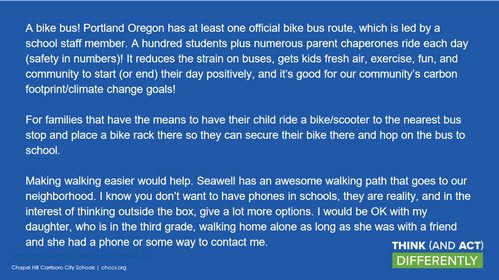 Our suggestions for the greenways meeting
Carrboro's greenway discussion may very well also help our school bus crisis — having safe, alternative and paved greenways will allow more kids to bike and walk to school safely.
But that's many steps away — tonight, Carrboro is discussing the public input process for the greenway discussion. Our suggestions for Carrboro's Town Council are as follows:
Suggestion 1: Come up with a timeboxed communications plan that ends in a vote
The discussion around the greenway has been going on for nearly fourteen years, because a small group of people have tried to stop the project. Whatever the community input process looks like, it should have an end date and a vote to move forward or not.
Suggestion 2: Come up with engagement that elevates voices that are not commonly heard
Rather than engaging with the usual suspects — which includes us — we wonder what school kids and their parents think about having a greenway along the creek that connects their neighborhood to their school? Do residents in Estes Park Apartments like the idea of having a managed linear park next to their homes? Does the school district, which is struggling mightily with transportation issues, have some feedback about a potential greenway to ease access to those sites? This is community engagement that might reveal new information and be useful in decision making.
Suggestion 3: Consider what public engagement processes that have worked and that haven't worked in the past
The staff memo released ahead of the meeting doesn't mention the town's comprehensive plan or the biennial survey. The comprehensive plan is widely viewed as having gone through a legitimate public engagement process and we can look to that effort as a blueprint for the greenway.
Our Local Governments Need To Work Together
In southern Orange County, we have four locally elected governmental bodies that bear some responsibility for how we get around our community—the town councils of Chapel Hill and Carrboro, the Orange County Board of Commissioners, and the Board of Education for the Chapel Hill Carrboro City Schools. They can allocate resources and ask public employees to work together to solve problems.
And yet, when one of us (Martin) asked CHCCS staff in December whether they had reached out to Chapel Hill Transit to see if they could work together to solve transportation problems, they admitted they had not and asked for me to connect them (which I did).
Likewise, the National Center for Safe Routes to Schools program, which helps governments allocate resources so more children can walk, bike, and roll to school, is based at UNC, which means we have street safety experts living in our community. But our local Safe Routes to Schools programs are divided across several governments, making them far less effective than they could be. Ideally the school district would host a Safe Routes to School staff position that would coordinate programming and identify barriers to active transportation for schools in both towns. Thankfully the towns have both applied for a Safe Routes to School grant that could be used to help fund such a position in the future.
Similarly, the greenway network may one day extend between Chapel Hill and Carrboro. And developing our greenway network helps make our transportation to school network more resilient in the long run. These are all interconnected issues, and we hope for better communication and connections this Valentine's Day.
If you're looking to spend Valentine's Day with us, we'll kick the liveblog off around 7pm.
This piece was written by Martin Johnson, Melody Kramer and Ryan Byars who plan to spend Valentine's Day liveblogging civic meetings. Their spouses may have some regrets….