Tomorrow! Saturday, December 3, at 10:30 is the Chapel Hill – Carrboro Holiday Parade!
A couple of important things to remember:  
Unlike past years, the parade is starting a little farther west and will begin at the corner of Church and Franklin Street. So, if you had a favorite spot to watch in the past, you may have to adjust and find a new place to enjoy the parade. See the parade route map below: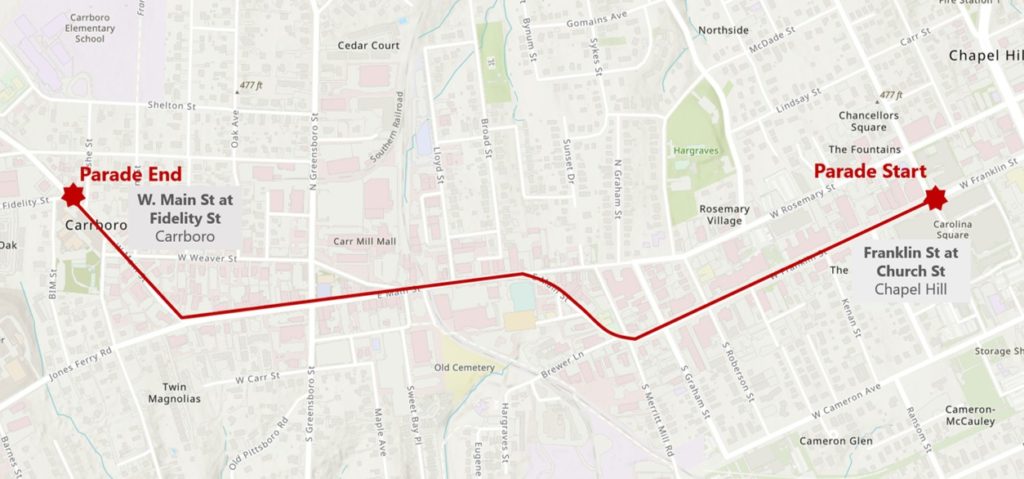 It's been a while since we had a parade – the last one was in 2019! As I have done for the last 5 or so parades, I will be joined by all my friends in the world of bikes and alternative transportation. And two of us will be rolling coffee bars, giving out free Carrboro Coffee to parade watchers, all delivered by bike!
We will be joined by several groups in the world of cycling, including youth from the Special Olympics, the ReCycleRy, Carrboro Bicycle Coalition, and the Bicycle Alliance of Chapel Hill.  If you have ever wanted to be IN a parade, you are welcome to join us.  Just be at 140 West (home of the famous cheese grater) which is located at Church Street and Franklin street, with your bike by 10:00AM