This is a two-part blog post. Part one explores what the working group is and why all Chapel Hill residents – not just those living near Booker Creek – should be paying attention to it. Part two explores the working groups' recommendations and whether or not they will actually solve flooding in Chapel Hill. (Spoiler: not so much)
In response to outcry from some Chapel Hill residents, Town Council halted the construction of planned flood mitigation projects and formed a working group to explore alternative approaches.
A group of people aligned with the Chapel Hill Alliance for a Livable Town (CHALT) – an anti-development organization that has repeatedly used the threat of flooding as a reason to oppose housing developments – were involved in halting the flood mitigation projects and forming the working group.
CHALT's involvement raises several important questions, the most important of which is whether the group's goal is stopping flooding, or stopping development.
What's the backstory here?
In 1958, someone thought it was a good idea to build a strip mall directly on top of Booker Creek and its floodplain. The culvert now transporting the waters of Booker Creek under Eastgate Shopping Center is undersized and the mall and surrounding areas have suffered severe, repetitive flood damage, including in 2000, 2013, and 2018.
2015
The Town of Chapel Hill hired engineering firm WK Dickson to conduct a study of the Lower Booker Creek Subwatershed and recommend options for flood mitigation.
2016
The Town of Chapel Hill held a public meeting in January 2016 to discuss the project. In November, the Town held a public information session in which WK Dickson presented its draft report. The report described the firm's proposed flood mitigation projects and their estimated costs, including several basins to temporarily retain stormwater, relieving pressure on the Eastgate culvert during storm events.
Dickson's presentation noted that land would need to be graded and trees removed, but the basins could be landscaped and used for public recreation space. Dickson also detailed community engagement conducted for the study, including a project website, survey, four public meetings, and two months to receive public comment on the draft report.
2017
In January 2017, Chapel Hill Town Council adopted Dickson's final report and its priority recommendation of six stormwater retention basins, mitigating flooding. Council authorized the Town Manager to commence designing, permitting, and constructing the six basins.
2021
In May 2021, Chapel Hill Town Council accepted recommendations in a second subwatershed study conducted by WK Dickson (Eastwood Lake Subwatershed). Like the Lower Booker Creek Subwatershed study, the Eastwood Lake study included multiple opportunities for residents to provide their input and feedback.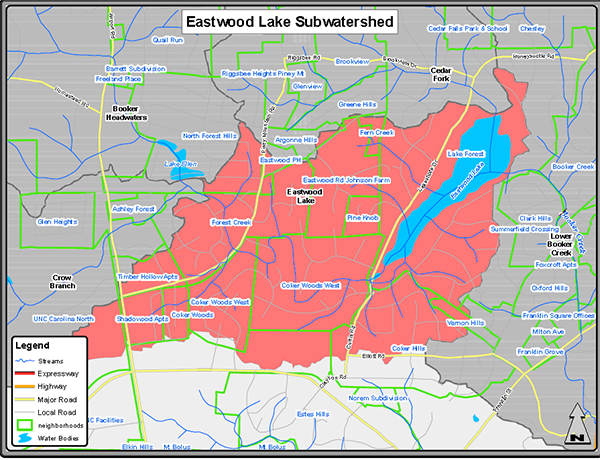 In June 2021, Mayor Hemminger and three councilmembers petitioned the Town to pause the design and construction of proposed stormwater mitigation projects "to allow the town to re-evaluate project goals and explore alternatives that will preserve functioning natural hydrological systems and protect our mature forests and habitat."
In July 2021, Dr. Edward Marshall, an adjunct professor at Duke who teaches leadership development and education, emailed Town Manager Maurice Jones and Town Council on behalf of the newly-formed Booker Creek Neighborhoods Preservation Alliance ("Alliance") with a number of critiques of the Town's process and a list of demands, including canceling the construction of the stormwater basins.
Marshall argued that the Lower Booker Creek and Eastwood Lake Subwatershed projects failed to adequately engage the community (despite websites, surveys, public meetings, and months of public comment) and put Town Council on notice that Alliance members would "expect a hearing, direct consultation, and partnering to address what is an unacceptable proposal" and demanded the Town "partner with [the Alliance] so this [the subwatershed projects] does not become an adversarial process."
In September 2021, the Alliance petitioned Town Council to "save our town's forests by rejecting the Lower Booker Creek Subwatershed Study's six proposed stormwater drainage basins" and requested that "at least 2 of our members [Michael Dupree and Dr. Marshall] be included in the proposed Working Group ."
On September 22, 2021, Town Council voted to withdraw its approval of six storage basins and approved the creation of a "Working Group on Stormwater Management in the Booker Creek Watershed." The new group — the Booker Creek Working Group — was charged with detailing the extent of flooding in Chapel Hill and identifying potential solutions to the problem.
How is CHALT connected to the Booker Creek Working Group?
CHALT is a small but influential anti-development organization that regularly weaponizes stormwater management and tree removal in its critiques of proposed developments, including Obey Creek, Aura, and the entire Blue Hill District. CHALT's "no growth" leadership has petitioned the Town of Chapel Hill to "re-evaluate its current emphasis on land use intensification—e.g construction of 90-ft tall apartment buildings," "prevent the removal of existing mature canopy trees" in Blue Hill, and "pause development in north-east Chapel Hill" (an open petition).
There is notable overlap between CHALT, the Booker Creek Neighborhoods Preservation Alliance, and the Booker Creek Working Group. CHALT was founded by former Chapel Hill Town counclmember Julie McClintock and she remains active in the organization.
McClintock is a former chair of Chapel Hill's Stormwater Advisory Board and now serves on the Environmental Stewardship Advisory Board. In January 2021, CHALT's newsletter included "compelling arguments" made by the Alliance regarding the proposed stormwater storage facilities. In Dr. Marshall's July 27, 2021 email to Town Council, McClintock was included among a group of "members of the Booker Creek Neighborhoods Preservation Alliance Coordinating Team, Experts Panel, and our expert resources."
John Morris, co-chair of the Booker Creek Working Group, is McClintock's husband. (Morris also directed the Director of the NC Division of Water Resources from 1980 through his retirement in 2008.) Pamela Schultz, the other co-chair of the working group, was invited by McClintock to participate in a CHALT event on March 21, 2019. Schultz also serves on the board of Friends of Bolin Creek, another organization that McClintock runs, that has worked to block a paved greenway in Carrboro.
Schultz petitioned the Town to include the Stormwater Advisory Board, of which she is a member, in the review process for new developments; CHALT supported the effort. (Noticeably absent from the working group is the perspective of developers, who are both routinely blamed for flooding in Chapel Hill and required to implement required stormwater measures.)
While we cannot definitely say CHALT is behind the petition that led to the Booker Creek Working Group, or the appointment of Morris and Schultz to the working group, there is much about this brouhaha that resembles the typical CHALT playbook:
Creating a new advocacy organization and website that appears unconnected to CHALT
Deploying a petition that is then used to claim that the new organization is the voice of the people of Chapel Hill
Cross-posting about the new organization on CHALT's website and in The Local Reporter, which is connected to CHALT through its Board of Directors
Vigorously lobbying Town Council to ensure their perspective and representatives are included in Town decision-making processes
Why you should care about the Booker Creek Working Group and CHALT's connections to it:
The Booker Creek watershed is large – roughly a third of the land in Chapel Hill. The Working Group's recommendations potentially impact a far greater share of residents than would be directly impacted by the cancelled stormwater retention basins.
Regardless of your thoughts on the right response to flooding in the Lower Booker Creek Subwatershed, the Town already invested in a thorough and transparent study with WK Dickson to identify problems and solutions. The work that all taxpayers supported is being put on hold because a subset of residents didn't agree with the proposed solution to flooding (provided by experts).
The Town's Stormwater Advisory Board, including Julie McClintock, unanimously voted to adopt WK Dickson's 2017 report and stormwater retention basin recommendations (McClintock, at the January 18, 2017 Town Council meeting, also praised Dickson's work, including efforts to engage the public). Regardless, the Town Council then disregarded the Advisory Board's support for the project and formed a "working group" based on a petition submitted by an organization (the Alliance) with no established reputation in our community. And then names the spouse (John Morris) of a petitioner (McClintock) and a CHALT supporter (Schultz) as co-chairs of the working group. Even if you agree with Council tossing out the recommendation of the Stormwater Advisory Board to instead hear from a working group on the same matter, you should be concerned that it installed two people closely linked to CHALT to chair the group.
While the Booker Creek Working Group is led by volunteers, there are significant Town resources dedicated to the group, including staff time to participate in the working group and conduct analysis on its behalf. If the petitioners' recommendations to expand the WK Dickson study to include a "cost/benefit analysis, environmental/ecological assessment, climate study, and community impact analysis" are agreed to by Town Council, project costs will continue to rise while our response to flooding is stalled (along with much needed new housing development).
The Working Group has acknowledged that its recommendations will not solve the problem of flooding, which raises the question of what value the working group provides. The working group has also acknowledged that it does not have the expertise needed to make detailed policy recommendations (the types of expertise, one might imagine, that WK Dickson is being paid by the Town to provide).
Given CHALT's advocacy history and opposition to nearly all development (and its support of Adam Searing in the last election) it is not unreasonable to question whether the group's recommendations are simply another attack on the possibility of development on the Greene Tract and the American Legion property, and in Blue Hill (each is partially located in the Booker Creek Watershed).
What impact will this have?
Flooding, in some ways, has been a gift to CHALT. It provides the organization with a serious and obvious problem that it can use to advocate against growth and development – and especially against multifamily development. It remains to be seen what impact CHALT has had on the working group and what impact the working group will have on Town Council's decision-making authority.
But for those like us who may be wondering if the creation of the working group and the recommendations they are developing for the town is really about controlling flooding versus something else, consider a few comments about the Alliance's petition from Dr. Marshall in a September 2021 meeting of the Environmental Stewardship Advisory Board.
"This [petition] is not the end, this is the beginning I think of what we need to have as a concerted effort to redirect policy and implementation and programs because it's gotten out of control."

"It just seems like the outside financial interests are driving all the construction of all these buildings down in Eastgate and all these exemptions are being given and it's just run amok."

"…I think our people – the citizens in Chapel Hill feel out of control. We don't own our town anymore. And it's time for us to get control of our town back. This is just an indication, the Booker Creek thing, is the tip of the iceberg in my view."
Additionally, in the chat of the working group's June 27, 2022 meeting, Marshall commented that "these recommendations would apply to any of the neighborhoods where there is a creek" and Julie McClintock commented, "Doesn't water quality and flooding matter all over town?"
I don't know about you, but I'll bet my flood insurance premium that we'll soon be hearing from the Alliance and affiliated groups that the recommendations of the Booker Creek working group should be adopted town-wide.
About those recommendations…
In a follow-up post, we'll break down some of the group's recommendations. In short, they appear to offer little in the way of flood prevention, but much in the way of preventing development.