Happy Walk, Bike, & Roll to School Day! The occasion provides a good opportunity for me to share what you might consider a "nerd urbanist parenting" milestone that I recently reached, which is that my daughter rode her bike to school without one of her parents accompanying her. My daughter is seven years old and in the second grade. She and a friend from a nearby neighborhood met each other on the road and biked in together like a couple of bosses.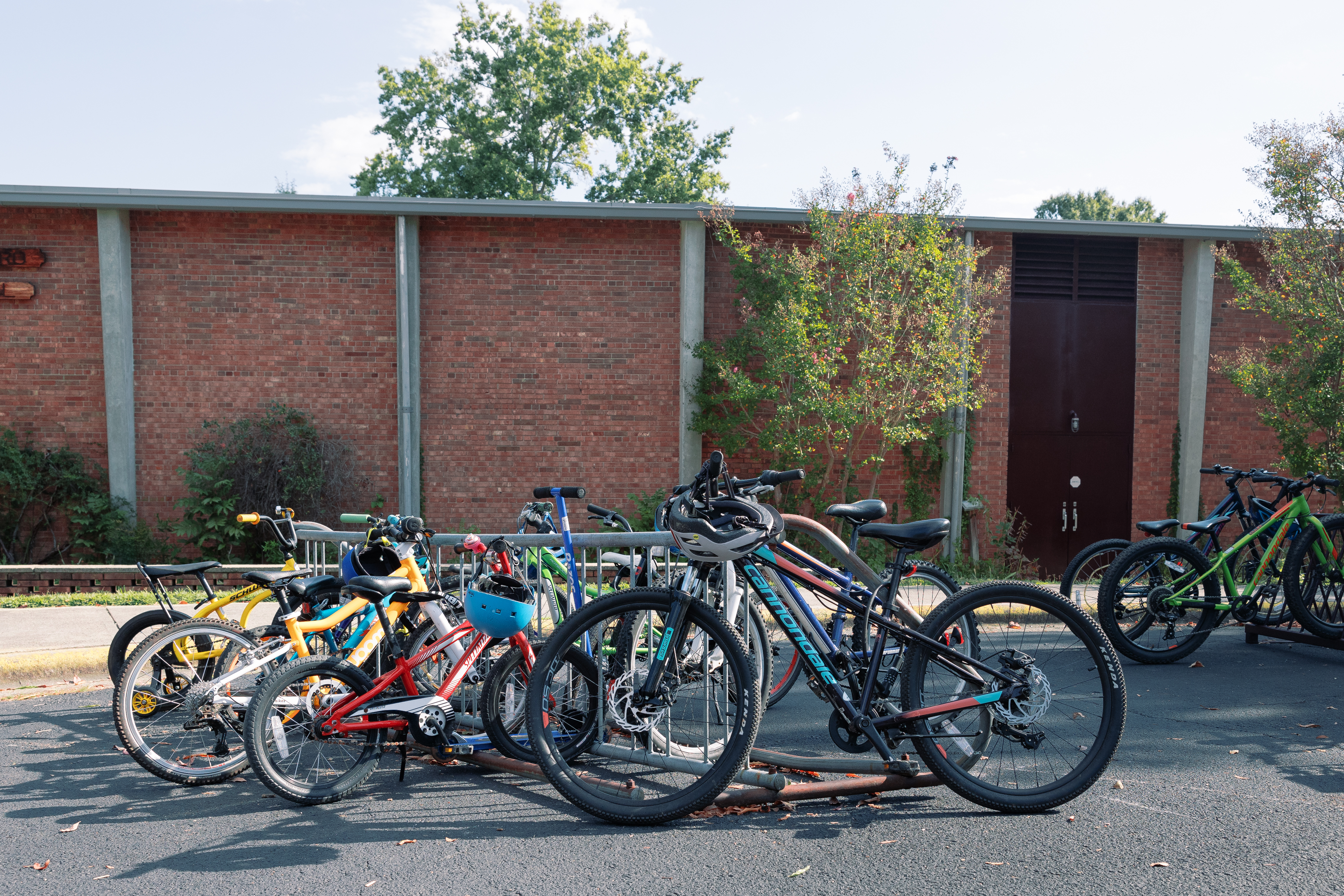 If you're a parent reading this, you are either thinking "what's the big deal here?" or "that is unimaginable to me", but how you react to my daughter's solo voyage is very likely rooted in how you understand the risk presented by the built environment between your home and your kid's school. If your neighborhood doesn't have sidewalks, or your kid would need to ride on a state-owned road where cars regularly exceed the 35 MPH speed limit, then you would very unlikely feel comfortable letting your seven year-old venture to school without you. In fact, you may not feel comfortable walking or riding bikes to school at all and so you may be driving your kid to school.
Below I wanted to list a few of the conditions that made this little milestone possible in an effort to show how our towns can, and in some cases already do, improve conditions for our children to have more autonomy and be less car-dependent.
Can your kid ride a bike competently?
This has to be the first box to check. Your child needs to not only be able to ride a bike but to do so in a predictable manner that isn't going to give you a heart attack. All of my kids have been riding bikes from a very early age and our family travels around town together on bikes, and this has produced some very competent kid cyclists. Not every adult feels comfortable riding a bike or, at least, riding bikes with their kids around town. Thankfully, there are some tangible things that our towns can do to increase cycling competency.
One of my favorite programs is All Kids Bike which provides bikes and curriculum to elementary school PE teachers so they can teach every kid at their school to ride a bike. These special bikes start out as balance bikes with no pedals, and as students progress pedals can be added and then BOOM kids are riding bikes and learning the rules of the road.
"The All Kids Bike program has been one of my favorite additions to our P.E. program. The kids absolutely love getting on the bikes and so many kids have now had biking experiences who, otherwise, had not or would not have had the opportunity to learn to ride. Joy, confidence,… pic.twitter.com/eNXmM4beug

— All Kids Bike (@AllKidsBike) August 29, 2023
Another great tool for growing confident cyclists in your community are traffic gardens. Traffic gardens are miniaturized cityscapes with roads, intersections, and stop signs that provide families a safe place to practice riding on the real thing. The Town of Chapel Hill briefly had an awesome traffic garden at Homestead Park, but it was removed to make room for more car parking 🤮.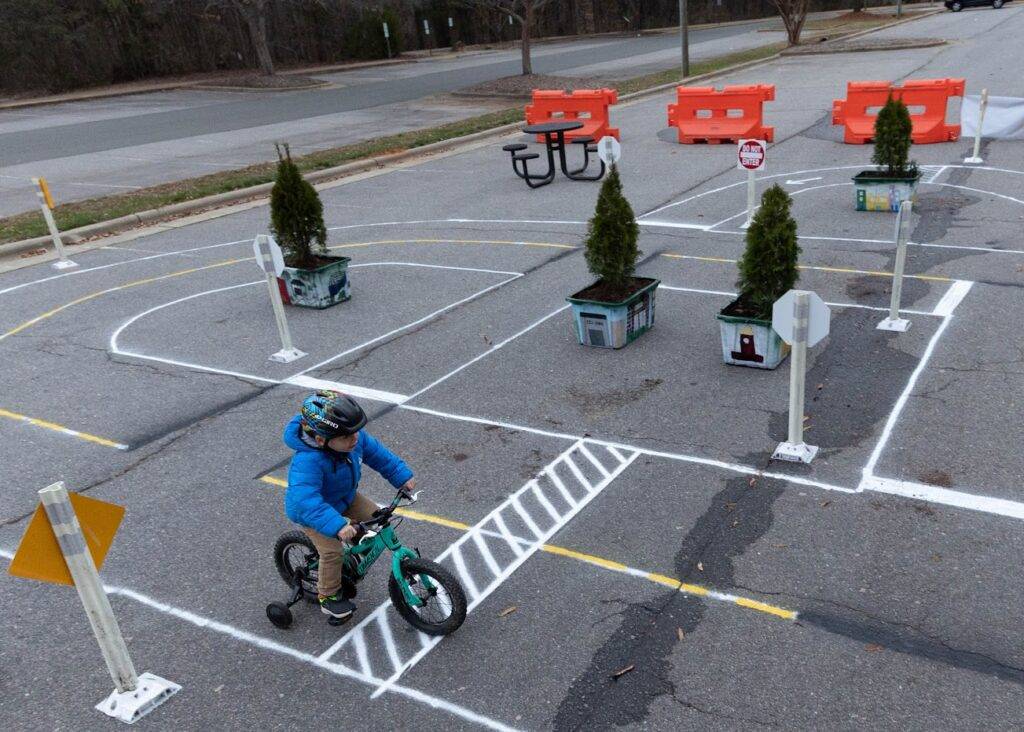 But parents in Chapel Hill can rejoice because the town staff have secured a grant, with some matching funds, for $330k to do Safe Routes to School (SRTS) programming. SRTS programs focus on helping schools and families close the gaps so that children can arrive at school on their own two feet (or wheels).The town is actively recruiting for a SRTS program coordinator and that person will be in charge of bringing these and similar programs to schools in Chapel Hill.
Are other people around?
One thing that makes sending your kid off solo more palatable is knowing that they aren't actually going to be alone even if you aren't there with them. If your neighborhood has tons of kids biking or walking to the school, there is some real peace of mind knowing that another parent will likely be around if your kid suffers a mishap. I helped a kid the other day get his chain back on his bike, and I know any parent out there would have done the same.
More importantly, I have noticed that the presence of large numbers of kids walking or riding to school significantly impacts driver behavior. Seeing little bike helmets bobbing up and down signals to drivers to slow down and give a wide berth. Our school – McDougle Elementary – has a fairly high number of kids that arrive by bike, scooter, or on foot, which provides a good deal of naturally occurring traffic calming.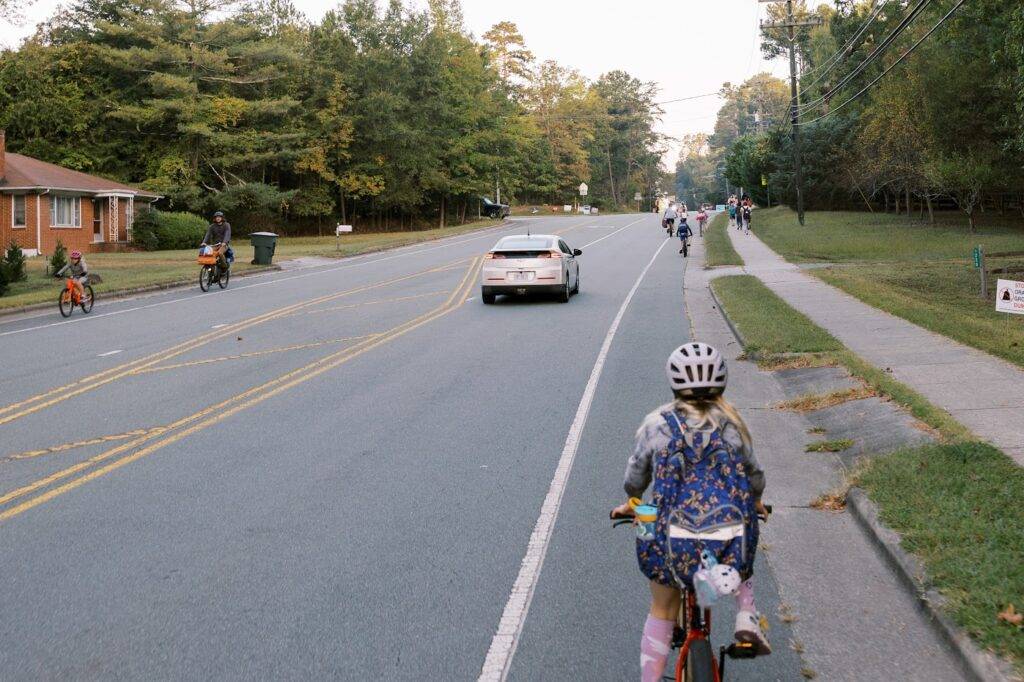 The entrances to the schools themselves can be dangerous, mostly because of all the car traffic generated by the school drop-off queue. Thankfully, many schools have crossing guards that force cars to stop and wait for children as they make their way on site. I don't know that I'd let my daughter cross Hillsborough Road with all the school-related traffic that time of morning without our school's crossing guard.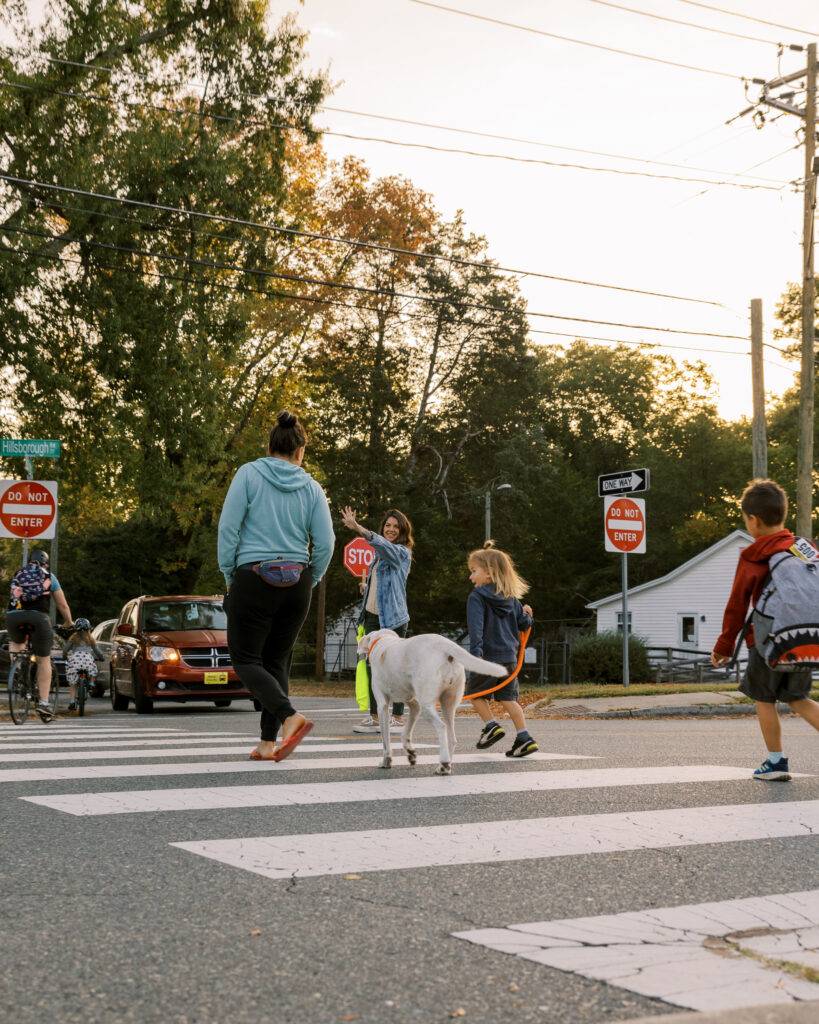 Some schools have organized kids to ride their bikes together, something that is known as a bike bus. By literally taking over the streets, these kids are ensuring their safety in numbers. It's pure joy to watch, too:
Kids arrive happy, healthy, and ready to learn when they ride a bike to school. #BikeBus pic.twitter.com/Un78smRnxL

— Qagggy! (@Qagggy) October 4, 2023
But getting large numbers of kids riding to school often depends on this last checkbox:
Is your built environment safe for children?
This is probably the biggest barrier to children getting themselves to school: are they confronted with a hostile environment? The reason the built environment is such a huge barrier is because it can literally kill your child and it is also the hardest thing to change. I don't care how good my 7 year-old is at mountain biking or navigating stop signs, I would never let her ride her bike on this narrow section of Homestead Road in Carrboro that separates the Lake Hogan Farm neighborhood from the rest of town. And fixing this stretch of road is difficult and expensive.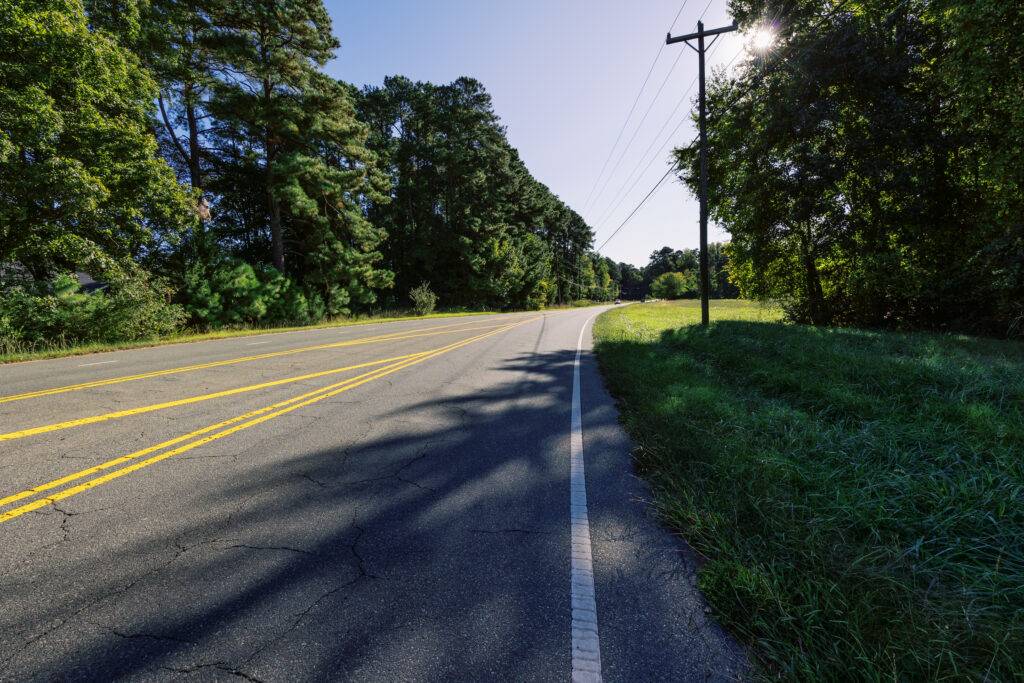 Crossing guards in front of schools are great but crosswalks further from the school are not typically staffed by a competent and caring adult. This is where fully signalized crosswalks, like near the Estes roundabout in Carrboro, or rectangular rapid flashing beacons (known as RRFBs), like on Homestead and Aquatic Drive in Chapel Hill, can help get kids safely across streets. Any street that has a speed limit above 25 MPH should probably have some sort of signalized crossing device in place, but many do not.
Painted bike lanes are another way to get kids safely to school on bikes, but they have some real limitations. Our daughter rides in the bike lane on Pathway Drive in Carrboro, which is a low-traffic neighborhood street with a 25 MPH speed limit. These bike lanes work well (when people don't dump their yard waste or cars in them) because traffic speed and volume is low.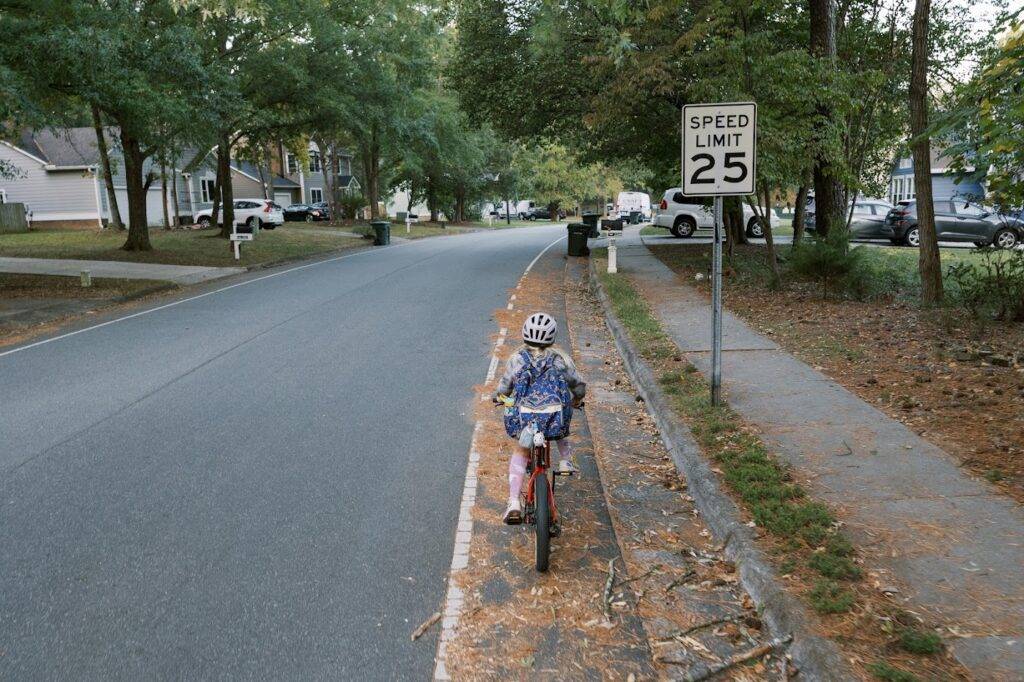 However, painted bike lanes on roads that are designed for higher speeds, like Hillsborough Road in Carrboro or Weaver Dairy Road in Chapel Hill, do not protect children adequately from the dangers of cars. According to the National Association of Transportation Officials, protected bikes should be installed on any road where vehicle speeds exceed 25 MPH. A protected bike lane is one that is physically separated from vehicle traffic by a curb, bollards, or some kind of vertical delineation. Without protected bike lanes on arterial roads, many children are cut off from where they need to go unless they get a ride in a car.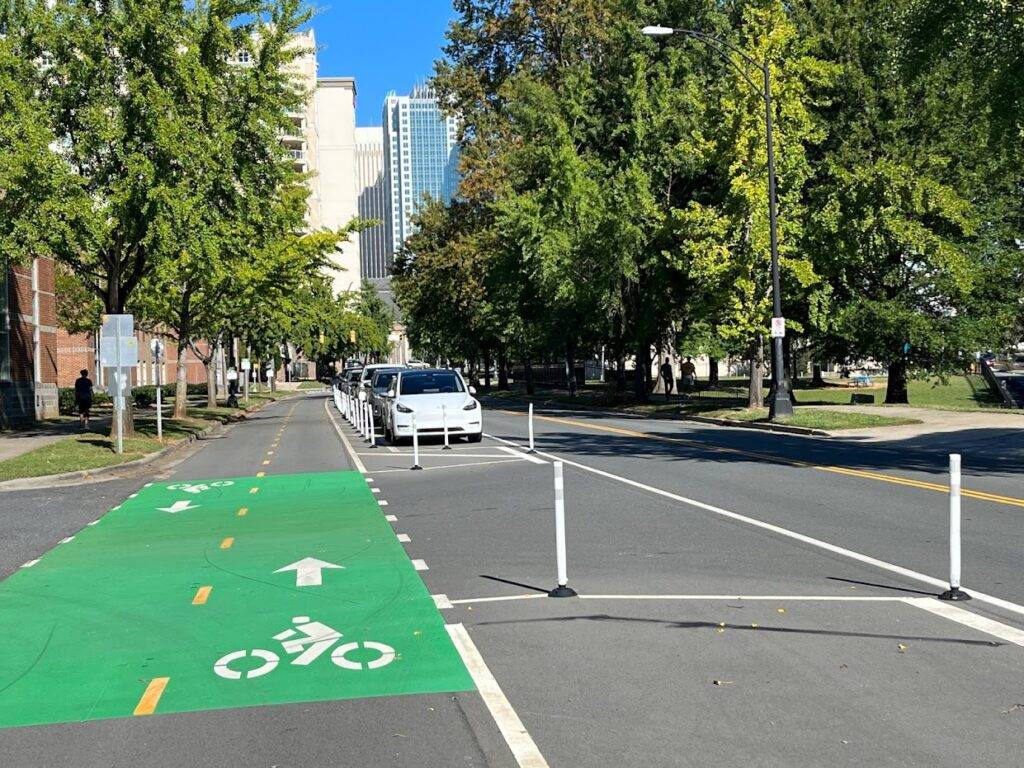 Can't we just put in protected bike lanes and/or lower the speed limits on these roads through our towns? No, not exactly. Many of these higher-speed roads in town are owned by the North Carolina Department of Transportation (NCDOT) and they set the speed limits and determine how bike and pedestrian facilities on their roadways are designed. And NCDOT has traditionally been more of the "Department of Cars" rather than the "Department of Happy Safe Autonomous Children". But there are some signs of hope when we look at the recent bike- and pedestrian-forward redesign of Franklin Street in Chapel Hill which created "parking protected" bike lanes.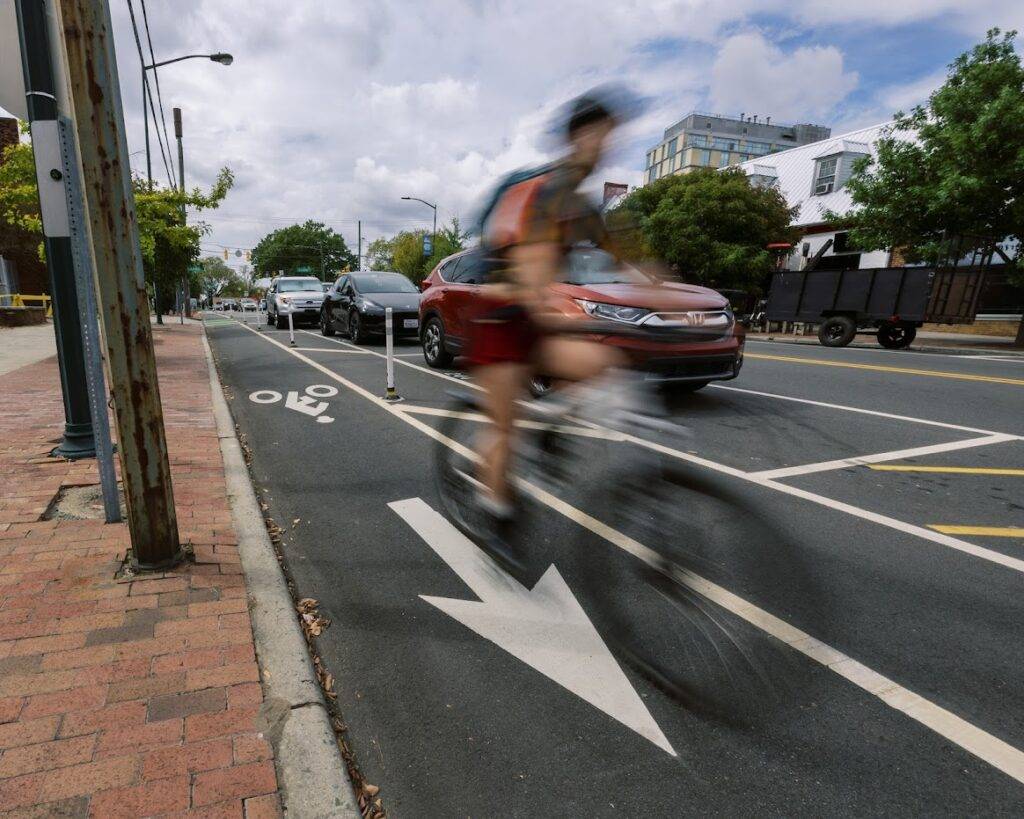 The gold standard for getting kids to school safely is greenways. Kids that live in Southern Village and attend Scroggs Elementary are often able to travel from their homes to their school via the Fan Branch Trail, a Chapel Hill parks facility that runs along a creek in a sewer easement and connects to the school by design.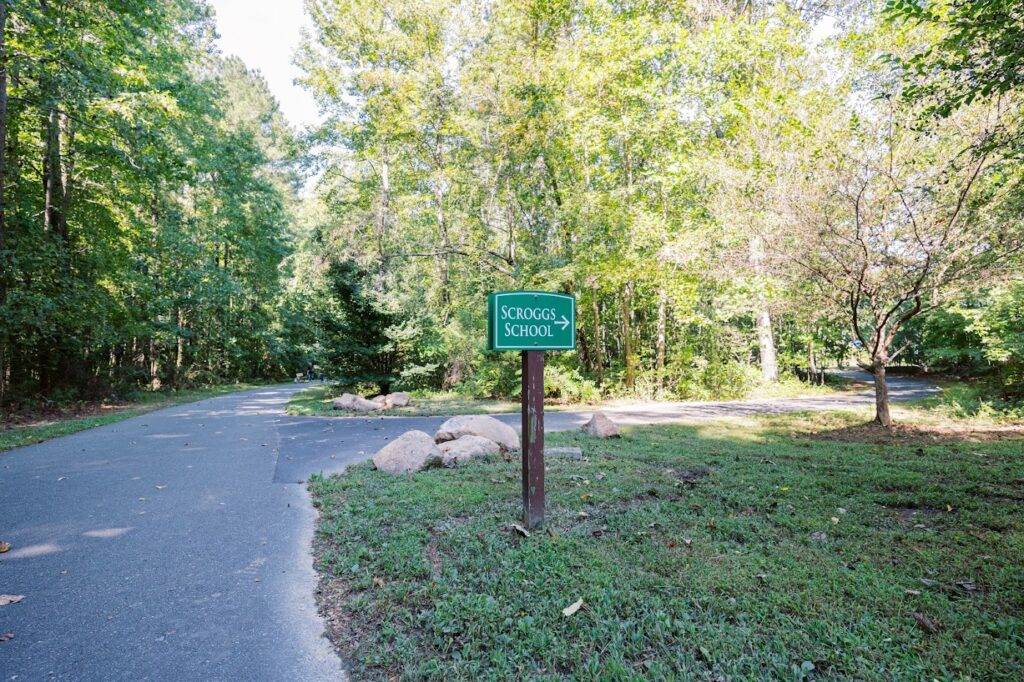 Arriving at school along a forested corridor without crossing paths with a car is the epitome of a safe route to school and this is what our towns need to be investing in. The good news is that there are lots of exciting greenway projects on the horizon that will connect neighborhoods to schools, parks, natural areas, shopping, and more.
The Town of Chapel Hill just received a $1 million federal RAISE grant to plan its Everywhere-to-Everywhere Greenways initiative. Chapel Hill is currently looking to extend the Bolin Creek Greenway all the way to the Carrboro town limits at Estes Drive.
The Town of Carrboro is nearing the end of a very long (14 years!) deliberation on how to align its Bolin Creek Greenway project. If the "creekside" alignment is selected by Carrboro Town Council, it will provide a safe route for kids to access Seawell Elementary, Smith Middle, and Chapel Hill High Schools.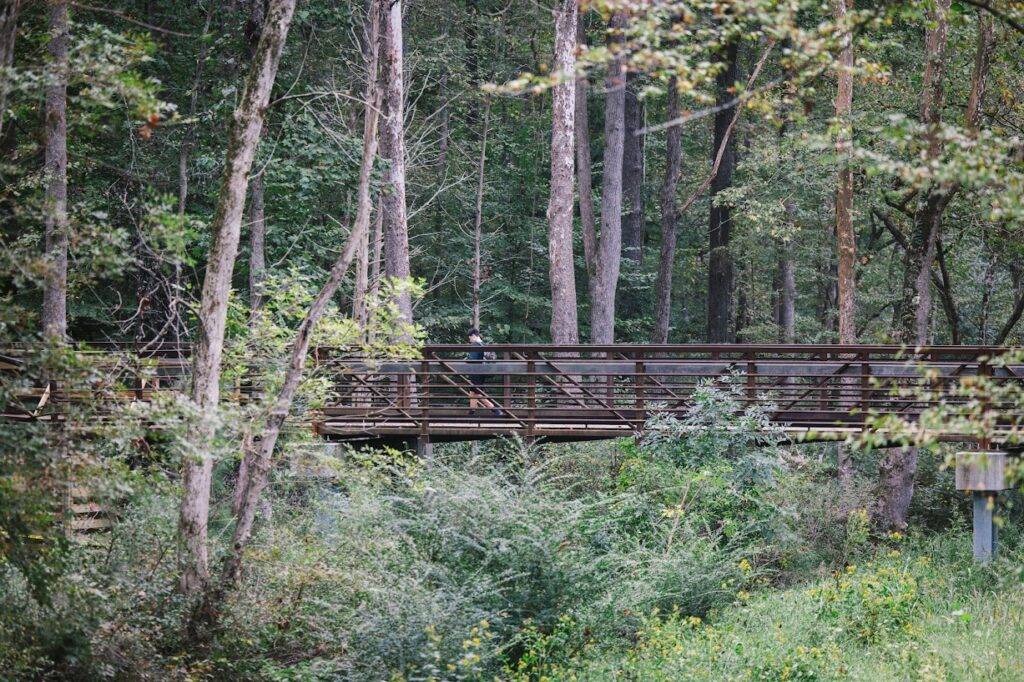 If you are interested in getting involved with these sorts of projects in your town, I would encourage you to explore joining the Transportation and Connectivity Advisory Board in Chapel Hill or the Transportation Advisory Board in Carrboro. In making safe routes for kids to get to school, we'll be making safe routes for everyone to travel without a car.