A month ago, we broke the news about a PAC planning to inject $120,000 into the election cycle. We then continued to follow the story as members of the planned PAC decided to, instead, give their donations to the CHALT PAC.
CHALT is an "anti-development community group" that has "opposed nearly every major development proposal" in Chapel Hill since its inception in 2014/2015. They formed a PAC in 2017,  recruit and endorse local candidates to run for elected office, and are very influential in local elections.
We wanted to know how these groups interact with each other and the candidates they support, so we filed several public records requests and scoured other publicly-available information.
What we learned provides insight into how CHALT finds and works with allied groups and potential candidates, before candidates file for election and then continuing throughout the election season.
First, we learned that CHALT recruits and interviews candidates before they file to run for office
Each election year, CHALT purports to go through an endorsement process in which they interview all candidates running in Chapel Hill and then announce who they're going to endorse. Other news organizations cover these endorsements, which helps legitimize both the endorsements and CHALT.
However, it's very clear that CHALT pre-selects their candidates even before those candidates run for office.
In an email chain from late May, we can see CHALT leaders, including the treasurer of their PAC, on a chain about finding and interviewing the potential candidates for the upcoming municipal election cycle. Notably, Don Liner – one of the leaders of the now-defunct $120,000 PAC – is cc'ed on the email. Also cc'ed: future (at the time) mayoral candidate Adam Searing.
More recently, CHALT has been hosting meet-and-greets and campaign events that involve only Searing and his like-minded candidates. It makes you wonder what the point of their endorsement "interviews" might be.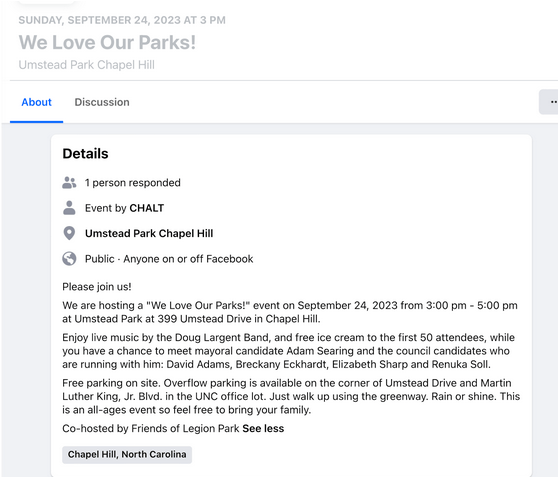 CHALT also had plans to launch a new GOTV organization back in May.
CHALT often spins up new organizations that appear to be independent but share various web identfiers – we've been keeping track of them all on this page.
The organization planned to "pull together people in neighborhoods of our persuasion on the zoning." Don Liner is again cc'ed. Also CC'ed: future mayoral candidate Adam Searing, CHALT PAC's treasurer Tom Henkel, and three members of CHALT's steering committee. A subsequent email identifies the group as Chapel Hill Cares. We can find no record that this group exists, outside of email signatures.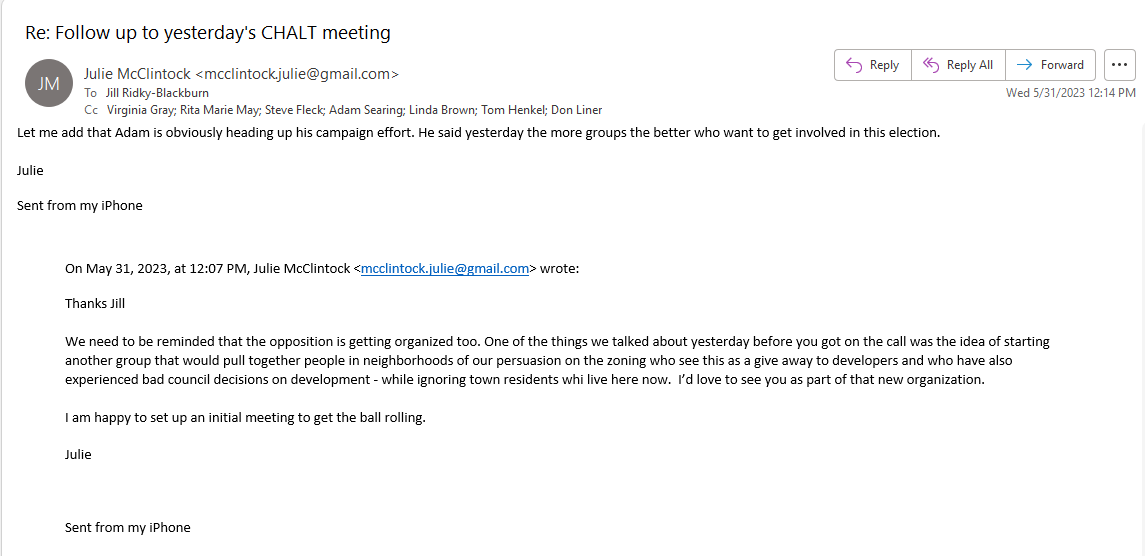 CHALT leaders vetted "promising minority candidates" [sic] alongside leaders of the $120,000 PAC
Perhaps the most cringeworthy email we came across was an email from Don Liner in which he lets Adam Searing and leaders of the now-defunct $120,000 PAC know that he, with the help of CHALT leader Julie McClintock, identified "a very promising minority candidate." Which is just gross. Judge Renuka Soll on her policy and positions, not on her "promising minority" status. An earlier email from CHALT refers to another person as: "[redacted], Asian American resident."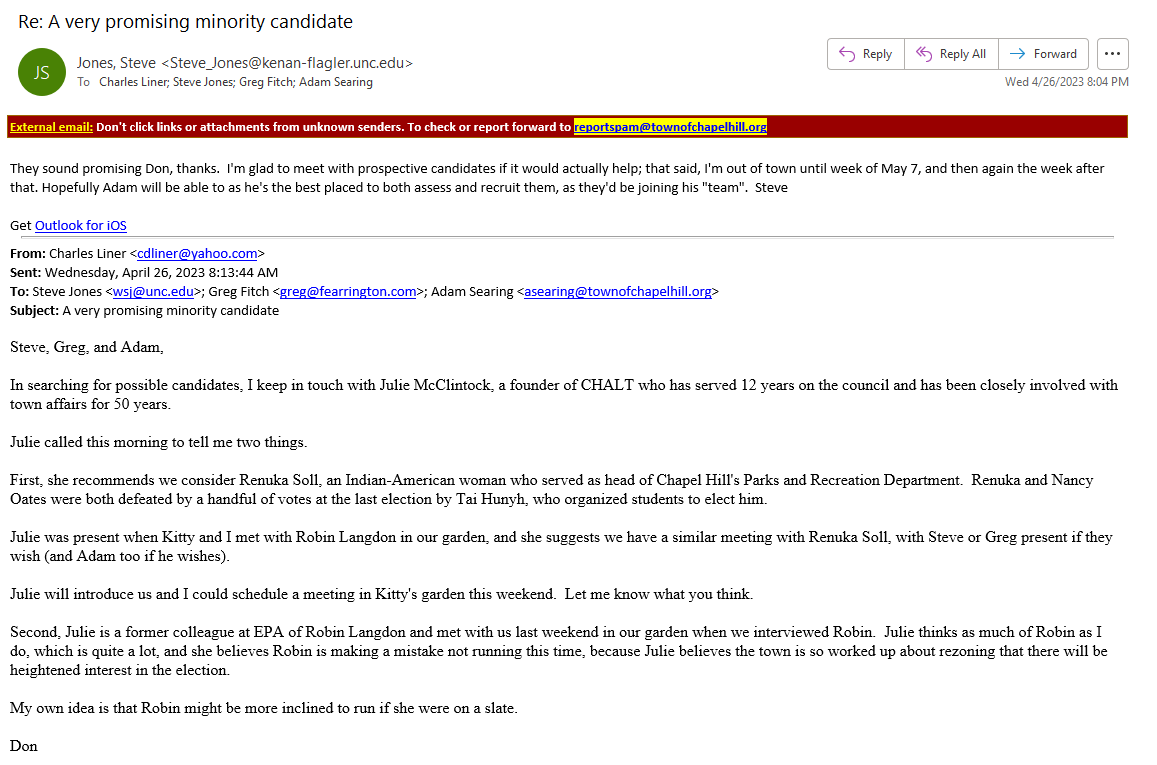 The Local Reporter has a….unique relationship with Adam Searing
We have reported on the many overlaps between CHALT and The Local Reporter, the news organization whose board is composed entirely of former leaders in CHALT. A March email from their assignment editor, Michelle Cassell, spells this relationship out more clearly.
She wrote to Council Member Adam Searing (and only Adam Searing – we checked!) as follows: "Adam, OFF THE RECORD, I am very interested in writing about the development in Chapel Hill and the proposed LUMO amendments. Our paper has had to be cautious of appearances of leaning towards CHALT, but in the process has left some of these issues underreported…..When and if you have anything you deem of interest to the public, I am most happy to investigate and write about."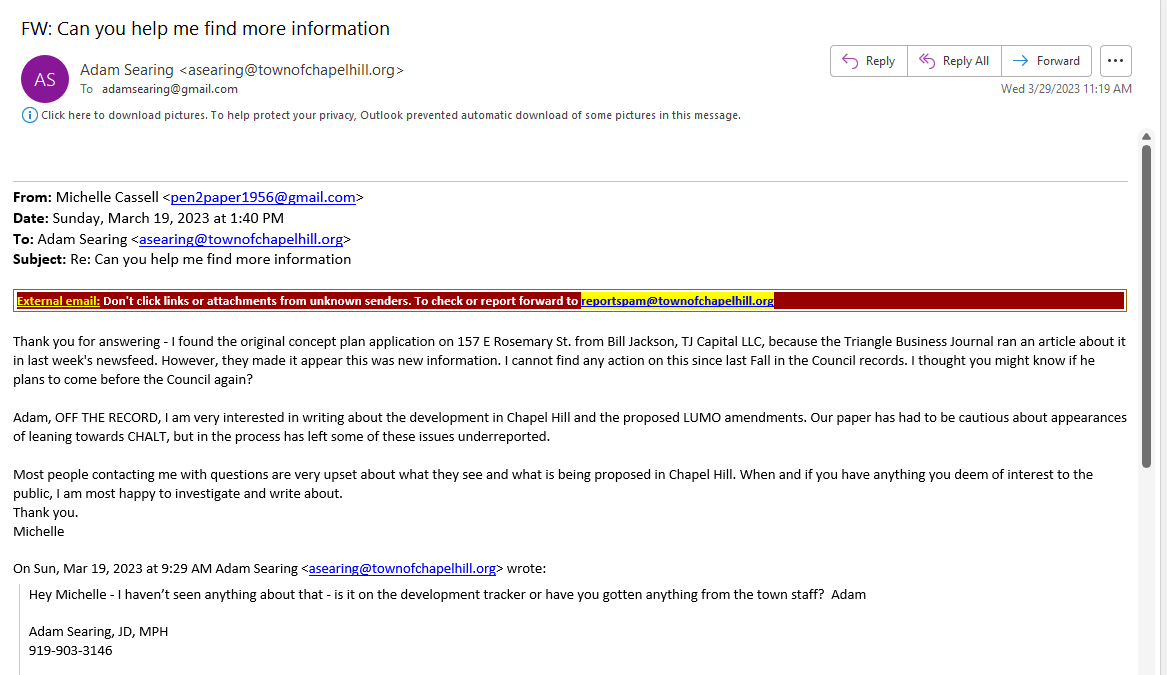 Searing served on the paper's board and is a current donor. The paper publicly denied that Searing served on their board until an archive of the digital paper was brought to their attention. The paper did not write about Jessica Anderson, who is also running for mayor, until we pointed out the omission. The editor at the time then resigned. The paper is on its 7th editor in 4 years, 2 of whom were leaders in CHALT and 1 of whom lived in Florida.
Don Liner was also behind the Save Chapel Hill yard signs
They were made "available free to neighborhood leaders who promise to place them in strategic locations along heavily travels [sic] streets, at busy intersections or near entrances to neighborhoods were many can see them."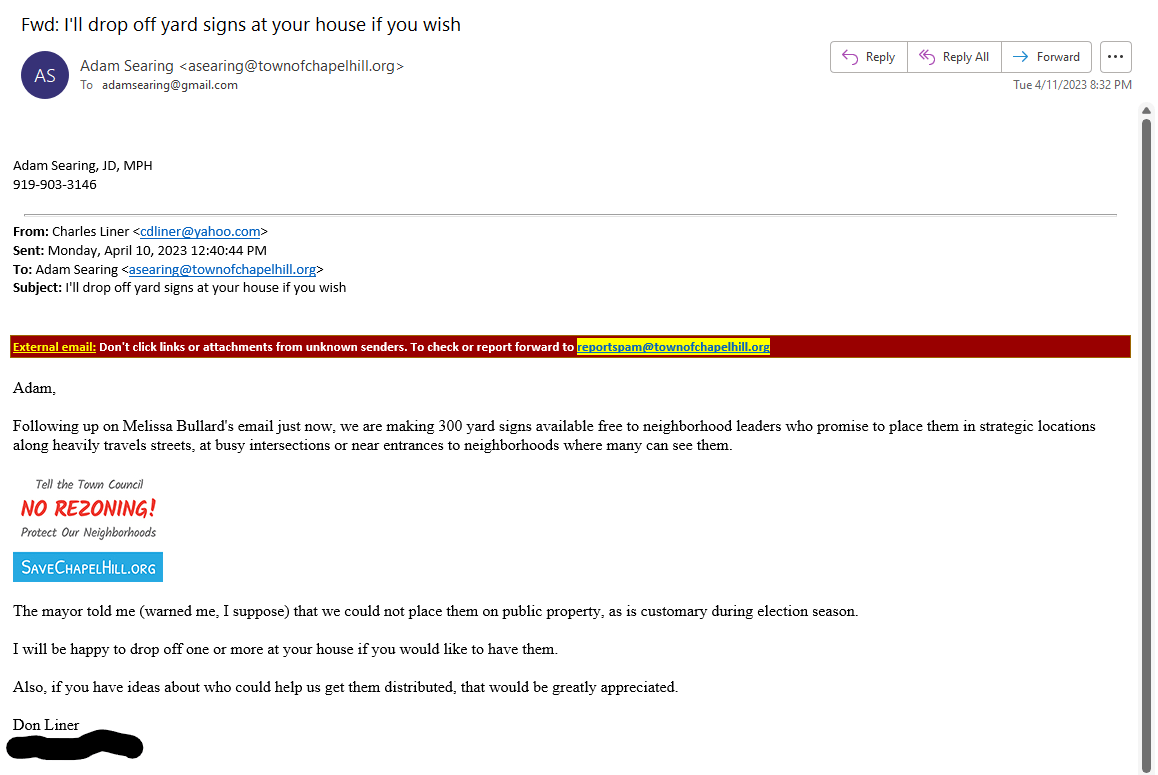 CHALT holds weekly calls with the candidates to "coordinate and combine efforts"
Jill Ridky-Blackburn wrote to the candidates on the CHALT slate in early August, well after all the candidates had officially launched their campaigns, asking if they wanted to "coordinate and combine efforts."  Candidate Renuka Soll responded "I would like to have weekly meetings to talk about efforts…especially when things heat up in the Fall."
As we've reported earlier, CHALT has a PAC. The PAC has sent out literature on behalf of CHALT's slate of candidates. The assistant treasurer of the PAC, Charles Humble, also serves as the campaign manager for David Adams.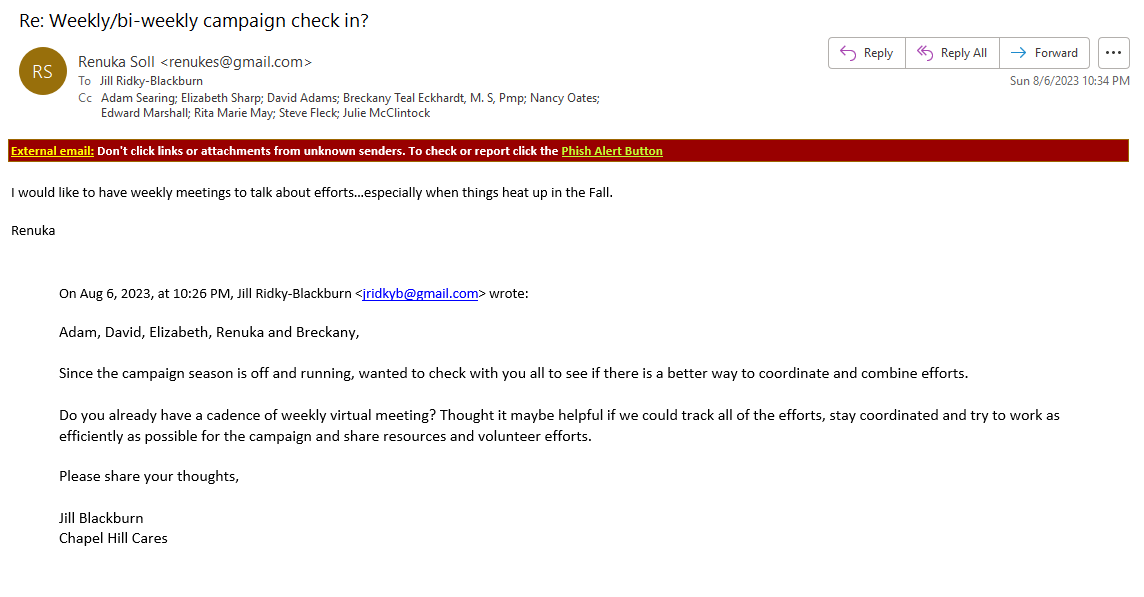 The candidates are all on record stating they will not coordinate with any PACs. They do, however, coordinate "efforts" with members of CHALT.
This piece was written by Geoff Green, Melody Kramer, Martin Johnson, and Stephen Whitlow. All emails were obtained through public records requests. All emails are fully transcribed in the alt text field. If you're having trouble reading them, right click, select "copy image link" and paste the URL into a new tab.

This article was edited to remove a statement about legal requirements for PACs.