A few months ago, our chicken correspondent Mel Kramer – that's me – called Raising Cane's a clucking mess. That's because the chicken fingers restaurant has been under development for…ever.
But now we have two hints of when the restaurant may finally open its doors.
The first is the results you now get when you google "Raising Cane's Chapel Hill" which I have only done several times over the past month.
It looks like this: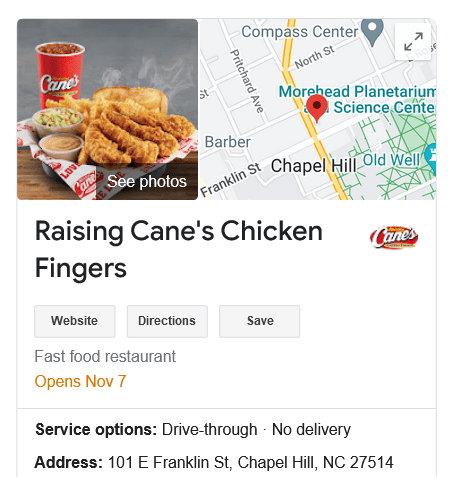 See that orange text? It says November 7th. That's Election Day in Chapel Hill and Carrboro, and as your local civics-chicken-fingers blog, we now have two big stories to cover that day.
Moving on.
The second probable-most-likely evidence is a tweet from Raising Cane's manager. It said this: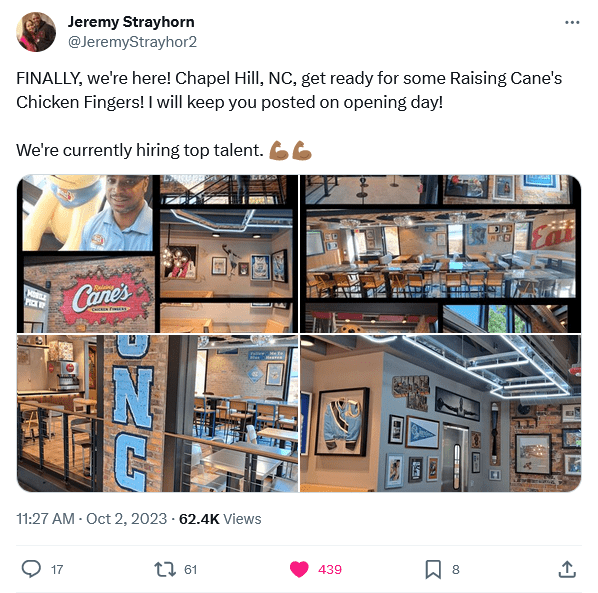 We responded and asked if November 7th was the day. Strayhorn liked the post. Is that a wink? A nod? A like? A yes? Possibly.
If it is the case, we hope the lines at the polls are as long or longer as they will be at Raising Cane's…..which is 0.4 miles from the nearest polling place (Chapel of the Cross.)