On September 14, the Democratic Women of Orange County, the African American Caucus of Orange County, and UNC YoungDems hosted a 90-minute forum with candidates for Chapel Hill Mayor and Town Council. It was my first chance to see the candidates in action.
Here are some interesting tidbits:
Dems ain't trying to hear from non-Dems ✊
After 15 minutes or so I was wondering why some candidates who were on the zoom weren't answering any of the moderator's questions. It seems they were not allowed because they are not Democrats. 😂 Elizabeth Sharp and David Adams are registered as unaffiliated and Breckany Eckhardt is registered with the Green Party. (Eckhardt became a Green Party member on August 27, 2023 – a month after she filed to run for Town Council.)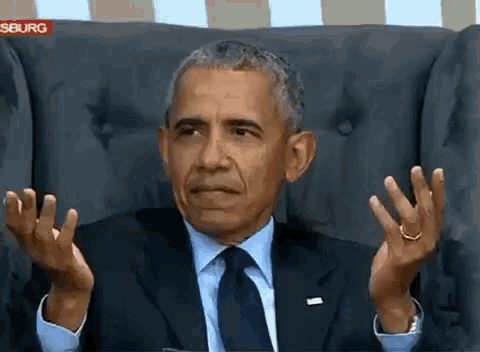 Melissa McCullough wants to use her sustainability expertise to benefit Chapel Hill
I served with McCullough on the planning commission, where she continually and persuasively advocated for smart growth politics that were grounded in the latest science. She has 32 years of experience with the Environmental Protection Agency – according to her website as an "applied ecologist focused on understanding human impacts on ecosystems and developing solutions." She described what that experience taught her:
Being on Council is about making complex decisions for our town and our people. Time and again, I've seen how the best decisions for communities are those that consider housing, people, transportation, land use, and the environment as interconnected and inseparable issues. I am the candidate who can bring integrated science and policy expertise to the Council, which will help us to find those win-win-win actions for our people, our environment, and our economy.
McCullough later discussed her support for transit-oriented development and the need for significant planning for a greenway network that connects people to schools and other common destinations. She added that electric cars are not a solution:
The fact is that electric vehicles are not here to save the environment. They're here to save the auto industry. We cannot continue to have the roads, the pavement, the impervious surface, the parking lots, all of these things that cars bring that ruin our quality of life. Our lives will be so much richer when they're built around biking to greenways and walking down our streets and stopping at a cafe.
Erik Valera looks at governance through the lens of social determinants of health
Valera, running for Town Council, is unique among the candidates in emphasizing how local government can enhance health outcomes, especially as relates to housing affordability. As Valera put it:
Housing is medicine, housing is health. And if you don't have it, and you think you're at risk of losing it, you're going to be stressed out, it's going to impact every area of your life. …I serve on the planning commission with some colleagues here and I think that we've done a good job in being able to see that vision, as well as with the Town Council has done, and I want to be able to I want to be able to push that forward and make sure that we have the housing that we need, and we're able to keep our people safe.
Amy Ryan dropped a couple of truth bombs 💯
Ryan used her closing statement to correct Renuka Soll on her oft-repeated and incorrect claim that the town spends just $4 per person on park funding – we recently checked Soll's claim and came away with a similar take to Ryan. She noted:
We spend a whole lot on parks and we just have put an extra penny for parks, which is almost a million dollars, in the last budget for parks improvement going forward. I don't disagree with you that we need more parks. We do, and that's why I voted for that.
Soll's claim is bizarre, especially considering that she is the chair of the Parks, Greenways and Recreation Commission and should have a solid understanding of how our parks are funded. Or, considering that Soll is running as part of Adam Searing's slate, perhaps it's not bizarre at all. Searing caught our attention long ago for his wildly inaccurate claims about Chapel Hill's parks – to my knowledge, he has never acknowledged the error.
Another claim Ryan pushed back on during the forum was Searing's claim (mimicked by Soll) that the current Town Council doesn't listen to residents. You can expect to hear this claim again and again this election season – it's clearly a point of emphasis among Searing's team. Ryan reminded Searing that part of being a public servant is listening to all constituents, not just the usual suspect who complain the loudest:
I do like listening to community and I'm going to check Mr. Sharing on this one. I think Council does listen to community. I think we don't just listen to the people we agree with. I think we try to listen to everybody and say your point of view is valid, yours is valid. We need to balance those interests. We consult the experts, we dig into the facts, and we balance those competing interests to [achieve] good outcomes for us all.
Jon Mitchell wants more action on greenways and bus rapid transit
Mitchell is a current member of the planning commission and, as he noted, a recent convert to e-biking around town. Speaking for myself, there's nothing like the ever present rush of near death that is biking on Chapel Hill streets to make one an advocate for protected greenways. While Mitchell's motivation may differ from mine, he wants to see aggressive action on greenways as well as bus rapid transit:
The good news is town just got a million dollars from the federal D.O. T. To conduct a feasibility analysis and plan out 25 miles of additional greenways. These are bike amenities that are not on the street. There would be about 150 percent increase over our current Greenway network which is about 17 or 18 miles. I'd like to see the town step up and fund connections a little more aggressively so we don't have to wait five to ten years for federal funding to keep moving with this. On the bus front, the town is about to apply if it hasn't already for federal funding for north south BRT, which is a big deal between Eubanks and Southern Village. I'd like to see us get moving on planning an east-west BRT, which would go from let's say, Manning Road area all the way out to Durham. We have to coordinate with Durham on that, but that's a key of our regional transportation strategy.
Theodore Nollert sees opportunities to work with UNC to reduce climate impacts
Nollert was previously the president of the UNC Graduate and Professional Student Government and is currently a member of Chapel Hill's planning commission. He sees an opportunity to be a "bridge" between the university and the town. He spoke about the opportunity of building workforce housing on UNC land and the importance of reducing car trips in and out of Chapel Hill.
I think one of our biggest opportunities is to partner with the University to think about how we can find a way to put University workers and workforce housing on university land. We have 44,000 people who are commuting in here. Most of them work at the university. A lot of them can't afford to live here and that's the reason that they're commuting so far. We get them closer to town and that helps us to take traffic off the roads make use of the transit system the the university pays into, make use of the new greenways that we're building. All of that is going to help a lot.
Jess Anderson and Adam Searing presented different visions for Chapel Hill
Anderson and Searing had similar responses to a couple of questions – they both deplored the gun violence we've recently seen on campus and both discussed the importance of protecting residents of mobile home parks from displacement. Both touted their support for different affordable housing developments (though Anderson noted that she voted for affordable housing on the American Legion property and for Tanyard Branch, both of which Searing voted against).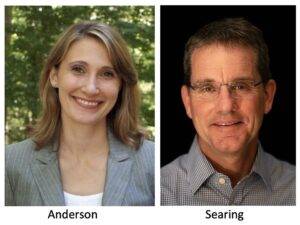 Beyond that, though, sharp differences emerged, especially regarding why they are running and the future each sees for the town.
Anderson is proud of the work she and her colleagues have done in her eight years on Council and presented a positive vision for the future:
The only way we make shared progress is to bridge our differences and work together. For eight years, I've done just that no matter who was on the dias next to me, who was on the school board, or who was at the county. And together we've made great progress by listening to everyone, applying data and science, setting solid goals, and funding the work. We have a lot to be proud of and we still have more work to do. Our next step is implementing our complete community vision, which I got through Council at the end of last year. This plan will give seniors college students, young families, single parents and our workers new lower cost housing options near modern parks, jobs and shopping and our kids safe walking and bipods to school.
Searing, as he often does, anchored his vision for Chapel Hill in his childhood memories and, as he almost always does, elevated parks as his top policy priority.
I came to the Council and, because I grew up in Chapel Hill, I love playing in our springs our creeks walking in our woods. I've been doing it for 50 years, and I saw that these parts of our city needed help. But I was disappointed when I came to the Council. We do things that I don't think we should because we don't listen very well to our residents. Our parks are in desperate need. And really we really need change and we're falling far behind other similar communities around the state. And I think that's that's a shame and I would really want your vote for mayor because we need some change and some new thinking in office.
Searing and Anderson have different priorities for how the town develops
The two candidates were later asked for their top two priority updates for the town's comprehensive plan. Searing's top two priorities are just one priority: parks.
I think we need to go back, in fact, to some of the things we haven't done and some of our previous plans, and I'd start with our parks plan. It's a decade old. We have priorities out the wazoo in that plan, none of which have been done. Almost nothing. And so we really need to, you know, instead of trying to come up with more things that we can do we have a list of stuff that we haven't done. For instance, you know, redoing our skatepark, making it a modern skatepark, doing the splash pads, doing the adaptive playground, all these kinds of things that we need to be doing, and it is frankly, embarrassing that we are we focus on creating plans but not moving forward with actually doing things.
That brought a sharp response from Anderson:
In my policy work, I talk to my students about the fact that we can disagree on policy, but we just can't disagree on facts. In this case, the data on our budget on what we're doing and what we're investing in is all on the town website. We have the money for the skate park, it's being done. We have the money for the inclusive playgrounds, we're starting with Community Center Park, and all the playgrounds will be inclusive. And in fact, we're moving into the next stage of our splashpad, which I championed. I brought it through Council from a petition and then I sat on the feasibility group for it…. I also voted yes to over a million dollars a year for park spending.
Anderson then described her priorities for the comprehensive plan:
I think greenways and diversity of housing. I think connecting ourselves and then having housing built along those greenways so … kids can get to school. People can walk, bike, take the bus to their jobs, to shopping, to things they want to do, to hanging out with their friends. That's what I want our next 10 year comprehensive plan to look like.
Searing and Anderson want you to vote for them for different reasons
In his closing, Searing positioned himself as someone who would focus on parks, while Anderson touted her accomplishments on Council and her endorsements:
Searing: "We've got these giant luxury apartments going up, especially off of Ephesus Road. We have crumbling tennis courts… at Cedar Falls. And if you are a parent, you know that you often are taking your kids to other communities around the area in order to either go to a splash pad. Apex has a great one. They also have a great skate park too, or if you if you want to look at a really great adaptive playground, there's Marla Dorrel Park in Cary. They have a great example of that. My kid likes to skateboard and ride his bike. I've been to Mooresville [and] Cherokee, North Carolina to do these things. It's just ridiculous that we don't have these the same amenities here in Chapel Hill. At the same time we see that we have a Council that doesn't really listen sometimes to the folks who come before us, and we have dealt with very, very controversial issues in the last year, many of which never came up in the last election. Number one in that list is this single family zoning debate that we had. I never heard of it two years ago when I was running and yet this consumed months of our time and debate. So I think we need to go back to basics. Look at that amenities and the planning that we need, but actually start building for the future.
Anderson: "Over the last eight years, we've had a lot to be proud of as a community. Together. We've created and implemented our first ever climate action and response plan which earned an A from the Carbon Disclosure Project. We emerged from COVID in good financial shape, and we've created a five year budgeting strategy to maintain that fiscal responsibility. We've brought UNC to the table in so many ways, to create new jobs at Eastowne, conduct our first joint housing study, and plan for year round vibrancy for our Downtown Together initiative. And just last night, like I said we approved our first ever five year affordable housing plan after making historic gains the past eight years. All of this work has earned the endorsement from Equality NC, the AFL-CIO and the Sunrise Movement, as well as five Chapel Hill mayors, including current mayor Pam Heminger, Mark Kleinschmidt, Rosemary Waldorf, Ken Brown, and the honorable Senator Howard Lee. I've also been endorsed by 20 local elected officials spanning the County School Board and Town Council, some of whom I don't always see eye to eye with. And that's because they trust that I'll tell the truth, I'll work with them, and I will be a mayor for all."