At a recent backyard fundraiser in the Glendale neighborhood, Town Council candidate Renuka Soll said that Chapel Hill spends 4 dollars per person on parks. She repeated this number in an email to Chapel Hill's tennis community, at the 9/14 candidate forum hosted by the Democratic Party of Orange County, and in a Twitter video she made about parks and recreational activities. (She actually said $3.59 in that last one.)
4 dollars seemed….really low to us.
So we did some digging, and it turns out – it's totally wrong. (And Soll should know that because she chairs the Parks and Rec committee.)
Chapel Hill will spend $17.7 dollars/person on parks in 2023-24 for capital improvements. (If you include other funding sources, it is substantially higher. Read on.)
First, how did we calculate this number?
To calculate the total parks and rec spending per person, we need two numbers: the budget for the parks and rec department for projects, and the population of Chapel Hill. The equation looks like this:
(Budget for parks and rec department projects) / (Population of Chapel Hill) = How much Chapel Hill spends per person on parks
The 2023-24 General Fund parks budget is $8.54 million dollars. The Capital Improvement Project budget is $1.1 million, made up of $971,000 (from the Penny for Parks initiative) and $170,000 (the Pay Go fund.) Our source for this is a memo prepared by the Town of Chapel Hill on the parks budget, which you can read here.
We're going to use the $1.1 million dollar Capital Improvement Project budget. We'll use 62,098 for the population of Chapel Hill (Pop. estimate, 2022, US Census Bureau).
$1.1 million / 62,098 = $17.7
We'll note that this number is always much higher, because the yearly project budget can and often does include money from other sources such as:
Payment-in-lieu money
ARPA money
2021 ⅔ Bond Funds
MPO grants
Federal Highway Administration grants
(You can look at the memo to see how these funds will be used.) There are also big greenway and multi-use path projects going on too (which aren't included here.)
How will this money be spent?
To look at how the money will be spent, we can look at the 2023-24 adopted budget.
The PayGo fund is allocated for greenway maintenance, playground replacement, cemetery beautification, and small park improvements. In addition, Town Council added two new park maintenance vehicles ($112,500) and added $40,000 for a mowing contract.
But wait, there's more. 
There are other funding sources aside from capital improvements that the town applies for. These vary by year.
The parks and rec department recently received a windfall: using American Plan Rescue Act (ARPA) funds, Town Council allocated $2,500,000 for parks and rec, with an additional $172,000 allocated from community based budgeting.
That's a one time commitment for 2022-23. Projects funded in 2022-23 were the following:
Cedar Falls Artificial Turf replacement
Greenway Maintenance on Battle Branch, Bolin Creek, Meadowmont, and Morgan Creek
Playground work at Cedar Falls Park, Community Center Park, Hargraves Park, and Burlington Park
Small park improvements at Cedar Falls, Community Center Park, Ephesus Park, Hargraves Park, Homestead Park, Southern Community Park, Umstead Park, and replacing various fences and signs
In addition, the town used other funding sources to repave the Hargraves Park Tennis Court, make repairs to the Ephesus Park courts, and make repairs to the Teen Center.
That's a lot of park spending. What's expected to be funded in 2023-24?
A ton of parks and rec-related stuff, which you can see below. (This is, again, from the memo from the Town of Chapel Hill.)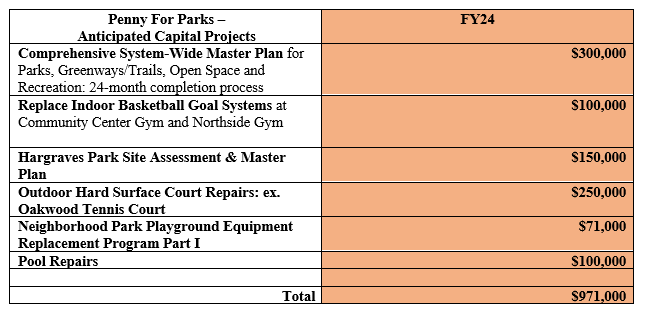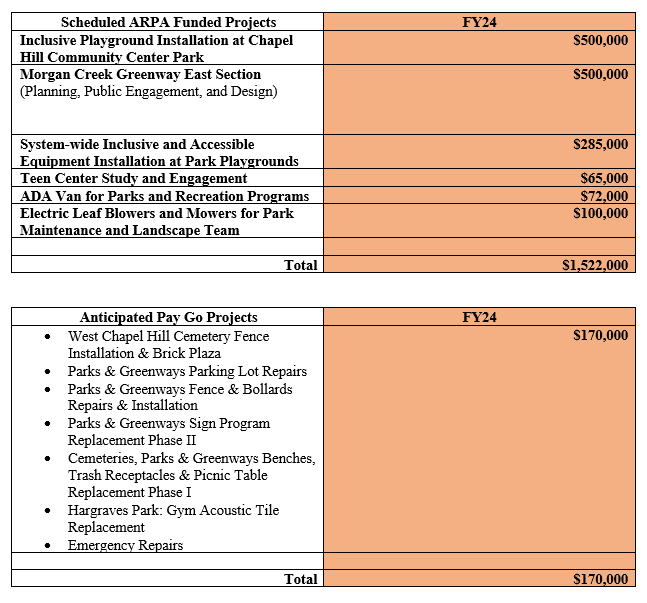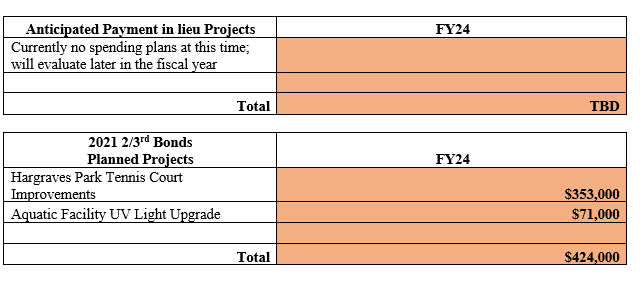 Where is Renuka Soll's number coming from?
The 3.59-slash-4 number Soll is throwing out on the campaign trail appears to come from a November 2022 presentation to the Parks and Rec Board by Soll and Leah Boucher, who also sits on the Parks and Rec commission and is currently serving as Soll's campaign manager.
It included the PayGo budget (for Capital Improvement Project in 2022) but does not include any of the other funding sources mentioned above. Funding in 2022 came from many different sources,  Soll is only using one of them in her calculations. This would be like estimating how much you spend annually on your home energy costs but only including your gas bill from February and March.
But the town routinely uses grants and other funding sources. Soll and Boucher even acknowledge this in the November 2022 meeting , that they will have to add in those other funding sources. But Soll continues to use the misleading partial figure on the campaign trail. Which means it doesn't include any of the one time spending from last year which included:
$500,000 for Inclusive Playground Equipment at the Chapel Hill Community Center Playground
$285,000 for System-wide Playground Accessibility upgrades for existing playgrounds
$65,000 for Teen Center study
$72,000 for an ADA van for the parks department
$100,000 for electric leaf blowers
(That's $1,522,000 total of additional funding.)
In summary, Soll continues to throw out a low number that does not a) encompass all of the sources of parks and rec money / person and b) has changed substantially since last November.
Why is the CIP budget much higher in 2023-24 than it was last November?
It's much higher because the Town Council approved the "Penny for Parks" initiative during the last budget cycle. (Everyone but Adam Searing voted to give more ongoing money to parks and rec.) This allocates an enormous ongoing source of funding for capital improvements to support maintenance and expansion of our parks and facilities in the future. The Town Council listened to residents who wanted more money for parks, and they took action.
So in summary, the town spends a lot more than 4 bucks/person on parks?
Yeah. If you were to include all of the funding sources for the upcoming year, you'd wind up with
($971,000 + $1,522,000 + $170,000 + $424,000) /  62,098 which is 49.7 dollars / person.
Is 49.87 more than 4?
Yes.