Bike commuting is not always easy. Rain, bike malfunctions, or less-than-considerate drivers can turn an otherwise straightforward ride into a source of frustration. But in the countless times I've biked from Carrboro to UNC's campus and back in the past five years, my bike ride has been a source of joy more often than not. Frequently, those 10-15 minutes on the bike are exactly what I need to mentally prepare myself for the day or clear my head after a long day on campus. Moreover, I am convinced that biking is often the quickest way to get between Carrboro and UNC, particularly if you account for the time it takes to park!
If you've never bike-commuted before, it can appear to be an intimidating proposition. While there is no substitute for time spent in the saddle, proper route planning can go a long way towards putting a novice bike commuter at ease. Between Carrboro and UNC, the two main routes for cyclists are the Libba Cotten Bikeway to Cameron Ave, and Main Street to Franklin Street. In this post, I address what I take to be the primary advantages and hazards of each of these routes.
Libba Cotten Bikeway to Cameron Ave

When I first began bike-commuting, this was the only route I felt comfortable on. However, in the past few years, changes to this route as well as improved bicycle infrastructure on alternative routes have made the choice more complicated. The primary advantage of this route is that it begins on a bikeway that is separated from vehicular traffic. This bikeway then connects with Cameron Ave, which has a bike lane for its entire length until it crosses S Columbia and leads into the heart of campus.
Unfortunately, road construction on Cameron has made that road much bumpier than it used to be. There are currently plans to fully resurface Cameron and establish protected bike lanes within the next two years, at which point this may once again become my preferred route. For the moment though, I tend to avoid this route at night in favor of smoother and better lit routes for fear of hitting an unanticipated bump wrong.
🚲 Sign the petition: Bike safety can't wait! Let's pilot protected bike lanes on Cameron Avenue 🚲
We are asking the Chapel Hill Town Council to approve a pilot project to install protected bike lanes on Cameron Avenue as soon as possible. This pilot project will make Cameron Avenue safer for bike riders, mobility scooter users, and walkers, and help inform the development of permanent protected bike lanes.
Two other aspects of this route are worth noting. First, accessing the Libba Cotten bikeway from Carrboro has been complicated somewhat by construction on the 203 Project. The primary access point used to be behind Open Eye on Roberson Street and once construction is completed next year, that will probably be my preferred route. Currently, you need to either loop around via E Carr St or access it via Roberson St from East Main.
Second, the intersection between the bikeway and Cameron can be intimidating for new cyclists. If you don't feel comfortable entering the flow of traffic directly from the bikeway, you can always dismount and cross at the crosswalk before continuing on via the bike lane on Cameron.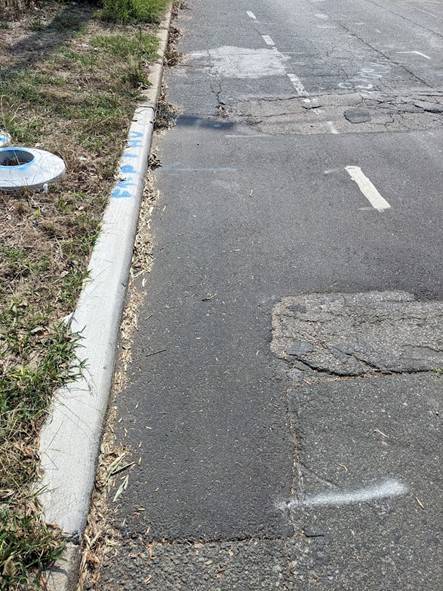 Main Street to Franklin Street

When I first began bike commuting, this was a route I rarely used because riding on Franklin St felt very intimidating. Since the construction of protected bike lanes last year, this route is much more attractive than it once was, but there are still a few issues to be aware of. First, the intersection of Merritt Mill can be intimidating and confusing the first time that you bike through it, but zebra-striped painted bike lanes continue the whole way across. After you get a green light, follow those and you can continue through on the curve.
Once you reach Franklin, you can breathe a little easier with the protection of bike lanes separated from the roadway, but there are still a few hazards to be aware of. First, there are several parking lots along Franklin. Because of the parked cars along the street, cars exiting these parking lots tend to pull forward—into the bike lane!—to get a clear view of traffic. This is a mild annoyance if you see it coming but can be dangerous if a car pulls quickly and unexpectedly. Second, pedestrians frequently cross the bike lane without looking. This is typically not a problem in the mornings when Franklin St is quieter but is more common in the afternoons and evenings.
Once you reach Columbia St, the protected bike lanes come to an end, and you face the problem of how to safely reach your final destination on campus. I frequently turn right onto Columbia and then left onto Cameron, but this requires both sharing the road with cars and crossing several lanes of traffic. One option is to dismount, walk your bike across Columbia, and proceed from there. Another is to continue on Franklin past Columbia and then take the path next to the Carolina Coffee Shop into campus.
One final note about this route: On the return trip to Carrboro, the bike lane on Main Street in front of Surplus Sid and Luna is *very* wide, maybe too wide. In my experience, cars frequently use the bike lane as a turning lane or as a loading zone for picking up a takeout order. As always, make yourself as visible as possible and keep an eye out for erratic drivers!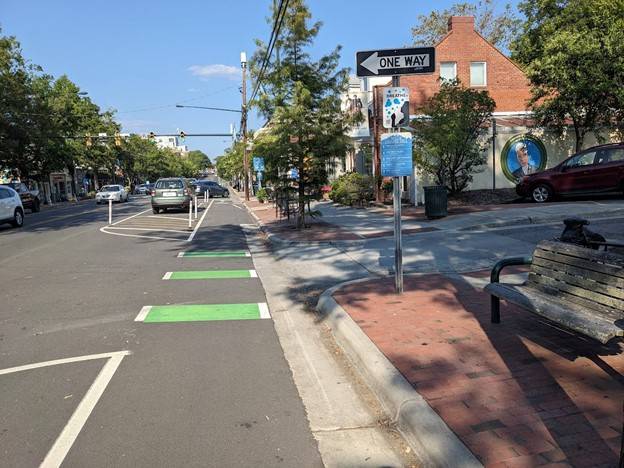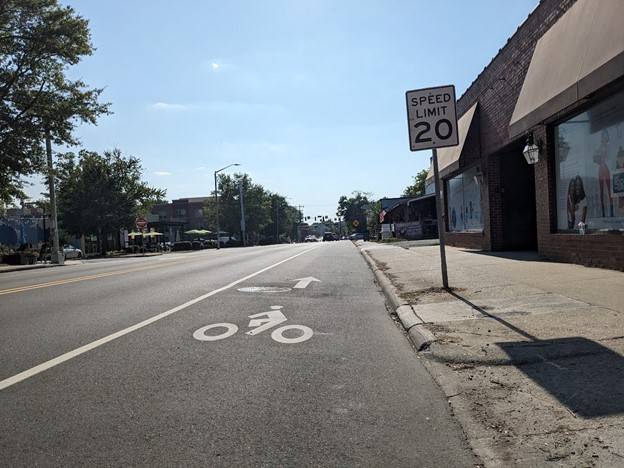 Conclusion
Neither of these routes is perfect, but with a little caution and preparation, both can make for a successful and pleasurable commute. Note that it's always a good idea to do a practice ride before using a route for an actual bike commute. That way you can anticipate any problems and get an accurate estimate of how long the ride will take you. For further tips on bike-commuting, including what to wear, how to carry your gear, and how to lock up your bike, there is a wealth of online resources. Happy riding!