I recently attended a lecture at the Chapel Hill Public Library by Chuck Flink, an award-winning author, planner and landscape architect who has designed greenways in 250 communities, in 35 states, and in Europe, Asia, and South America over the past four decades.
Flink is known worldwide for his greenway work, and has received four dozen national, regional and local planning and design awards. He is a Fellow in the American Society of Landscape Architects, and the recipient of the 2006 Distinguished Alumnus of the NC State University College of Design. He is the author of three books on greenways:
Greenways. A Guide to Planning, Design and Development (1993)
Trails for the Twenty First Century (2001), and
The Greenway Imperative: Connecting Communities and Landscapes for A Sustainable Future (2020)
His projects include the: Grand Canyon Greenway System, Susquehanna River Greenway, Miami River (FL) Greenway, Charleston County (SC) Greenbelt Plan, American Tobacco Trail, Grand Forks Greenway, North Delaware River Greenway (PA), Raleigh Greenprint, MetroGeen Action Plan, KS/MO, NW Arkansas Razorback Regional Greenway, River of Grass Greenway, Everglades, FL, Las Vegas Open Space and Trails Plan, Wolf River Greenway (Memphis, TN) and the North Carolina Statewide Bicycle and Pedestrian Transportation Plan.
In other words, Flink is a pretty big deal in the greenways space and if you've walked along any of these greenways, you're seeing his lifelong work.

Sign up for the Carrboro Linear Parks Project mailing list to get updates on building out Carrboro's greenway network. Visit the Carrboro Linear Parks Project website for more information. There's also a helpful FAQ with answers to many questions.
Update: We support the creekside alignment for the reasons detailed here.
Greenways are an essential part of a sustainable, connected community
Flink came to Chapel Hill to discuss how greenways, trails, and linear parks are an essential component of a sustainable, connected community. I was particularly excited because Carrboro is now discussing building out its greenway network, which would connect to Chapel Hill's existing Bolin Creek Trail and provide us with almost 5 miles of safe, accessible greenway access for kids to get to school, adults to exercise, and for everyone to enjoy in both Carrboro and Chapel Hill.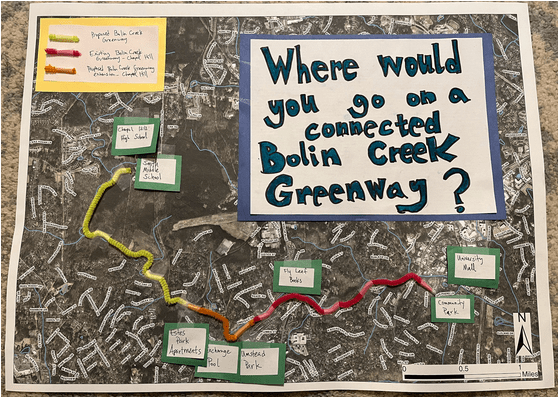 Notably, the greenway would also help repair the riparian zone, which has been decimated by foot traffic and erosion. Putting people on a set path helps our creeks in a few ways: paired with stream restoration, it can help with erosion (which is currently taking place) and ensures that wildlife have safe areas (which are currently intruded upon by humans who walk and bike all over the place.) There are lots of environmental benefits to carving out a small path and ensuring people don't braid the trails.
There are also other benefits: our kids will have safe, protected routes to school; greenways help get people out in nature and can reduce 1-3 mile car trips, and I'm really excited that it would help make Carrboro more accessible to people with reduced mobility. If you've been on the trail in Chapel Hill, you'll know that it's primarily used by people of all ages and mobility-levels walking. Adding the Carrboro portion would make our communities more complete and more connected.
The entire Flink talk is available on YouTube, but if you don't have time to watch it, I've pulled out some highlights of what I learned from his talk.
Greenways around the country have seen record use since March 2020
Greenways were one of the few landscapes around the country that weren't shut down during the pandemic. Even when parks shut down, greenways stayed open and provided benefits to public health, social and cultural connection.
Greenways go hand in hand with a conservation strategy
In Charleston County, South Carolina, the greenbelt program protected more than 30 percent of the county's lands. Flink asked the community what they valued the most, and they said that they loved the low country lifestyle, which meant water and wildlife. So the greenbelt in Charleston County is built around those two concepts.
Greenways are part of a community resiliency strategy
The outdoors is a really important part of a resilient community. In 1998, there was a flooding event in Grand Forks, North Dakota – a 500 to 1000 year flood event. The city was basically submerged underwater. Flink was called into do a greenway as a solution to the flooding – and immediately became one of the most hated people in town. Everyone was trying to recover from the flood, living in FEMA tents, and Flink was describing how a greenway could help with flooding.
During one council meeting, a council person told him, "You're in the middle of nowhere. You're on your way to nowhere, and no one's coming to your damn greenway. This is a horrible idea. Don't saddle us with this problem."
Nevertheless, Flink continued on. The greenway has really redefined the culture of life in Grand Forks. They were having difficulty retaining younger members of the community who wanted to move away, but with the greenway, businesses moved in, and companies followed, and people began to stay.
"There was a sense of place there, a sense of community being built around this Greenway that had been a really a problematic landscape," he said. There's now programming year-round, and the greenway has become an attraction.
It still floods every year, but the greenway helps with stormwater management and actually helps with the flood events.
Greenways can change communities and school transportation
Flink worked on a greenway that connected all six cities in Northern Arkansas. It has transformed the community. The team had to cobble together all sorts of landscapes to build a continuous trail.
Initially, the community didn't understand that greenways could be an economic engine or transportation or a cultural amenity – because such a greenway didn't exist before. In the process, Flink and his team constructed the greenway to protect the stream and existing woodlands – and keep people on the trail.
Part of the Flink's strategy was to connect the public schools with dedicated spaces for pedestrians and bikers. This has transformed the way people take their kids to school. One group of parents told Flink that they used to sit in long car lines and wait to drop off their kids – and now everyone walks and bikes to school.
Before the project launched, there was fear in the community. People thought that building the trail would also be dangerous because it would invite people into their neighborhoods. But that flipped as soon as the greenway was built and everyone started using it.
The greenway is now used to celebrate the cultural diversity of Northwest Arkansas. There are often celebrations along the greenway celebrating different cultures and bringing people together.
North Carolina is a leader in greenways
Flink pointed out that there's a proposed greenway network in all 100 counties across North Carolina – and that we're now celebrating the Year of the Trail.
The Grand Canyon greenway was really controversial and is now beloved
A lot of people didn't want a greenway near the Grand Canyon – but Flink was called in to provide one because people were trampling all over the Grand Canyon which was actually hurting the ecosystem there. And there was no intentional accommodation for pedestrians or bicyclists or people in wheelchairs – human beings were making their own path, and there were paths everywhere which was destroying the fragile ecosystem.
Flink and team created designs so that people were walking along a set asphalt path instead of destroying the landscape. There was a lot of pushback against asphalt, but Flink noted that the millions of visitors to the Grand Canyon were destroying the upper rock layer of the Canyon into a very fine powder – hurting both the animals around it and the ecosystem. The hard tread of asphalt was able to absorb the impact of all of the visitors. Flink then turned his attention to the landscape and restored it, fixing drainage issues.
The asphalt has changed the visitation experience at the Grand Canyon. It has both protected the natural landscape and allowed people to space out – and made it accessible to those in wheelchairs.