On Wednesday afternoon, the Chapel Hill Carrboro City Schools held a virtual meeting to discuss school buses. 
Those who tuned in quickly realized that our school bus system is in trouble—big trouble. We've lost drivers and buses, and have started using contracted vehicles just to get kids to school. There are children riding the bus for more than two hours a day, and buses are routinely late, causing our students to miss school.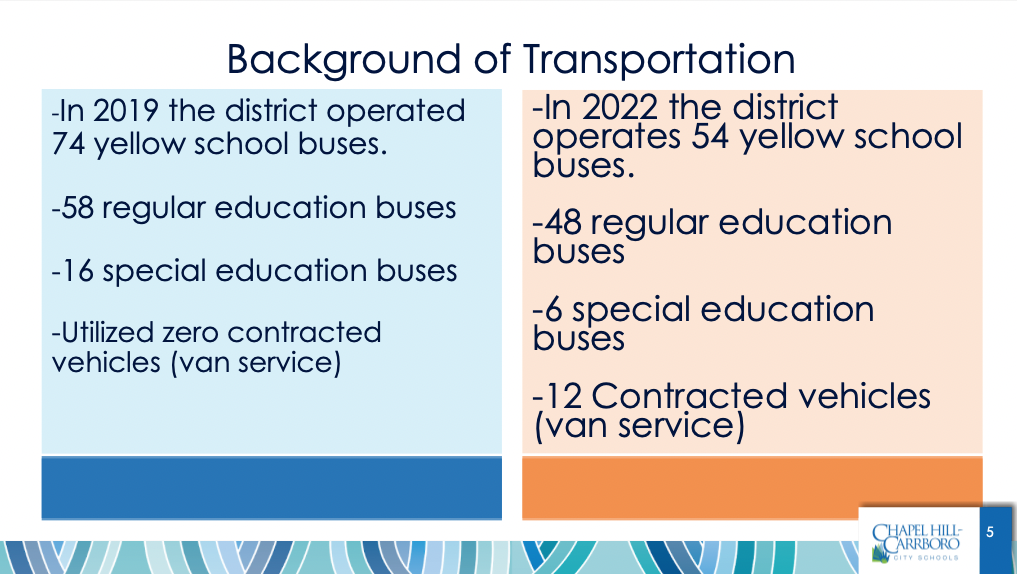 All of the easy solutions—raising driver pay, making routes more efficient—have been explored, and none will be sufficient to address the crisis (which isn't specific to CHCSS. Transit systems everywhere are struggling to hire bus drivers). So the school system is considering more drastic measures, including:
1. Staggered start times for schools
The system would split schools at each level, with some starting early (say, a 7:20 am start for Carrboro, McDougle, Northside, and Estes Hills), while the rest start at 7:50 am. For the schools starting at 7:20 am, teachers will arrive well before 7 am, and there will be eight-year-olds (and their parents) waking up at 6 am just to get to school on time.
TBB Take: This makes sense, though we may need more coffee. 
2. Ending neighborhood bus service for magnet schools.
Children who attend magnet schools—our dual-language schools, LEAP, etc.—will lose neighborhood bus service, and instead have to go to a consolidated pickup site where they would then wait for the bus. 
TBB Take: It makes sense to have consolidated pickup sites, as long as they're safe to walk to. Would it be possible to put bike parking at some of these sites, so that kids can lock up their bikes before school?
3. Extending the "walk zone" to 2.5 miles and reducing the number of bus stops.
Currently, everyone within 1.5 miles of their assigned school doesn't have bus service. In some places, it's safe enough to walk or bike to school, but in other places people have to drive their kid to school. The school system would extend this "walk zone" by an additional mile, which would mean that your middle-schooler might be expected to walk 45 minutes or more to get to school, or have you drive them (eye roll). This proposal would also require elementary-aged kids to walk as much as .3 miles to their bus stop, with middle and high schoolers walking up to .5 miles to their stop. (Note: current policy also provides bus service to children who would have to cross a  "hazardous area" to get to school, such as NC-54. We assume this policy would continue to apply). 
TBB Take: This speaks to the need for greenways and other off-road transportation options that make it easier and safer for kids to walk or bike to school — and not just once a year on Bike and Walk to School Day. If you live in Carrboro, there's a group that's working on making it easier for kids to reach Smith Middle School and Chapel Hill High School through the Bolin Creek Trail — you can sign up for their updates here. If you live in Chapel Hill or Carrboro and want to advocate for safer streets, transportation alternatives, and affordable house, we recommend joining the NEXT mailing list, or coming to their monthly happy hours (there's one tonight, Nov. 3, from 6-8). On the first Friday of every month, Bike Carrboro hosts a "Cycle in for Coffee" event at Open Eye from 7:30 to 9 am, where you can talk to advocates in Carrboro and Chapel Hill about making our streets safer.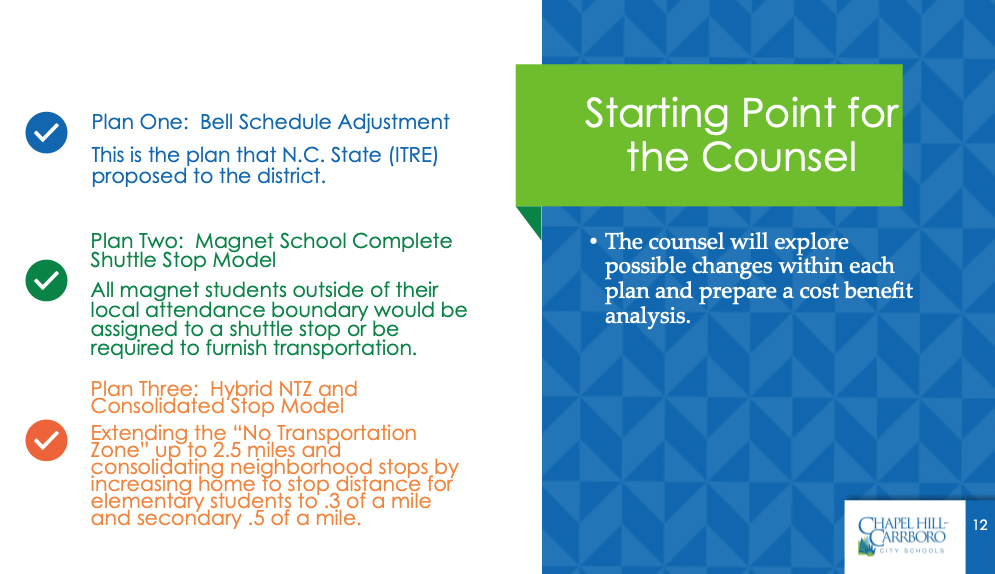 If enacted, these changes will dramatically change the lives of thousands of Chapel Hill-Carrboro students. As Carrboro resident Ryan Byars observed in a terrific editorial recently, our communities have a lot of great neighborhoods, but they don't have great connectivity to the places we need to go, including our schools. Our kindergartners, sixth-graders, and high school sophomores all pay the price of poorly designed road networks and bad decisions, like building schools on the edge of town, made decades ago. 
While we have hard choices in front of us, we should also commit to repairing our neighborhoods so it's easier for kids to bike, walk, and roll to school. Let's build greenways and sidewalks. Let's make our streets safer through better designs. Let's decide as a community that no child should have to wake up at 6 am or bike on an unsafe street just to get to school. And when we improve our streets for our children, we're improving them for everyone else as well.
The school system is hosting another virtual meeting on Wednesday, Nov. 30 to discuss these changes, and you can join here (Note: the school system uses WebX for its meetings. The password is "join"). You can also read more about the discussion on the CHCCS's website.