We've been told to stay off NextDoor for our mental health, but like to keep an eye on what's being said about housing and local politics — which means our mental health is a bit shaky these days.
Onto the latest.
Yesterday, in a lengthy thread about housing, taxes, teachers, duplexes, and jobs (???) a CHALT leader said that her organization was looking "at…the number of people in the buildings registered to vote here in NC. At last check the Berkshire had only 2."
That seemed….wrong.
So we asked former town council member Gerry Cohen, who is a county elections board member and also teaches election data to graduate students at Duke University. Gerry pulled the Orange County voter list, sorted to the Ridgefield precinct, and then sorted for people who live at 201 S Elliot in the Berkshire.
Turns out, there's currently 162 active voters living in the Berkshire as of September 30, 2022, including 16 who registered since June 1 of this year. There are also 53 inactive voters – who may or may not still be living there – and one voter who lives overseas and uses that address.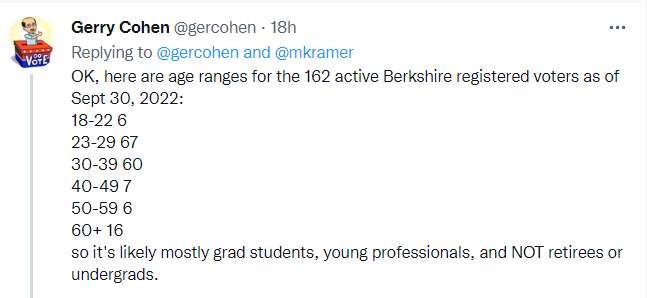 "Anyone who says there are just two voters likely doesn't understand voter lists," says Gerry. He added, "Also, when registration closes November 5, there will probably be a bunch more voters there than there are now FWIW."
Thank you Gerry — and thank you to all of the residents at the Berkshire. We should all be thrilled when our voting numbers are high.