Whether you drive into Chapel Hill several times a week, or only occasionally, you probably associate your arrival with a landmark building. If you're coming from Durham on 15-501, you might look for the Blue Cross Blue Shield building, which is now called The Parkline. If you're driving in from Pittsboro, it might be the Southern Village sign, which, depending on the time of day, is soon followed by a glimpse of a Chapel Hill Transit bus. For travelers on 54, one first notices the Friday Center or Meadowmont, depending on where they're looking.
These gateway developments are more than just landmarks. They signal what kind of community we are, and want to be. Are we a place that values interesting architecture? Do we emphasize suburban design, suggesting that all are welcome providing that they drove here? Or do we instead showcase our transit connections? Are our buildings hidden in the trees, or are they facing the street?
Tonight, the Chapel Hill Planning Commission will consider what could become the town's latest gateway development, this time on Old Chapel Hill Road, which provides a safe connection across I-40 for pedestrians and cyclists. Now called Chapel Hill Crossings, the proposed development will add approximately 500 townhomes, cottages, condos, and apartments to our community.
While projects of this size are not unfamiliar to students of Chapel Hill planning (admittedly a small group), what makes Chapel Hill Crossings different from similar projects (such as Aura, 418 homes, which is now under construction, or South Creek, 650 homes, which will soon be voted on by the town council) is that it is one of the first projects that is being developed with the town's Complete Communities process in mind. (For those scratching their head, here's a taste of our coverage from last year.)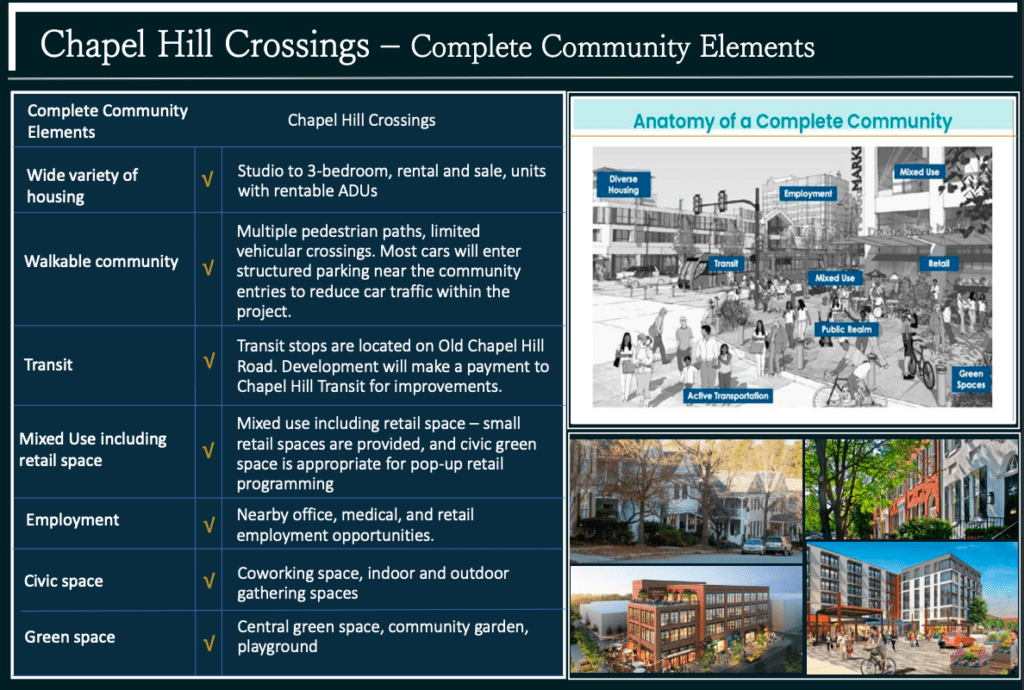 The project's developer, Ernie Brown, lives in Chapel Hill, and has been vocal about his desire to work with the town to build housing that meets the community's needs. This project has already gone under many iterations, from the initial proposal as a series of disconnected projects (including one by D.R. Bryan, who also built Southern Village) to what the Planning Commission will see tonight, an ambitious project that crosses Old Chapel Hill Road. (Note: some of the complaints about the project focus on the fact that it requires changes to the Future Land Use Map, which was adopted several years ago by a council that wasn't quite as interested in density).
The town's gateway developments also serve as a kind of time capsule. The Blue Cross Blue Shield reveals a time when the town was open to ambitious architecture. Southern Village and Meadowmont show the town trying to balance a suburban aesthetic with new urbanist ideas. Chapel Hill Crossings suggest something in between, a place that is open to more density, and public transportation, and bikes, but also wants to feel like a community, a place where people from a variety of backgrounds and interests can thrive.