This week, Jennifer Keesmaat and her team come back to Chapel Hill for another discussion about complete communities. At the previous meeting in August, she discussed her solution to Chapel Hill's problems—greenways!—and suggested that she was interested in crowdsourcing where Chapel Hill might expand its greenway network.
Of course, this is Chapel Hill, which means we also have an existing greenways plan from 2013 and a mobility and connectivity plan from 2020, both of which provide detailed plans for the greenways we might build were the town to prioritize them. But, with a magnanimous spirit, we want to offer TBB's own recommendations for greenway investments.
What we have, and what will soon be built
Chapel Hill already has the makings of a great greenway network, which John Rees pointed out in his walking tour of the Blue Hill neighborhoods. The Bolin Creek Greenway and the Tanyard Branch Extension connects the Northside neighborhood with neighborhoods along Bolin Creek, all the way to the Community Center playground.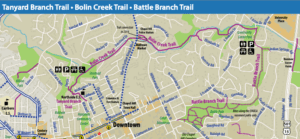 The Fan Branch Trail runs through Southern Village and connects to the Morgan Creek Trail, which serves Merritt's Pasture and a handful of houses along  54.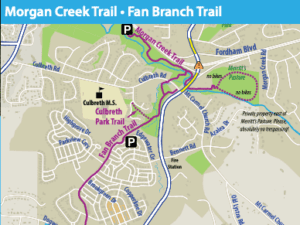 The Lower Booker Creek Ttrail connects many apartments and  several large neighborhoods to the Eastgate Shopping Center. And, Dry Creek Trail provides a great connection to East Chapel Hill High School for a few dozen single-family homes (Note: the Dry Creek Trail has such poor signage that many don't even know it exists.).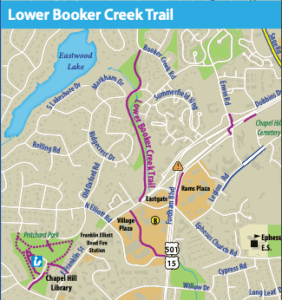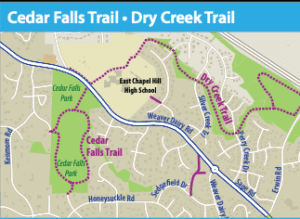 There's also the Meadowmont paths which run alongside 54 and allow people to make their way to stores and the Chapel Hill Farmer's Market.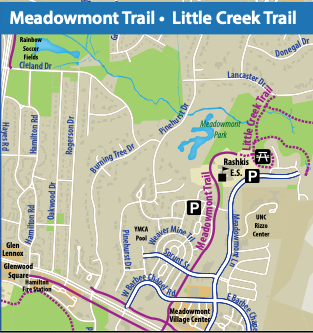 In the near future we'll also have a few additions to what currently exists:
The hidden bike path that currently exists along Fordham Boulevard will be extended about a half-mile, with other improvements to come soon.
The Morgan Creek Trail will be extended to the Carrboro border, and another project in Carrboro will connect hundreds of apartments to Merritt's Pasture and Southern Village.

So that's what exists now. But how could we make these greenways more useful, more connected, and more abundant?
Let's brainstorm.
Let's say we have $10 million to spend. (That's about one-fourth what the town will spend on its new parking deck). And, let's assume our estimates are off by a factor of two (hence, we just have $5 million of projects). Here are our top picks:
Extend the Morgan Creek trail to Oteys Road ($1.5M)
This short extension will make it possible for people to bike from south campus, the North Carolina Botanical Garden, and further afield to Southern Village and Carrboro. While future investments, like a safe crossing at Oteys Road, will be needed to make it really accessible to all, completing this short path will help considerably.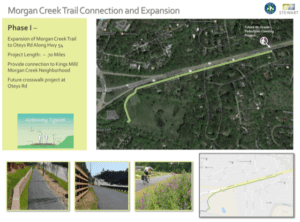 Wayfinding to help people navigate Blue Hill. ($500K)
Blue Hill is already one of the densest places in Chapel Hill, but its bike infrastructure is sorely lacking. While fixing the bike paths would require cooperation with landowners, we'd love to see investment in signage so people know how to bike from Eastgate to University Place, and all points in between.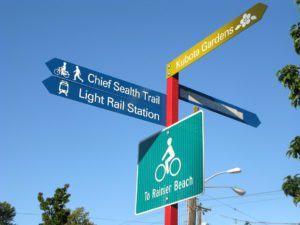 Turn the Raleigh Road sidewalk into a cycle path. ($3 million)
For people who work or live at UNC's main campus, Raleigh road is the quickest way to get to 54 and Fordham Boulevard. With the terrific new crossing at Glen Lennox, it's even possible to safely get from campus to Blue Hill.
The one bottleneck is Raleigh Road itself, which has an old sidewalk (still pink, from when it was designated as one of Chapel Hill's first bike paths) and a four-to-five lane road that encourages cars to speed. It's a steep climb, which made it challenging for all but the most committed cyclists in the acoustic bike era. Now that ebikes are becoming commonplace, it's much easier to imagine it getting widely used.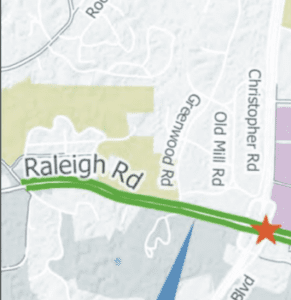 A few small changes make a big difference
These small, relatively inexpensive changes will allow for the following:
Someone living in Blue Hill will have a safe route to UNC's campus. They can take the greenway on Fordham to cross at Glenn Lennox, ride through a quiet neighborhood to get to Raleigh Road, and then take the greenway up to campus, where they can get to downtown Chapel Hill or Carrboro.
Someone living on UNC's south campus will have a safe route to Southern Village. They can cross Fordham at Manning Drive (although a bike path or better sidewalk there would really help), bike on neighborhood streets to Oteys Road, and then take the greenway all the way to Southern Village or Carrboro.
Someone living in Blue Hill will be able to bike to get groceries, eat at a restaurant, visit the library, or travel to Chapel Hill or Carrboro using the Bolin Creek Trail. This is all already possible, but we don't have great wayfinding signs in Blue Hill. We also need to make our bike paths safer, which will require working with property owners. Blue Hill can and should be a walkable neighborhood. A few small improvements to its infrastructure will make all the difference.
What would you like to see? Let us know and we'll feature them in a future blog post.