Each month, NextFwd hosts a happy hour for members to discuss local civic issues in Chapel Hill and Carrboro. In August, before the scheduled happy hour, I led a walking tour through Chapel Hill's Blue Hill District. 
The Blue Hill District – which used to be called the Ephesus Fordham District – is located off Fordham Boulevard. In 2014, the town implemented form-based code in the Blue Hill District, which "emphasizes the overall form and feel in the build environment over the separation of land uses." In other words, it has allowed developers to build market rate housing in our area quickly and without the red tape that has slowed down or stopped development elsewhere in town. 
It has also spurred commercial development, so the people living in Blue Hill have access to a variety of shopping destinations without needing to use a car. From their apartments, they can access:
4 Grocery Stores

A pharmacy

Several restaurants, a pub (the Casual Pint!)

Clothing and activity stores

Personal services
There is also a bus route, the D bus, which takes residents up to downtown Chapel Hill to Campus and the Medical Center. The D stops right outside the Berkshire, one of the apartment buildings in the Blue Hill District.
During the tour, I pointed out these opportunities for residents, and I also focused on ways in which the Blue Hill District could and should be improved to provide better connectivity for residents of both the district and Chapel Hill at large. Here's some of what we talked about: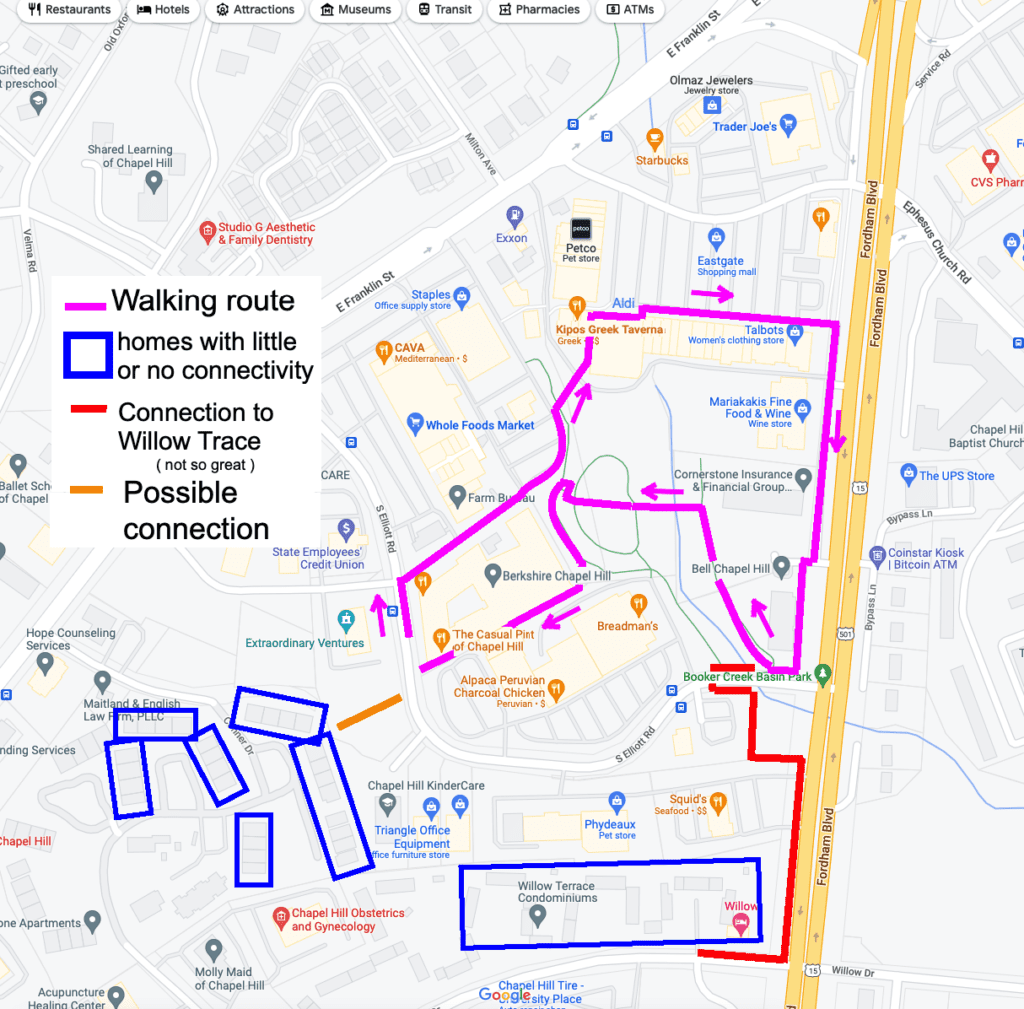 We should improve connectivity for residents on the outskirts of the district
For example, residents of Sunstone, a large apartment complex just to the West of the district, cannot walk to the district without crossing several busy roads — they would have to get into their cars and drive there. Connecting the residences of this complex with the district would allow them to travel safely on foot and get to groceries, pharmacy, and restaurants.
We should provide wayfinding for connections within the district
During the walk, we went past the Berkshire Apartments and walked along the multi-use path that runs behind it. In Blue Hill, both sidewalks and multi-use paths that are on the towns' Mobility and Connectivity Plan must be built as part of development projects. 
This nice 10-foot path behind the complex affords a glimpse of the Booker Creek Basin Park, one of Chapel Hill's least trafficked parks. Situated between the Berkshire and the Bell apartments, the park serves two purposes: First, it provides a quiet, calm space for residents, and second, it also captures excessive stormwater from Booker Creek in periods of high rain. More details can be found on the Town's website here and here.
Alongside the path runs a mostly-unknown connection between this part of Blue Hill and Eastgate. I like to call it the 'Kipos Connection.' A short trip down some stairs and across an alley and you are immersed in the beautiful gardens that encircle the restaurant. Again, residents do not need a car to visit. 
However, again, there are some missed opportunities. (1) there is ZERO way-finding, which is why nobody knows about this route. (2) The route passes by some dumpsters that can be slightly relocated and or better shielded. This is the kind of connectivity we see in European cities, and it is almost there in Blue Hill, but the final, inexpensive bits have not been done.
We can find a way to daylight Booker Creek
Passing Kipos, we walked in front of the Aldi grocery store. Right below, Booker Creek flows along. We discussed the creek and how there has been some talk in the past about daylighting it. Daylighting the creek would provide a bit of nature in the Eastgate Shopping Center, but it would also change the parking lot – which is heavily trafficked. We would have to think about a vertical parking lot to make this work. However, more people would bike and walk to Eastgate if it were safe to do so, and if they could travel alongside the creek. 
It's hard to see how all of these pathways will eventually connect — we should both preview that for residents (so they know how nice it will be when finished) and so they can use them now!
Past the Aldi, we see a short multi-use path. This is a really nice 15-foot path. It has some nice bollards on one end and a really cool covered bike rack on the other. I call it the "path to no where" because that is basically what it is right now. 
As I mentioned earlier, development triggers the construction of these multi use paths, but as the development progresses in a patchwork way, these paths are useless beyond an immediate sidewalk in the area. Thinking of them as an interconnected network — and providing Chapel Hill residents with wayfinding material to find them — will improve their usage AND make people less reliant on the cars they typically use to access these destinations right now.
As we head south, in front of the Bell apartments, we are presented with another section. Again, it is really nice and equally not connected to anything else. Eventually, there will be a sidepath on BOTH sides of Fordham Blvd. These sidepaths will permit non-car connectivity into and out of the Blue Hill and also connect to the some the development taking place to the south by Grubb properties, such as the Link Apartments.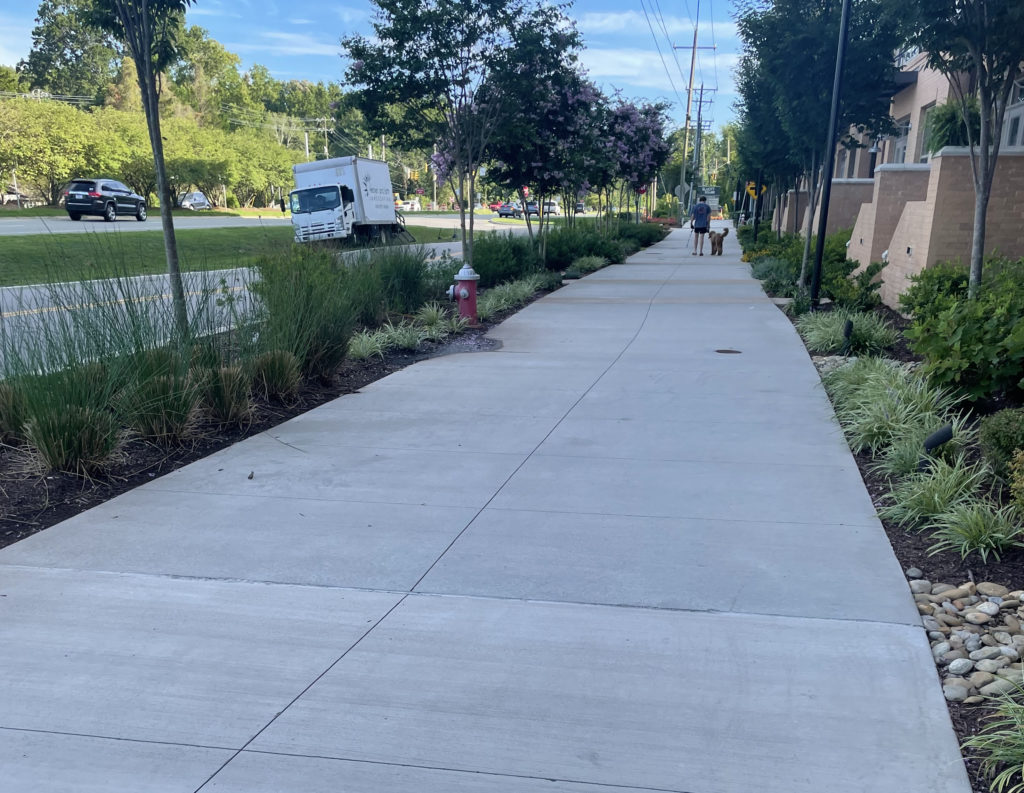 As we walk along, a young resident of the Bell passes us with some items they just purchased from Aldi's. This is exactly how this path is supposed to work.
Make the Booker Creek Basin Park more well-known!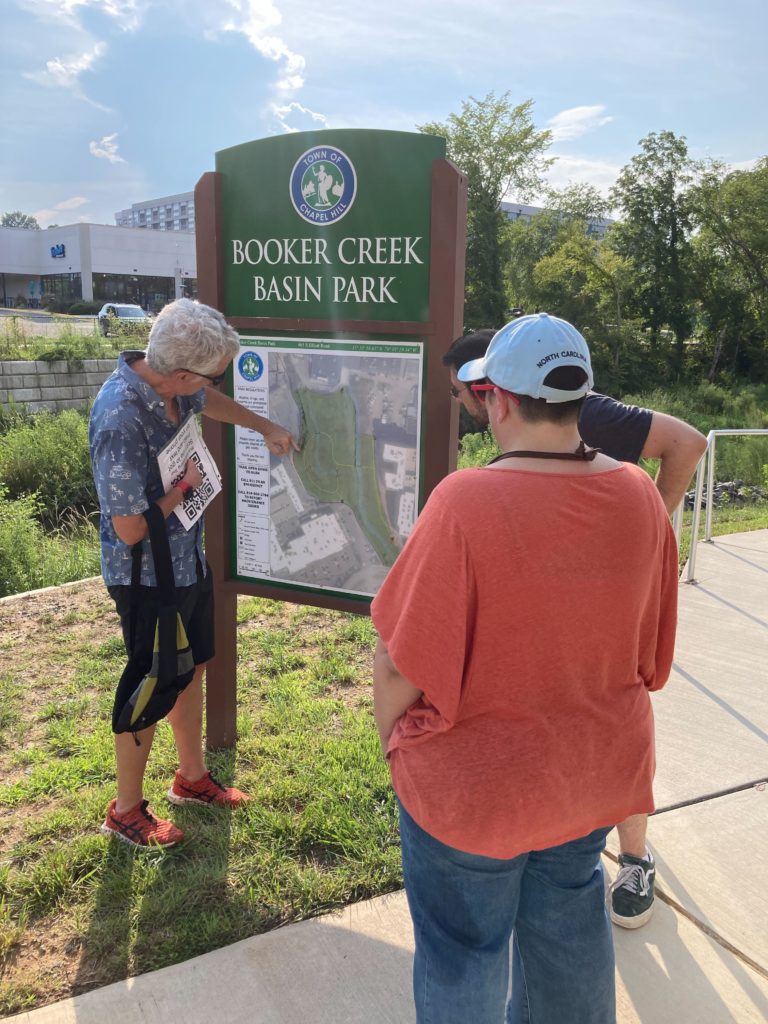 We circle around the south end of the Bell, and then stop and look at the southern connectivity to the blue hill. There is a serpentine path (B on the map) that is used to connect the apartments and townhomes on Willow drive to this area. Again, wayfaring and some light amenities — benches, lights — would go a long way in having people use these paths instead of their car.
Finally, we walked through the Booker Creek Basin Park. On a hot evening, it becomes immediately cooler, quieter and comfortable as we descend into this natural area. We walked across a nice bridge over the creek. This is a gem of a park and worth visiting. However, like just about everything else we visited, it is full of missed opportunities.
Most of them are very inexpensive to address. There is a total lack of wayfinding signs and people who are down in the basin, cannot see the shopping district and restaurants that await. This likely will discourage people from scaling the steps as they may not know what lies at the top.
I also continue to be frustrated that this nice path does not have any connectivity at grade to the back of Eastgate. It is so close, and yet so far.
Look here on the Next web site for some more photos of the walk!