As anyone who has tried to buy a home in Chapel Hill in recent years knows, we are in the middle of a housing crisis. According to the Cooke Report, published last month by local realtors Allison Zimmerman and Lucia Cooke, the average house sells within 13 days of being listed. (In a healthy market, that number should be six months).
According to Zillow, the average home price in Chapel Hill was $439,000 in February 2021.  This February, the average price is $560,000. The average median income in Orange County is $86,400. For Chapel Hill homeowners, their homes have appreciated $121,000 in the past year alone, more than the average household in our community earned.
How did we get here?  As Zimmerman and Cooke note, the challenge is not incomes, but housing inventory. We don't build enough houses in our region, and Chapel Hill and Carrboro are among the worst offenders. The Cooke Report blames our current housing inventory problems on the 2008 recession, which put many small  developers out of business.
But, our problems locally run much deeper. For example, consider this 1983 candidate questionnaire, sent out to the people running for Chapel Hill Town Council. Every candidate is skeptical of growth, placing other values, such as historic preservation and single-family neighborhoods, above creating a community that's welcoming for all.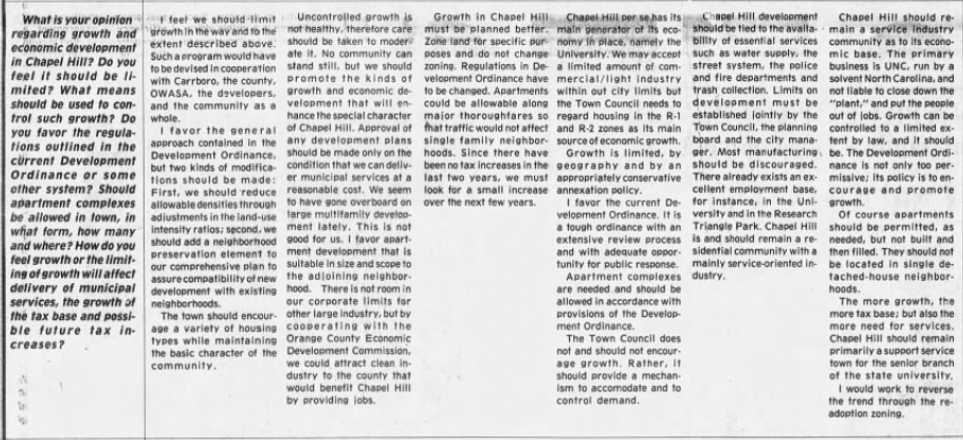 Our current councils in Chapel Hill and Carrboro understand the importance of building housing for people at all income levels. But they continue to operate under the rules set by the anti-growth councils of the 1970s and 1980s. We have the opportunity to change those rules, but it requires political resolve and a willingness to make tough choices.