Aja Kelleher is once again running for Town Council in Carrboro. Kelleher, who was a registered Republican until July of 2020, has come out against the new library project in downtown Carrboro, a project some 3o-odd years in the making. From NextDoor: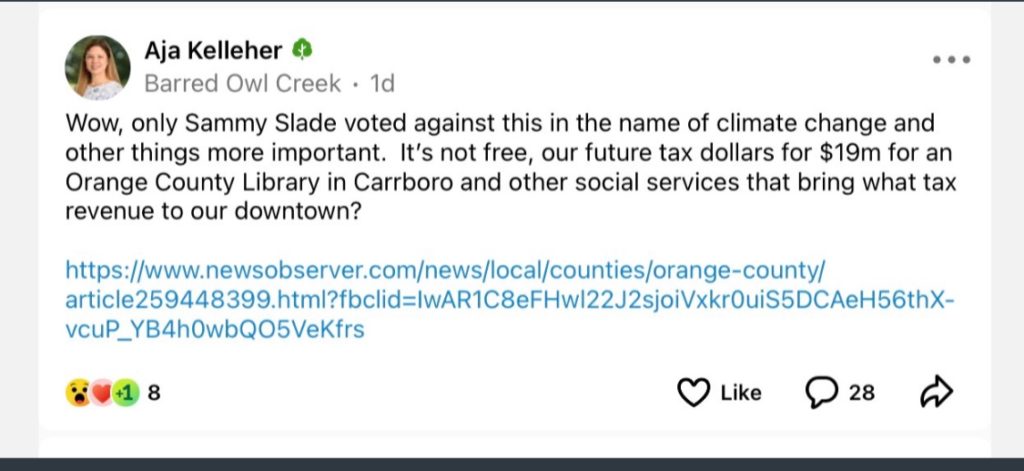 Only…that's not exactly accurate. There's quite a large body of research that shows that libraries do, in fact, bring in additional tax revenue — home values go up, businesses bring in more foot traffic, and businesses that otherwise wouldn't have started get off the ground. For example:
ROI is estimated at $4.62 for every taxpayer $1 generated in support of Minnesota's public libraries. (Metropolitan Library Service Agency)
Texas public libraries were found to provide $2.628 billion in benefits while costing $566 million, a return on investment of $4.64 for each dollar. (Texas.gov)
In Ohio, for example, taxpayers enjoy an economic return of $5.48 per dollar of taxpayer support. (Ohio Library Council)
Users who stop at the library while completing a longer list of errands report "halo" spending at firms and establishments close to the library.
Increases in the use of [Seattle Public] Library resources contributes to learning, literacy, business productivity, personal and professional developments, and individual livelihood. [Berk & Associates]
I'm also a little flummoxed by  the idea she floats that social services need to bring in tax revenue. The social services at the planned 203 project are: the Parks and Rec Department, the  Orange County Skills Development Center, a teen space, and the branch library.  I disagree that generating revenue should be the end goal of any of these institutions. They bring intangible benefits to our town, and will in all likelihood result in more foot traffic in our downtown area, not to mention more access to education, technology, and information.
As for costs, there's no anticipated impact on our tax rates. The town's share of the cost will come from a combination of debt financing and cash from the general fund, as detailed in a presentation on March 3.