For a community to truly support people who travel by walking/rolling, biking, and taking transit, like Chapel Hill aspires to do, it needs to make sure people can rely on roads and trails being open for their use.  So while it's important to build safe walking and biking facilities like sidewalks, protected bike lanes, separated side paths, and paved greenway trails, it is critical that once they're built that they stay open. No one is going to rely on a path or a trail to get them from Point A to Point B unless they can be assured that they can actually use it.
You'd never have a key segment of a road closed indefinitely at random times without notice. Unfortunately that's how Chapel Hill treats its sidewalks and trails. While there is a town policy regarding the closure of traffic lanes and sidewalks, and the town claims it instructs contractors and utility companies about the importance of providing alternative routes as required by the Americans with Disabilities Act, in practice it's a free-for-all. Sidewalks and trails can be closed willy-nilly, and the Town will only respond, hesitatingly and occasionally, if you complain, and sometimes only if the guy who looks into these issues happens to be in the office.
Here's one example. Below is a map showing a trail that connects Chapel Hill neighborhoods in the southeast part of town to other parts of town, including some of town's main shopping areas. On both sides of the trail there are either sidewalks or slow neighborhood streets which are safe for people of all ages to bike or walk, so this trail marks a key connection that allows people to travel for work or recreation without relying on a car. I use it to do grocery shopping and to get to the town's farmer's market on Saturdays. Without the trail, pedestrians or bicyclists would have to use Fordham Boulevard, a two-lane divided highway with minimal shoulder and a 45 mph speed limit that most drivers treat as a minimum.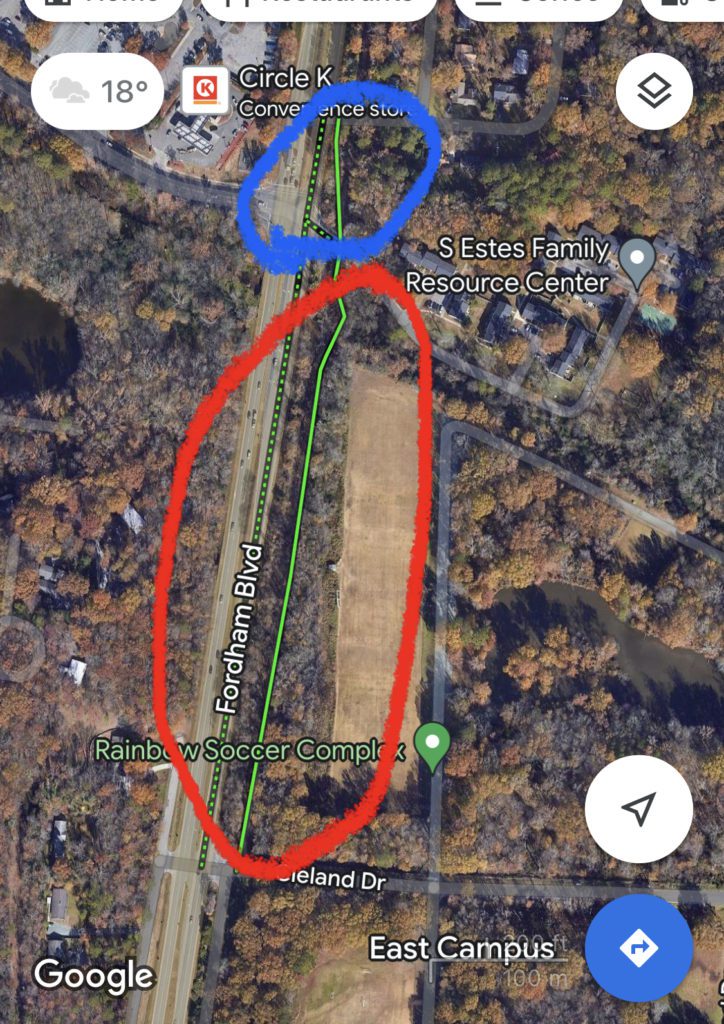 Fordham Boulevard is a major north-south connecting road. You wouldn't expect the road to be closed without notice for most of several weeks. But that's what the Town let happen on the trail. For several weeks, Duke Energy did work maintaining the overhead electric lines that travel next to the trail. It's understandable that Duke Energy would need to close the trail periodically to allow its trucks and workers to access the power lines and do work. But what's not understandable is the Town's response to this work:
It apparently didn't know the work was taking place.
It didn't know how long the work would last.
Once it found out about the work, and reached out to Duke Energy, it didn't send out a notice until four days after Duke Energy provided details, and only because someone (ahem, me) asked why they hadn't done so. (Or maybe not, but the tweet went out a half hour after I and a Duke Energy rep separately emailed asking why there hadn't been any notice) And as best I know, the notice was this one set of tweets and a second set; notice was never placed in the Town's email newslettter, or on the website.
It did not provide any updates as the work dragged on for several weeks longer than planned.
It provided no alternative routes; the only reasonable alternative (which the town didn't point out, you had to look it up on your own) involves a four-mile detour through an active construction zone. Four miles is fine in a car, a heavy lift on a bike, and unreasonable on foot. The Town's sole notice about the work bragged about the Town's transit service, which doesn't really service this area.
The failure to provide a reasonable accessible alternative is the real disappointment. While the town said that there was "no safe alternative route around this trail closure," I suspect there was not much of an effort made to look for one.  Just walking around the site reveals possible alternative routes, some of which Duke Energy trucks used, but town staff hasn't told me whether they had evaluated any alternatives or why they were rejected.
The work took place for several weeks, Monday-Saturday, between 9 am and 4 pm, but it was irregular, and was cancelled when it rained. This lack of consistency or notice as to when the work would or would not take place makes it impractical to use the trail for transportation purposes, and in fact the work went on for several weeks longer than originally planned due to rain.
But, it gets worse. After the work was completed on the "red" segment on the map above, this past week Duke Energy went to work on the "blue" segment. Instead of limiting the work to daytime hours, which allows for use of the trail in the evening or if its raining, Duke Energy left its vehicles on the trail and closed it for five days and counting. Once again, the town provided no notice, no alternative, and didn't appear to try to provide notice or find an alternative.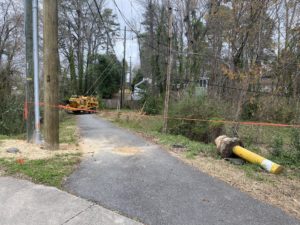 In the next year or two, the town plans to upgrade this path, replacing the crumbly asphalt with a nice new concrete surface. While that's great, the big question is how people walking and biking are supposed to get around while the trail is torn up. Given the disinterest in finding alternatives around this month of closures for Duke Energy, I'm not confident there's going to be a solution. This key link may be offline for months.
Sadly, this isn't an isolated incident. Last month, the sidewalk along both sides of East Rosemary Street was chopped up and impassible, without any detour. This was a project the Town knew about,  and even then the contractor didn't think that it was a problem to block sidewalks on both side of the road at the same time. And apparently the town didn't make clear that this would be a problem. I wish the town would act with a fraction of the eagerness of NCDOT, which — when I pointed out that a UNC work crew had blocked off a bike lane and bus lane near UNC without adequate detours or signage — immediately met with the UNC contractor and required immediate restoration of the bike lane.
We aspire for our trails and bike lanes to be useful for transportation, not just recreation. But no one is going to walk or bike (or take transit) to work if the trails and bike lanes they use can close on a moment's notice.
Coda: The blockage marked with blue above was open today, five days after it closed. Great news! Will it be closed tomorrow? Who knows! Tuesday? Unclear! Will the other part of the trail be closed again? Magic Eight Ball is unsure. Is the alternative route on the highway safe? Nope! Here was the scene when I got to one end of the trail — a four-car collision that had been pulled off Fordham Boulevard so traffic could keep flowing. Fortunately there was enough of a gap between the stopped vehicles so that my bike could squeeze through.