Today we are starting a new series featuring the hidden talents and hobbies of advisory board members and elected officials. Up first is Louie Rivers, who is a member of the Chapel Hill Planning Commission….and a comic book fanatic. He'll be writing about comic books for us on a regular basis.
I love the Twilight Zone. The original Twilight Zone from the 1960s. The science fiction/horror black and white anthology show that featured heavy handed morality and often an O. Henry twist. I love the aesthetics, the earnestness, the progressiveness. I love that the creators challenged their audience. Rod Serling and his team of writers engaged with big ideas and undermined traditional assumptions about 1960's America. It is far from perfect and to a modern viewer the handling of race and gender will often feel clumsy, but I love it.
The work of Darwyn Cooke moves me like the Twilight Zone. Comparing Cooke's comics to a show from the 1960s is not the most creative approach. Visually his art invokes the feel of the 1940s, '50s and 60s. His depiction of superheroes (women and men) is square jawed, athletic and large but not cut, there is a roundness to them, and more often than not they are impeccably dressed (think Lena Horne and Sydney Poitier). Many of his stories are set in this same time period. His most acclaimed mainstream work, The New Frontier, reimagines the start of the DC comics universe in a Cold War America.
However, beyond a shared sense of style, Cooke's work, like the Twilight Zone, seeks to subvert the audience's assumptions. This is wonderfully illustrated in Cooke's introduction to Wonder Woman in the New Frontier.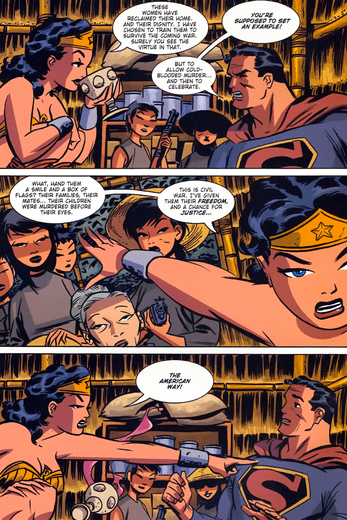 A still image from DC: The New Frontier / Copyright Darwyn Cooke, DC Comics
She has aided a group of women in their liberation from a group of male captors. When confronted by Superman about the violence of this liberation she points out the hypocrisy of his position. In addition to the text, Cooke continues to subvert audience expectations by drawing Wonder Women as more physically imposing than Superman. This is masterfully done, many artists have drawn physically imposing women but often by exaggerating their physical features in a hyper-sexual fashion (think R. Crumb). Cooke largely avoids this pitfall. Cooke was not a perfect man but his work earnestly wrestles with modern morality often through the lens of superheroes in 1960s America.
Graphic Ink, The DC Comics Art of Darwyn Cooke, is an anthology of sorts. It is a collection of the highlights of Cooke's work for DC comics. It features excerpts from larger narratives, short stories, cover art and pin ups (See Graphic 3, stand alone illustrations that are not part of a larger story).
I highly recommend this book to long time comic fans and people new to the genre. The book is full of delightful cartooning, captivating stories and rewards multiple reads. Does Cooke rival Kate Manne in examining misogyny or explore racism with the nuance of Sandy Darity? No, far from it. What Cooke does is craft amazingly illustrated stories with immediately recognizable superheroes that explore difficult issues with earnestnesses and heart that will stick with you long after you have put down the comic.  
The book: Graphic Ink, The DC Comics Art of Darwyn Cooke
The creators: Darwyn Cooke and friends
The publisher: DC Comics
Publication Year: 2015
Can you buy this book at retail?: Yes (it is available in softcover and digital formats)
Kid appropriate?: I'd let my 8-year old read it (I'm pretty lax when comes to what my kids can read, there is some violence, some sexual context and some heavy subjects, but no graphic sex or violence)
Is it available at the Chapel Hill Public Library? No, but several other books by Darwyn Cooke are.
(If you serve on an advisory board or are an elected official — and would like to share your hobby or talents, please reach out! We're looking for gardeners, bakers, and jugglers.)