Two weeks ago, we sent out an alert about the school board race. At the time, 0 people had filed to run for school board.
Over the course of that week, 52 people reached out to us. We connected each of them with current and former school board members, and information about the filing process.
By the noon deadline on Friday, 19 people had filed to run in the school board race. Since then, two have dropped out. As of August 15, there are now 16 candidates. There are 3 incumbents and 14 newcomers — and 4 seats available. We are thrilled that so many smart, accomplished people who value public education have stepped forward.
This post explains how we plan to vet each of the candidates so that we can make an informed choice about voting.
We sent each candidate a questionnaire and plan to publish all of their responses
We have sent a questionnaire to each candidate who filed for school board. You can see the questions here. The deadline to answer is September 15 and we will post all responses received on our website.
The questions for school board candidates were compiled by board members of both Triangle Blog Blog and Bridging the Gap, and attendees of a four-part community read and discussion series on reparations and race at the Chapel Hill Public Library. The discussion series was led by Danita Mason-Hogans and Simona Goldin, the co-charpersons of the Equity and Schools Task Force, members of the UNC Commission on History, Race, and a Way Forward and members of the Chapel Hill community.
We are looking at candidates' voting history and their political affiliation history.
We reached out to the Orange County Board of Elections and obtained the voter registration history for each candidate. (This helps show when people registered to their current political party.) There are several candidates who have switched political parties. We also searched the NCBOE to see if candidates voted in municipal elections and primaries. You can see information for all candidates here.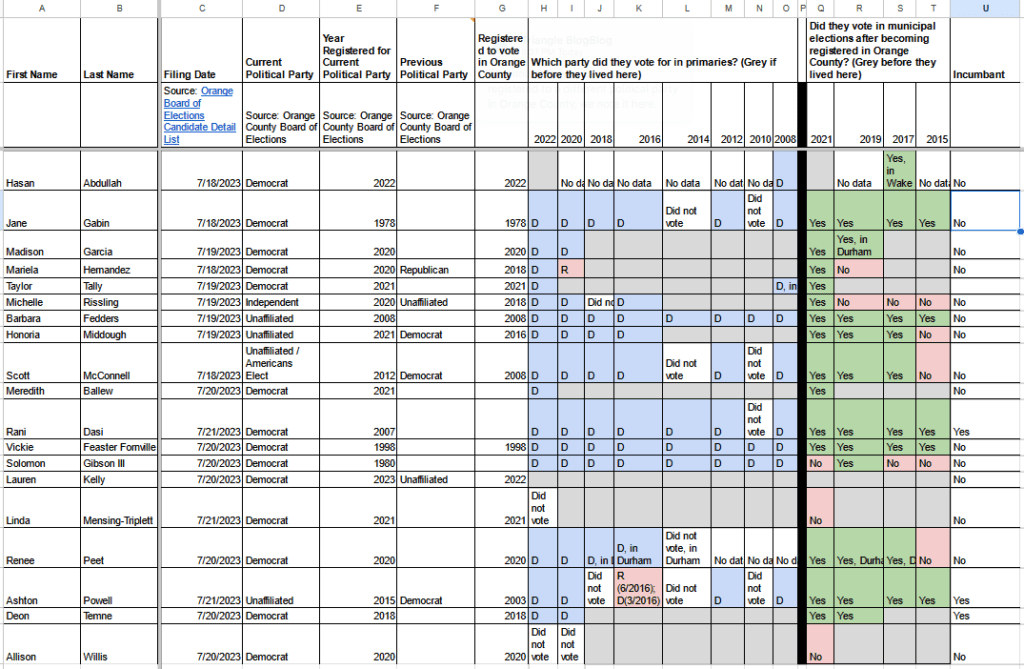 Rounding up other questionnaires and endorsements
Each year, we publish a roundup of all candidate endorsements. We plan to do the same this year, and will publish all endorsements received by school board candidates.
Research
We plan to research each candidate in depth. We have several librarians blogblogging for us, and know our way around archival databases. (We really like the tips in this piece from a non-profit media organization in Berks County, PA.)
This is a lot of work! Want to help?
Donate your time: Do you love research? Have a hankering for LexusNexus? Reach out! triangleblogblog@gmail.com
Donate your writing: Do you love writing? Write a piece for us! Reach out! triangleblogblog@gmail.com
Donate your money: Do you enjoy in-depth research and writing provided by a band of merry civic nerds? Throw us some cash, so we can improve our tech stack and do events.