GoTriangle has proposed eliminating  one and possibly both bus stops that are used by Chapel Hill riders of the CRX bus line. The CRX bus line is the express bus that connects Chapel Hill to Raleigh.
Sadly, the CRX bus has not been running this winter due to staffing shortages at GoTriangle. When it is running, its current route goes from downtown Chapel Hill (where I catch it), drives north on MLK, proceeds to the Eubanks Park and Ride just south of I-40 where it picks up a second batch of riders, and then continues along I-40 to Raleigh, where it has stops at NCSU and downtown Raleigh.
If you are a commuter who lives in Orange County and use the CRX to travel to work in Raleigh, you either currently board in downtown Chapel Hill or at the Eubanks Park and Ride. The proposed changes to the CRX in the Wake County Bus Plan would eliminate the Eubanks Park and Ride, probably eliminate the downtown stop, and add a stop at the Friday Center Park and Ride along 54 close to I-40.
This would mean that literally no one living in Orange County who currently takes the CRX bus would be able to continue catching the bus at their current bus stop. The South Road stop on campus currently only exists in the opposite direction, for people who are traveling to work in Chapel Hill from Raleigh.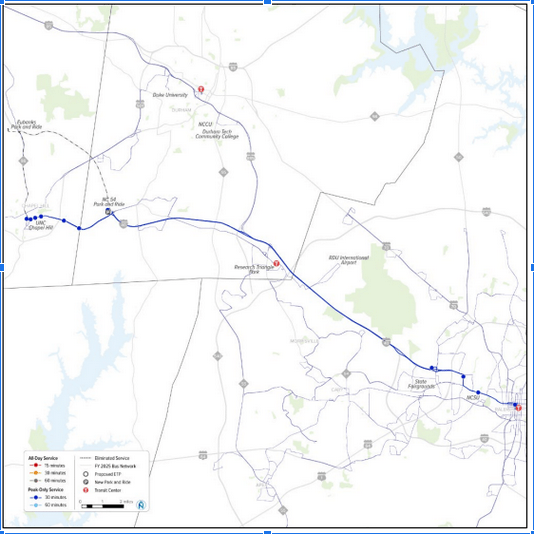 The reason why GoTriangle is proposing this change is to increase the frequency of service to every 30 minutes instead of every 35 minutes and also to serve the growing area along the 54 corridor. While these are positive goals, it is irresponsible that GoTriangle has made virtually no effort to reach out to residents of Orange County and receive public feedback on changing the existing bus stops.
I am signed up for email alerts from GoTriangle and also am on the Chapel Hill Transportation and Connectivity Advisory Board. I bring this up because I am more plugged in than the average person on proposed changes to transit lines affecting Chapel Hill. I was surprised last week to receive an email from the NCSU transportation department about proposed changes to lines that run through the NCSU campus, including the CRX.
I had not received an email about these proposed changes from GoTriangle in an email that contained the word "CRX;" GoTriangle had sent out an email asking for generic feedback on the Wake County Bus Plan but since I live in Orange County I did not read through that document. Because the CRX is not currently running (but will start running again on March 26), there was no opportunity for GoTriangle to put up signs in the bus asking current riders for feedback on the changes. The comment period on the Wake County Bus Plan ends March 22, 4 days before the CRX resumes service.
I attended an information session this morning at NCSU to confirm that my reading of the proposed changes was correct. My interpretation was correct though GoTriangle hasn't figured out the exact configuration of the route through campus, such as where the bus will turn around (no small question on campus). The representative from GoTriangle was apologetic about the lack of outreach in Orange and Durham County (the DRX between Durham and Raleigh is slated for elimination entirely) and basically admitted that because this is the Wake County Bus Plan that they had only focused on Wake County, even though there are route changes that profoundly affect riders in Orange and Durham Counties.
He emphasized that there will be opportunities for comment on the Orange and Durham Bus Plans when those are released later this year. When I asked what would happen if the elected officials on the board vote to accept a Wake County Bus Plan that affects Orange and Durham counties before there is even a public comment period and related outreach in Orange and Durham Counties, he hemmed and hawed and did not seem to know exactly what would happen.
While I do not believe that passing the Wake County Bus Plan would mean that these changes would definitely happen, it seems like a huge oversight to potentially pass a document that deeply affects Orange County and Durham County residents without even token efforts to reach out to affected riders (or potential new riders at the proposed new stops).
I live in Village West in Chapel Hill and work at NC State University. I ride the CRX bus from Chapel Hill to Raleigh on a regular basis, or at least I do when there actually is a CRX service. My husband and I are a one-car household and we chose the house we bought because it was the only house we could afford that we could easily walk to the bus routes we needed to get to our respective workplaces.
I walk a mile from Village West to downtown Chapel Hill in order to catch the CRX. If I had to walk to the center of campus instead of downtown, it would likely mean that I wouldn't catch the bus anymore or at least would do so less often. A lot of the riders who get on at the downtown bus stop walk there. There are a lot of apartments near the bus stop and relatively few of the riders appear to be UNC students.
I don't think all of the proposed changes are terrible; it stands to reason that adding a stop on 54 would potentially attract new riders. However, these changes need to be weighed against the loss of ridership from existing riders. Right now, GoTriangle has made zero efforts to reach out to Orange County residents. 
Please consider reaching out to GoTriangle and asking them to do one of two options:
Extend the comment period on the Wake County Bus Plan in order to do meaningful outreach and receive public comment in Orange and Durham Counties; or
Indicate in writing in the Wake County Bus Plan that service changes affecting other counties are not final and are pending review through other county bus plans.
If you are a current CRX rider or would consider taking the CRX based on the proposed new stops, please let GoTriangle know what you think. If you are not a CRX rider and are unlikely to be no matter the proposed route, please still email them to encourage them to actively seek out public input from affected Orange County residents. Some potential outreach strategies:
They could post signs about the surveys in buses to reach current riders. They could hold public outreach meetings in Chapel Hill in affected neighborhoods and on campus.
You don't need to provide an opinion on the proposed changes in order to ask them to engage in meaningful public outreach. You can provide comments by emailing publicengagement@gotriangle.org or by taking the online survey. Comments are due by tomorrow, March 22.