For people of a certain generation (ours), Harold Ramis's 1993 comedy Groundhog Day is a classic, the rare film we watched as kids that somehow got better with age. For those who haven't seen the film, Bill Murray plays an unhappy television reporter who finds himself repeating the same day—February 2—for hundreds, possibly thousands, of years, as he tries to figure out how to escape the time loop.
In Chapel Hill, we seem to be stuck in our version of Groundhog Day, only instead of waiting for Punxsutawney Phil to tell us whether we have six more weeks of winter, we're debating the exact same issues using the exact same language with the exact same people who form similarly-named groups to stall and stop every major Chapel Hill development over the past 40 years.
Why is it useful to know this history?
If you moved here from elsewhere, you have probably wondered at some point why a place with a reputation for being so progressive  can be so provincial and stuck in the past. Why can't I safely bike anywhere or afford to buy a home, you might wonder, or why are all the good restaurants in Durham?
It's because there has been a concerted effort – and a very effective one – by a small group of people to keep Chapel Hill the way they like it. And the way they like it is centered around cars – staid, exclusionary, and unaffordable. Since they bought their homes long ago, their vision is great for them – everyone else can eat cake (but you'll probably have to drive to Raleigh for that).
This small group has learned how to manipulate the civic engagement process, the media, elected officials, and low-information voters to advance their goal of little to no growth and a town that doesn't change.
The names of the organizations have changed over time, but a core group of people can be traced across them all. As can their tactics. If they catch wind of a development they don't like, they try to stall, to deflect, to petition, to call for endless research to solve problems that other places figure out decades ago. There is no amount of public input that will satisfy them, because they don't really care what anyone other than them thinks or wants – it's just a tactic to run out the clock to stop development.
Consider this timeline:
1981-1989 Okay, campers, rise and shine….

1981: The Town of Chapel Hill passes a new zoning code that permits the construction of missing middle housing, which they call "in-fill housing." (Yes, we are currently debating this right now – we told you. We wake up every day, right here, right in Chapel Hill, and it's always February 2.)
1983:  A group of Chapel Hill residents forms a group to oppose the new zoning code. They call themselves the Alliance of Neighborhoods. Their leaders include Julie McClintock (Andresen). Harvey Perkins, then a graduate student in the Geography Department at UNC, embeds with the group and writes two articles (I, II) charting their "attempt to limit rapid urban growth…and defend the town from an influx of new residents." Here's an excerpt: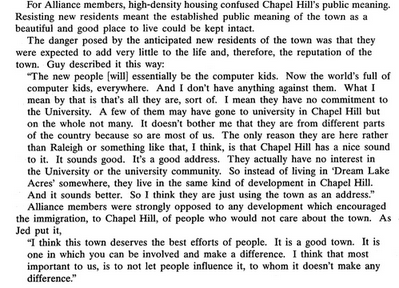 Perkins reports that the Alliance thinks that the Town Council's administration of the Chapel Hill planning process is a 'threat' to their lifestyle. A letter to the editor from June 1983 makes the point that "the town has absorbed just about all of the growth it can handle."
1985: The Alliance of Neighborhoods runs five candidates for town council, four of whom win, including James Wallace, who returns as mayor. Their platform? Stopping development, which they claim will reduce issues around traffic and parking and help address the "changing character of Chapel Hill."

One of the four Alliance-endorsed candidates to win is Julie McClintock (Andresen), whose platform includes "managing growth," reducing density,  preserving neighborhoods, and opposing the creation of "cross-connector streets" in neighborhoods.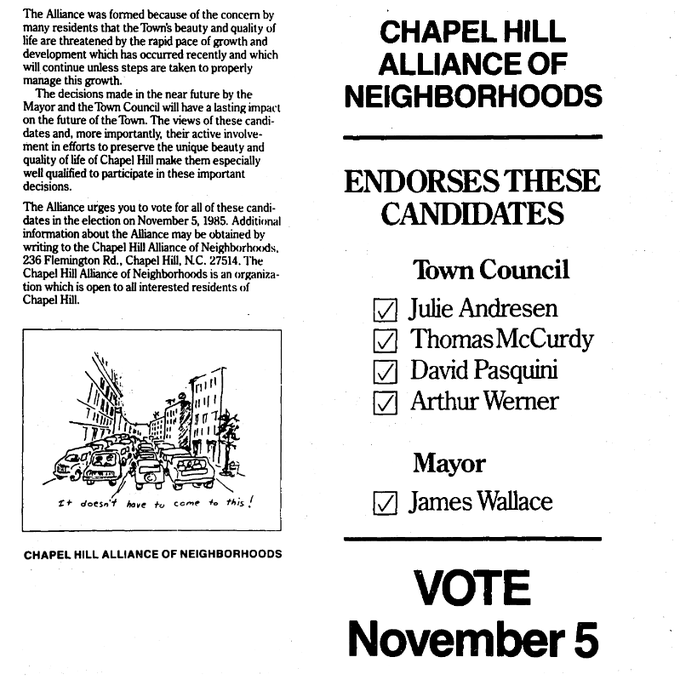 In February 1986, the new Alliance-led Chapel Hill Town Council repeals critical components of the 1981 zoning code in a 7-2 vote. One of the council members opposed to the measure observes "[w]e are leaving out even the slightest possibility of getting affordable housing here in Chapel Hill." The density restrictions put in place in 1986 by Alliance-backed council members are largely still in place today. 
In January 1989,  The News and Observer runs a feature story on the consequences of Chapel Hill's recent exclusionary policies. They note: "Lately the town is marching behind the banner of NIMBYism—Not In My Back Yard."
1989 – 2014 It's gonna be cold, it's gonna be grey, and it's gonna last you for the rest of your life.
McClintock leaves Town Council in 1992 and rejoins in 1995. In between, a group of nine Chapel Hill residents form a group to oppose Meadowmont and "monitor growth in Orange County." They call themselves the Citizens for Liveable Communities. Their founders include Julie McClintock (Andresen).
In 1997,  the Alliance of Neighborhoods holds a march against development in downtown Chapel Hill. The platform is called "Let's Demand Better" and the march is written up as a case study in a marketing book  for how to get the attention of media and be inescapable. The author writes, "A small group of activists were able to greatly amplify their message to the public and make it inescapable…..The consistency of the message created the impression that many people were behind Demand Better, and the group was increasingly viewed as reflecting mainstream opinion."
In 2004, 19 Chapel Hill residents form a 'grassroots' group to "track development activities" for people who "care about how development activities affect their neighborhoods and the character of Chapel Hill" according to a column in the News and Observer. They call themselves Neighbors for Responsible Growth. Their founders include Julie McClintock (Andresen).
Which brings us to the 2010s.
2015: The Chapel Hill Alliance for a Livable Town (CHALT) is formed in part to oppose a zoning change that made it easier to build office space and housing in what we now call Blue Hill (Then it was referred to as Ephesus/Fordham, after two nearby streets). Their founders include Julie McClintock (Andresen.)
An October 28, 2015 column in the News and Observer by David Schwartz, a CHALT founder, makes parallels between CHALT and the Alliance.
A similar connection is made by Aaron Nelson, the president and CEO of the Chapel Hill-Carrboro Chamber of Commerce in Indyweek: "The group that is the core of CHALT has a long history of opposing all kinds of development, all growth."
2015—2017: Over two elections, CHALT endorsed candidates win six of the eight seats on the town council, as well as the mayor's race. Over the past seven years they have opposed every single development project, as well as the Durham-Orange Light Rail and the Carrboro extension of the Bolin Creek Greenway. (McClintock is also a leader of the anti-greenway efforts and the anti-light rail efforts.)
2021: Indyweek publishes a piece profiling McClintock before the election. The piece also notes that Chapel Hill residents no longer think highly of the organization: "A recent survey from Public Policy Polling also indicated CHALT's apparent decline: just 26 percent of participants reported having a favorable view of the organization. " After the election, they run a piece called "Is CHALT Dead?"
2021-2023 Something is… different. Good or bad? Anything different is good.
Things are different than 1985, and for the first time, we have a chance to leave Punxsutawney for good. Consider the following:
2021: Council members Karen Stegman, Tai Huynh, Allen Buansi, and Michael Parker submit a petition to ask town staff to "take meaningful interim steps that will promote increased production of affordable and missing middle units in our community."
Fall 2022: Town staff, at council's direction, prepare a proposal to permit the addition of new "missing middle" housing in Chapel Hill neighborhood.
December 2022: Members of the current town council respond strongly strongly about how single-family zoning has been used to exclude people in the past and how more housing choices – duplexes, cottage homes – can benefit our communities. They make clear connections to racial discrimination and its affects in the housing market.
Do you ever have déjà vu, Mrs. Lancaster?
Of course, some things remain the same – McClintock still manages the myriad of listservs for these groups, she maintains their websites, she starts new groups (Estes Neighbors, Our Town Chapel Hill), and she emails the Town of Chapel Hill staff dozens of times a month.
In January 2023, McClintock sent an email out to many neighborhood listservs across Chapel Hill warning of a "gigantic" "fast-track[ed]" "radical" upcoming "zoning change" that "few people know." The change, which started 15 months ago with a petition from council asking staff to investigate more housing options, was one we first mentioned last September and further discussed in October. And if successful, the Chapel Hill Town Council will overturn the restrictions on missing middle housing that was enacted by the town council that was elected in 1985.
Will they be strong supporters of the town's push to make our community more inclusive, diverse, and prosperous? Or will it be 1985 all over again? Oh wait, that's our other favorite time travel movie….