The other day I wanted to take my two older kids (ages 9 and 6) for a bike ride on a greenway. Greenways are great for family bike rides because your kids, who are perhaps not old enough to predictably share a space with a car traveling 35 MPH, need a wide berth and some scenery to keep them interested.
Greenways are also quiet – turns out cars are both loud and dangerous – and typically follow along creeks and wooded areas, which make them fun for children because there are things to see along the way.

Sign up for the Carrboro Linear Parks Project mailing list to get updates on building out Carrboro's greenway network. Visit the Carrboro Linear Parks Project website for more information. There's also a helpful FAQ with answers to many questions.
Update: We support the creekside alignment for the reasons detailed here.
Like many families in Carrboro that want to enjoy greenways with their kids, we loaded up our car and drove to a nearby community that has committed to the idea of greenways: Cary, North Carolina.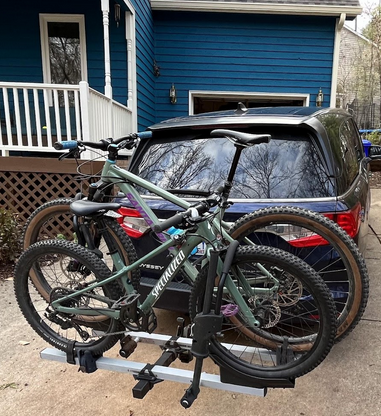 Our destination was Cary's longest and maybe most popular greenway, the Black Creek Greenway. The trailhead for the Black Creek Greenway is located off Old Reedy Road near I-40. The trailhead is pretty new and has nice facilities, including bathrooms and bike tools. After loading up on snacks (so many snacks) we were on our way around the perimeter of Lake Crabtree.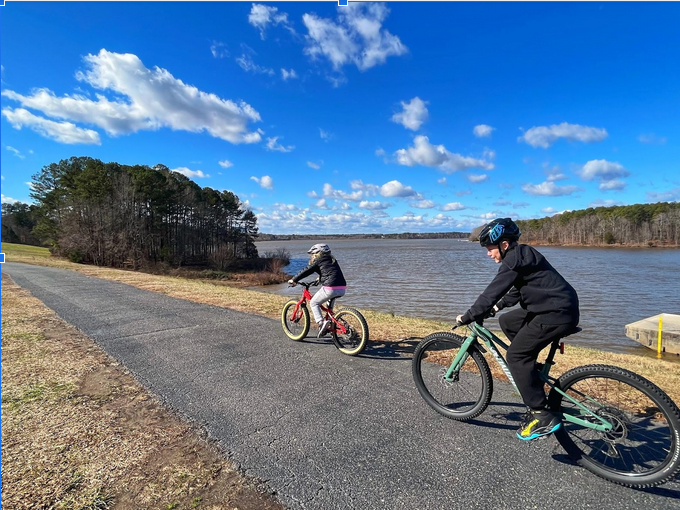 It didn't take long before we encountered the trail closure that I had read about on the town's website. Black Creek Greenway runs along a creek (many greenways do!) and, as is very common with creeks in urban areas, a large sewer main is situated along the creek that the town is currently replacing. No biggie, we were off to detour around the closure by taking another greenway, the Crabtree Creek Greenway.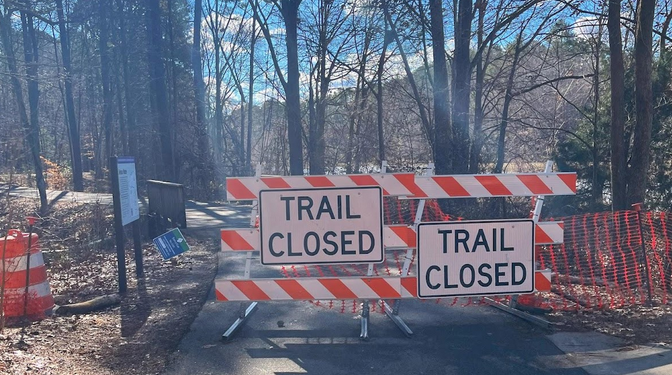 The Crabtree Creek Greenway is flat and has a really long bridge across Lake Crabtree, which was brisk and a little windy in January, but definitely worth the detour.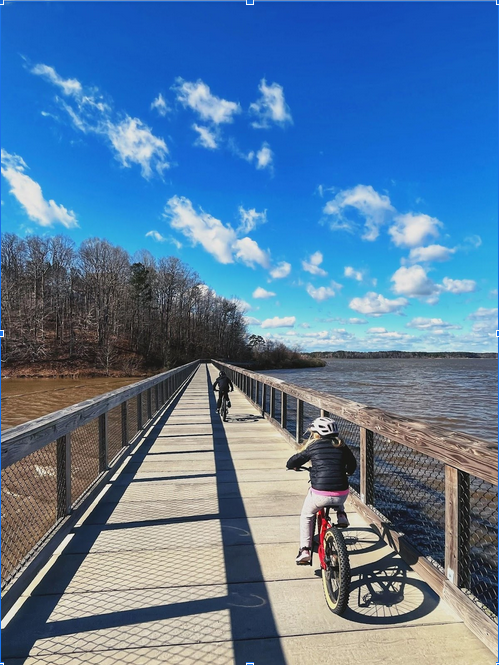 We eventually ended up on Weston Parkway, which is the kind of busy road you probably imagine when you think about Cary. We rode the sidewalk to another greenway, the Weston Trails, and made our way to North Cary Park. I do not recommend the Weston Trails with young kids – it's pretty steep and I was pushing my youngest while trying to pedal myself up the slopes. So, if you want to ride the Black Creek Greenway during the sewer main replacement project, I would recommend starting your adventure at North Cary Park instead of the Reedy Creek Trailhead. The park has lots of parking and this amazing bridge: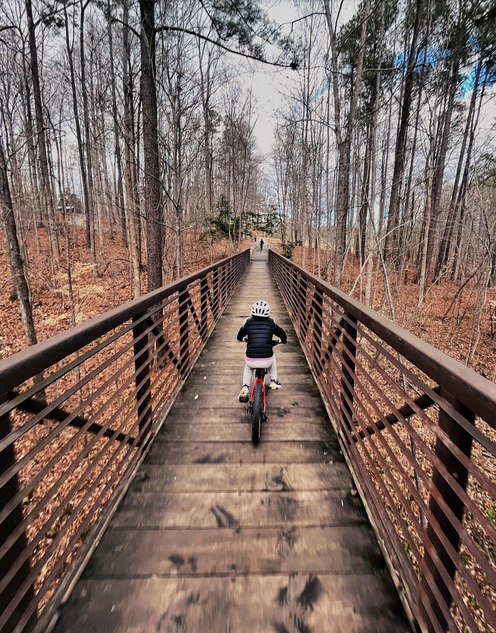 Once we refueled (snacks!) and explored the playground for a while, we made our way to the creek and rode on a lovely section of the Black Creek Greenway. Because the greenway follows the sewer easement along the creek, it is very flat and easy for kids to ride. There are also large wooded areas around the greenway that make it feel like you've completely left the city behind.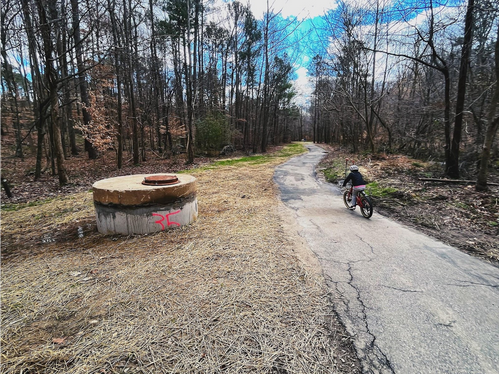 The great thing about taking your kids for a bike ride on a greenway is that they can stop and explore. There are things to look at and places to play, which is usually not the case when you're riding with your kids on a city street or the state-owned roads that lead into our downtowns. And if you've taken your kids outside before, you know they love to just stop when they see something interesting, and parents love for them to not get honked at or run over by some man fiddling with the touch screen entertainment center in his Ford F-150.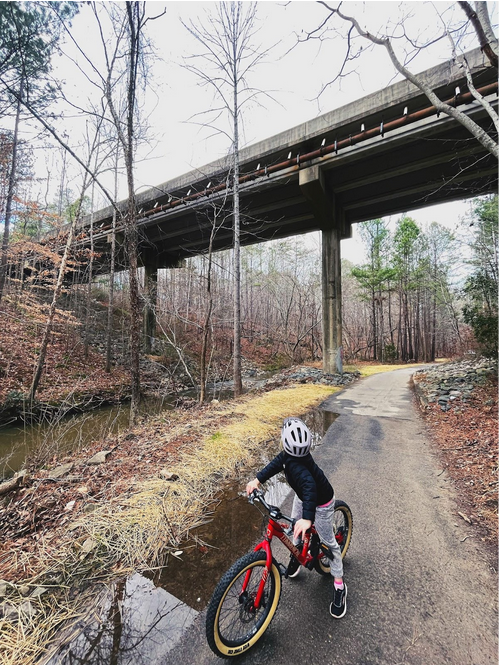 The Town of Cary has a vast and growing network of greenways. The town has committed real money to the idea in the form of the 2019 "Shaping Cary's Future" bond referendum, which was passed by 77% of the voters and dedicates $225 million to transportation and parks projects, including greenway development and maintenance. Cary is a lot bigger than Chapel Hill and Carrboro, and they have an impressive 80 miles of paved greenways in place with a total of 145 miles of greenways planned.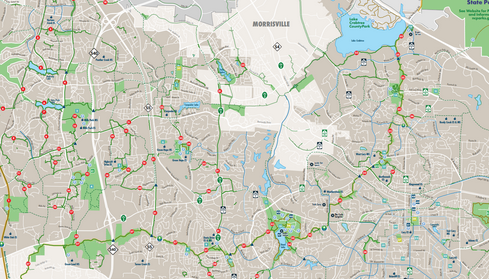 For its part, the Town of Chapel Hill has built a good number of greenways, including a beautiful greenway along Bolin Creek from Umstead Park. The town also appears to be taking the direction provided by its planning consultant seriously by embarking on a program to design and build "everywhere-to-everywhere greenways" as part of its Complete Communities planning framework. We should expect some new greenway development in Chapel Hill soon!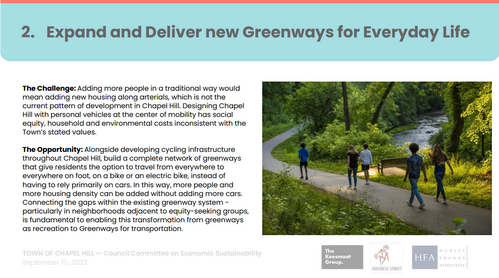 The key difference between my town, Carrboro, and Cary isn't the size and scope of their greenway network (although it is impressive!), it is the commitment to implement the greenways they have been planning for. Residents of Carrboro consistently cite greenways in their list of most valuable town amenities, but the town has been unable to fully commit to executing the adopted 2009 Bolin Creek Greenway Concept Master Plan.
But if you live in Carrboro and would enjoy a long walk on a greenway without driving somewhere first, you'll be pleased to learn that the Carrboro Town Council intends to discuss how to move forward with the full Bolin Creek Greenway plan at a work session scheduled for February 14th. (You can sign up for updates about the Bolin Creek Greenway over on the Carrboro Linear Parks Project website.) The town is also edging closer to construction on the Morgan Creek Greenway – a creekside greenway in another part of town that curiously does not spark the same "environmental" concerns as the Bolin Creek Greenway.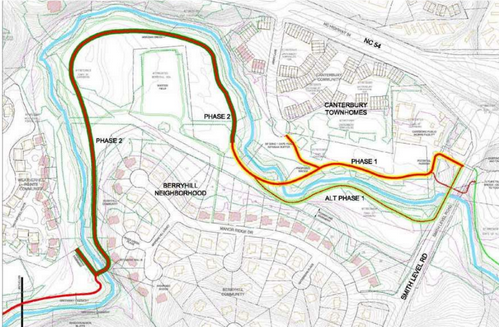 The Town of Cary is often derided as having a bland and sprawling urban form, and for the most part it does live up to that assessment (full disclosure: my parents live in Cary and love it). But Cary is also committed to the idea that greenways are essential and therefore the town plans and budgets for them. The Town of Carrboro could learn a thing or two from our neighbor when it comes to executing a community's shared vision for mobility and recreation.