In 2021, Gov. Roy Cooper signed House Bill 554 designating 2023 as the Year of the Trail in North Carolina. Over the coming weeks, we'll be exploring each of the trails in Chapel Hill and Carrboro. We start today with the Bolin Creek Trail. Happy New Year, everyone!
Bolin Creek Trail, Chapel Hill's oldest trail, is also its the longest and most popular greenway.  The paved Bolin Creek trail (map) now runs 2.5 miles long and is easily reachable from several locations along the way.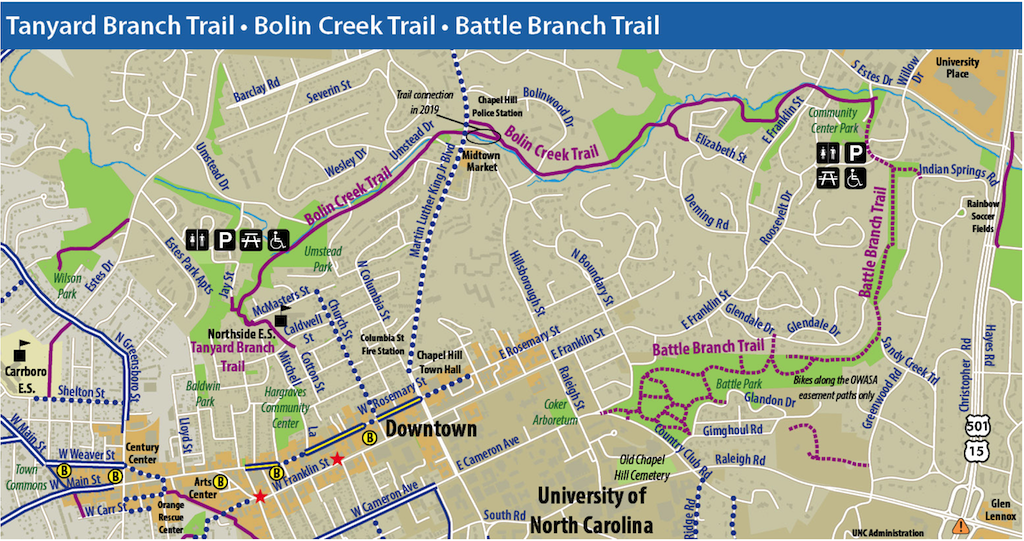 Here are some facts about the Bolin Creek Trail
How to get there
The Eastern end of the trail is easily reached from the Chapel Hill Community Center where you'll find parking, a restroom, a climbing wall, and a pool.
Address: 120 S. Estes Drive
How to find the trail: Look for the sign "Bolin Creek Trail" which is directly behind the playground. You'll see a path.
Other spots to enter the trail:
Elizabeth Street, Chapel Hill
An entrance is marked here. Parking is available on the street.
Umstead Park
399 Umstead Drive
This park also has parking a nice playground, a gazebo, and public restrooms. Along the trail you'll see the Chapel Hill Public Library's Storywalk.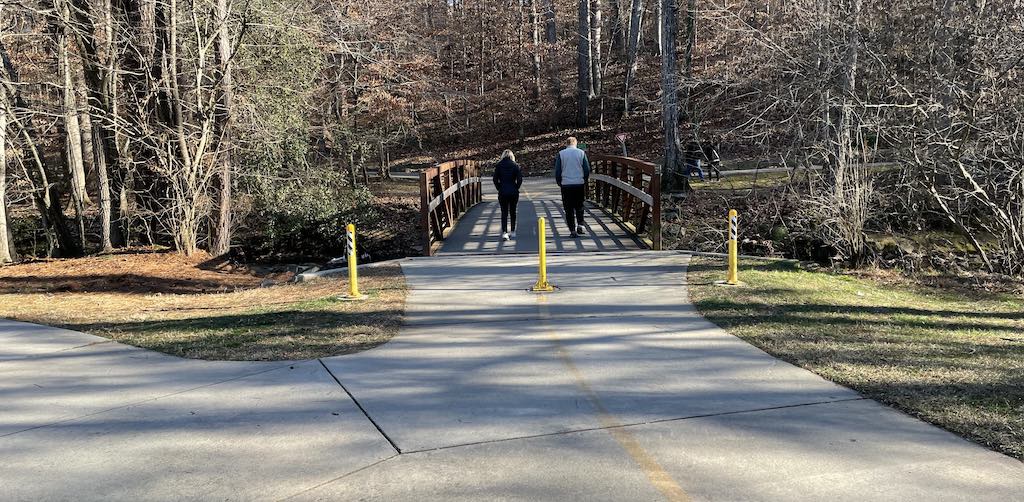 If you are in the Northside neighborhood or near Downtown Chapel Hill, you can also reach the Western-most end of the Bolin Creek Trail at 607 Cotten Street.
There are no public facilities or parking here, so it is not suggested to start here unless you re already walking or on your bike,
If you take the entire greenway from the Chapel Hill Community Park, you can make a pretty nice day out of your visit. There are several items of note along the way and places to stop for drinks or snacks.
Sights to see and places to stop
Not long after you get started, you can take stairs up to the Sunrise Biscuit Kitchen.
A little further along at this point, you can take a magical unpaved trail up hill up to Caffe Driade. If you have not been to this great little coffee shop , you are missing out. In addition to coffee and snacks, they have other drinks for children and adults alike. This path is pretty steep, so best left for able-bodied adults and older children.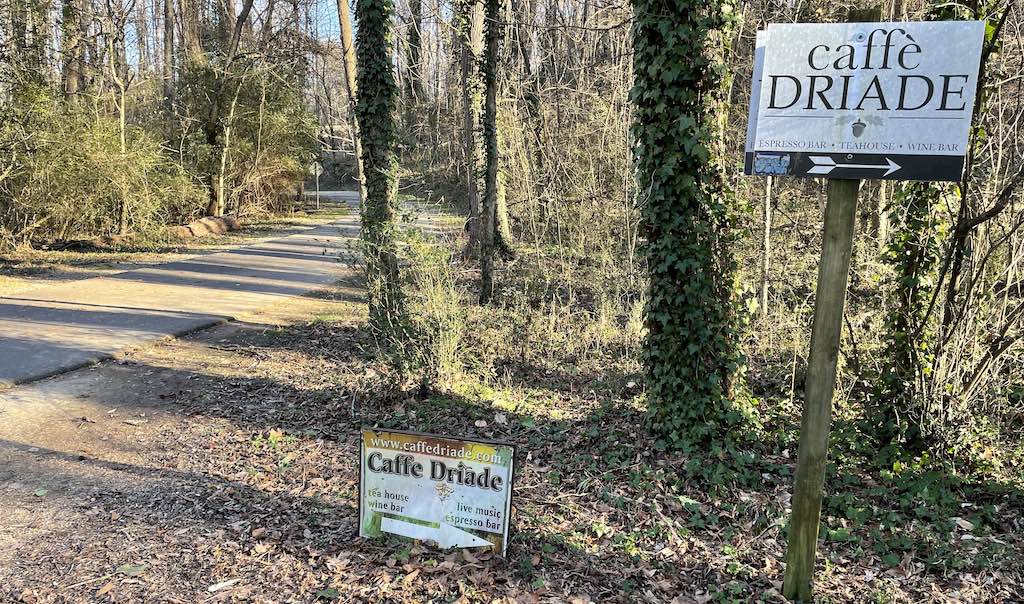 About midway, there is a plaque that commemorates the extension of trail in 2018, and has a bench with a cute brass owl attached to it.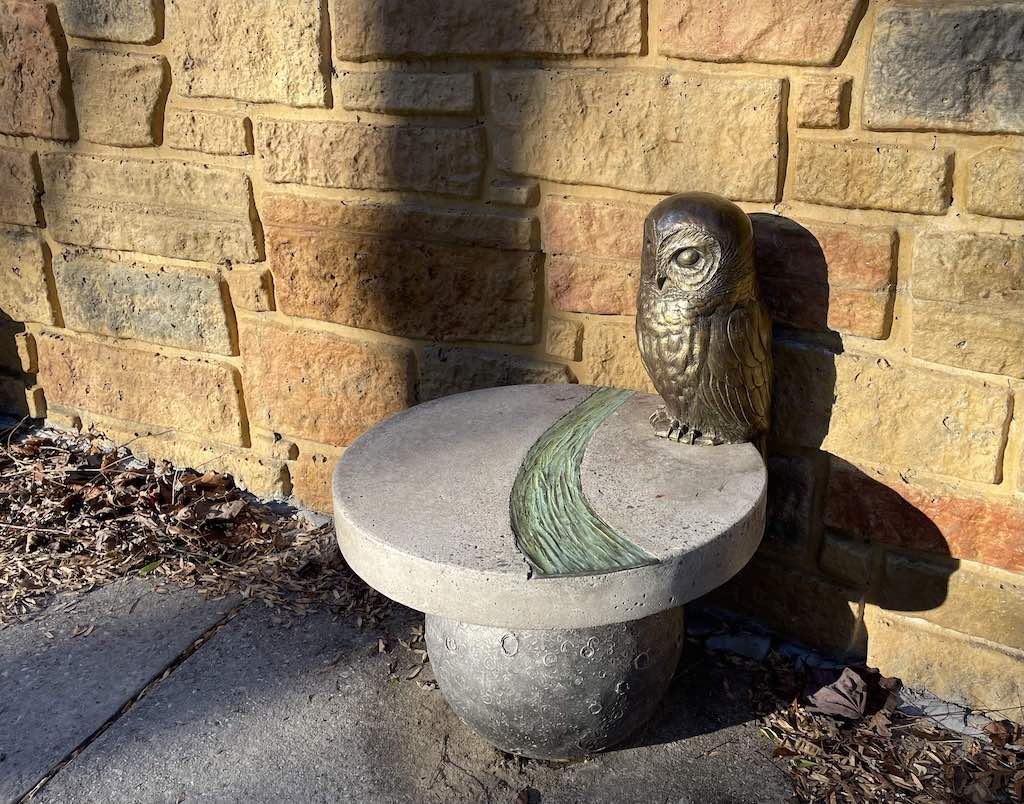 Another stop near the midpoint of the trail is the sandwich shop, Root Cellar. It's a little farther off the trail, but well worth visiting. It sits in the same shopping center as Lucha Tigre and Flyleaf Books.
Finally, as you continue west, you'll reach Umstead Park.  There are also some creek accesses where children often play in the shallow waters of Bolin Creek.
From there, if you continue to venture west, the trail begins to climb into town, and actually becomes the Tanyard Branch Trail. This part of the trail is a great connector to Jay Street and also Chapel Hill's Northside neighborhood.