On Saturday, November 19, the UNC club pickleball team won the 2022 DUPR National Collegiate Championship and $10,000 in Dripping Springs, TX. They started the previous day by beating Ohio State, Michigan, and Grand Canyon University to advance from their pool to the semifinals on Saturday. After dispatching James Madison in the semifinals, UNC then beat Utah Tech for the championship by a score of three matches to one.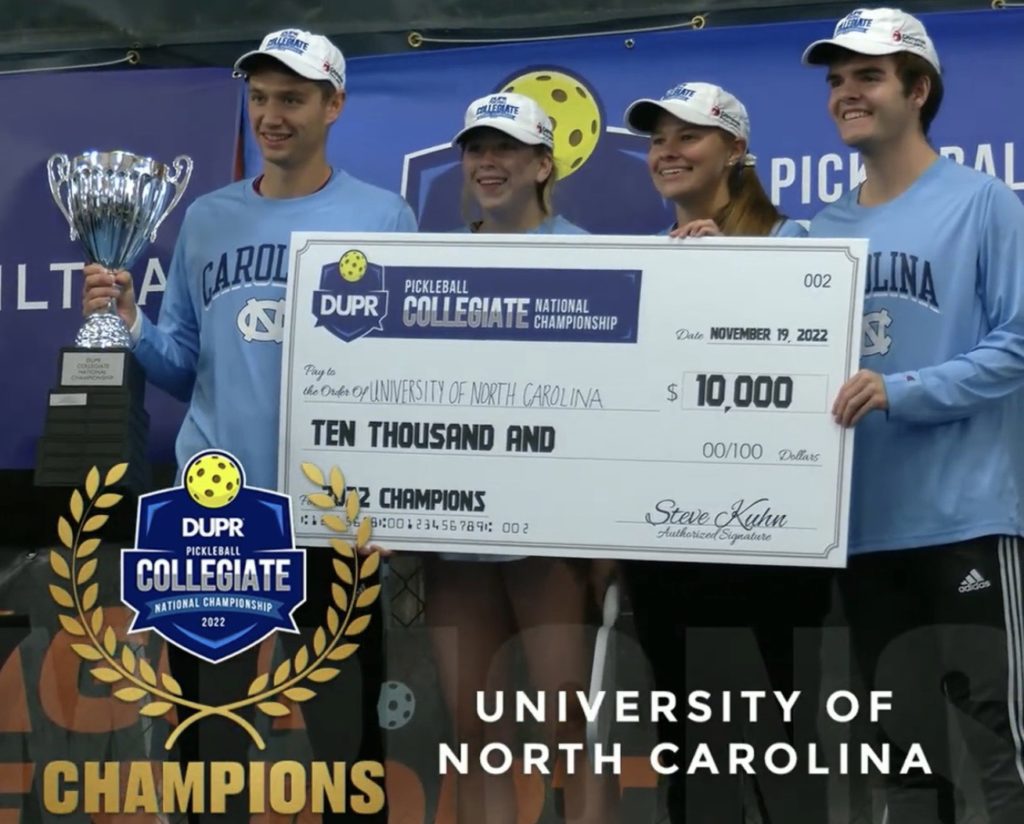 You might be thinking "wait, pickleball has a collegiate national championship?" Indeed it does. Yes, we are still in the infancy of big pickleball tournaments of this nature. However, they are here to stay and UNC pickleball is forging the way.
So how did we get here?
DUPR, Dynamic Universal Pickleball Rating, is a cutting edge algorithm that assigns numerical ratings to players using match results. DUPR ratings not only allow players to enter tournaments at the proper skill level, but also to connect with other players in their community with similar ratings. This new rating system replaces the long-held standard of self-rating.
The folks behind DUPR are also behind Major League Pickleball (MLP), and you may have seen announcements about big names like Lebron James and Tom Brady buying MLP teams. MLP is a league composed of professional pickleball players who compete in team events throughout the year.
As the fastest growing sport in the US continues to evolve, DUPR recognizes an opportunity to impact the game at the collegiate level. While young players have the opportunity to compete against other schools in a team environment, avid pickleball fans are able to extend their support to their favorite colleges.
While a lot of this is still getting fleshed out, the format of the team play is well defined by mirroring traditional MLP play. Teams consist of four players: two men and two women. A match between two teams consists of a men's game, a women's game, two mixed doubles games, and possibly a "dreambreaker." Each game is played to 21 using "rally" scoring. The first team to win three games wins the match. If the result of the first four games ends in a 2-2 tie, a "dreambreaker" will commence. The dreambreaker is a set of singles points in which all players from both teams participate in a continuous rotation of four points until one team reaches 21.
The collegiate national championships currently consist of 16 teams that are invited by DUPR Day one of the tournament features four pools of four teams. The winners of each of those pools advance to the semifinals early on the second day. The tournament concludes by crowning a new national champion.
So how did UNC get here?
Initially, the club started as an outlet for a group of friends to remain active during COVID. However, the club grew rapidly and more opportunities became available to compete at a higher level. From individual matches with other colleges to tournaments with several participating schools, the UNC club pickleball team continued to grow and develop. When DUPR announced the opportunity to compete for scholarship money at the first-ever collegiate pickleball national championships, UNC knew it was the perfect opportunity to take the club to the next level.
The National Championship team consisted of the best two men and best two women from the current club — Sarah Carpenter, Caitlin Lewis, Hunter Boyd, and Collin Shick. Sarah is a PhD student in Math from Stillwater, OK. Caitlin is a junior in Computer Science and Statistics from Southport, NC. Hunter is a junior in Business from Dallas, TX. Collin is a medical student from Greensboro, NC, who also was a five-year tennis player and recent graduate from NC State University. He plans to start playing professional pickleball tournaments soon. The rest of the team hope to continue to pursue playing high-level pickleball with the potential of going pro later down the road.
All of these kids have been playing for at least a year, some of them as many as four years. Having watched their semifinal and finals matches live and having seen them play in person (here at Ephesus Park in Chapel Hill, NC), I can say for sure that they are much closer to pros than they are casual players. But that's not all they've done in terms of pickleball. As part of the UNC club they put on the Tar Heel Classic, a wildly successful local tournament that raised money so that other members of the club could also go compete in Texas. These team members were able to cheer on their teammates as well as compete in a doubles tournament while there.
It might be the early days of collegiate pickleball tournaments, but winning a national championship is a big deal for the players. "Winning nationals has been a dream come true," Boyd said. "When I graduated from high school I thought I was done competing in team sports, but UNC club pickleball gave me the opportunity to represent my school again. The moment we won I was so proud of all we had accomplished and super excited. I knew we had the team to do it, but I was overwhelmed with joy at winning."
So where to next?
With this milestone behind them, future goals of the club include becoming an official club sport and working with the university to establish designated pickleball courts. UNC currently only has three courts semi-dedicated to pickleball, directly across the street from the Smith Center, with a couple more lined courts available at the tennis center at the Outdoor Education Center. They often tape lines on nearby tennis courts or practice at close-by Ephesus Park, a Chapel Hill city park that has six dedicated pickleball courts and an amazing community of pickleballers.
Ultimately, the first-ever DUPR Collegiate National Championship only hints at what the future of collegiate pickleball has in-store. And UNC sits on the forefront of this burgeoning arena, ready to add pickleball to its long list of decorated sports programs.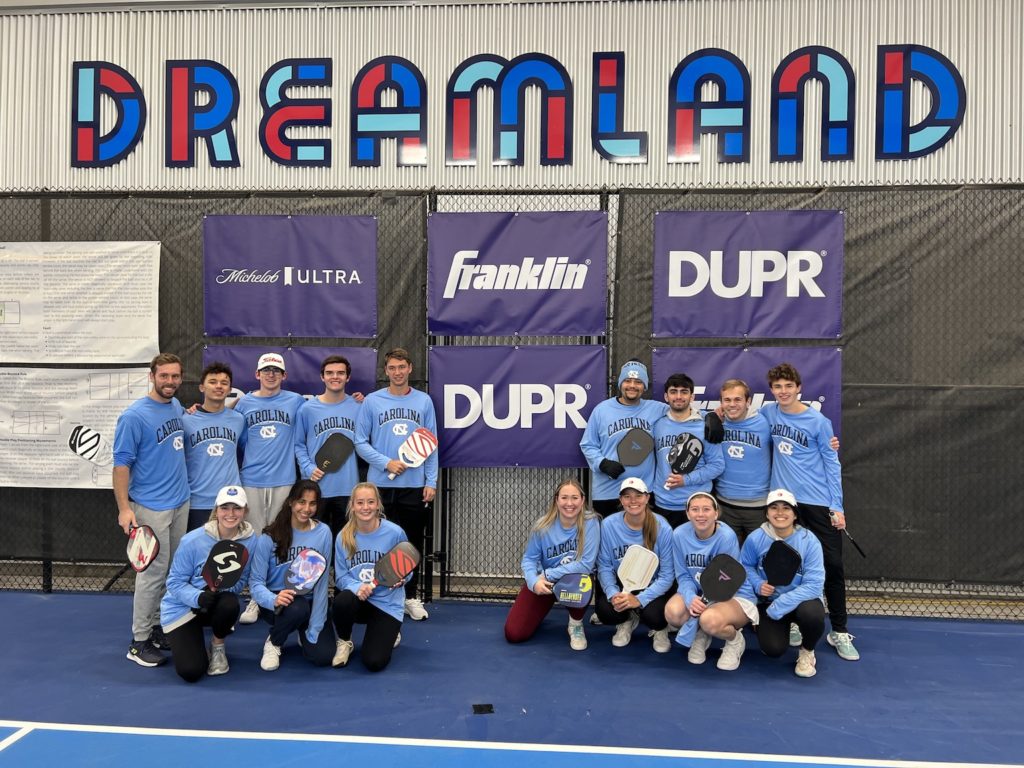 (Read more of our pickleball coverage, including Pickleball Correspondent DJ Barnes' earlier article about why people go ga-ga over pickleball.)