Axios recently covered the new office, lab, and retail space possibly coming to Franklin Street where the Blue Dogwood Market, Chimney, and Purple Bowl currently are.
The article quotes the owner of Purple Bowl, our favorite acai bowl restaurant, as saying "he believes the project will likely mean the demise of his popular acai bowl business."
For the record, TBB loves Purple Bowl.
Save Purple Bowl
Purple Bowl is also beloved by many across Chapel Hill. Just look at the recent letters to the town council and mayor, imploring them to do something to save our delicious smoothie bowls.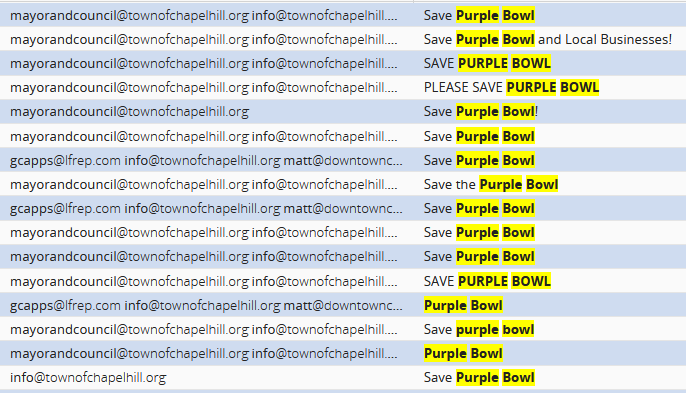 We think Purple Bowl is *exactly* the kind of place that would rake it in if it were inside or adjacent to a biosciences workplace that requires people to be on site. And it's exactly the kind of restaurant our college town downtown should have: it's delicious, local, funky, and cool.
We don't want a soulless downtown
But we also know that keeping downtown in amber isn't great either, and that the space Purple Bowl currently occupies could bring in much-needed tax revenue for the town. Adding height makes a lot of sense downtown, where our university is located.
How do we preserve Purple Bowl? We're not sure exactly.
We know there are empty storefronts downtown where they could temporarily move, maybe — and the town (or a crowdfunded campaign) could maybe help with relocating them and spreading the word. And once a new building is built, we could ask a developer that we want those small storefronts preserved — to try to nudge the developer to help them move and return. Or maybe we go taller in the core of the building and preserve the restaurants on the outside?
We're going to go on a quest to Save Purple Bowl
All of this acai brainstorming got us thinking: We have been to many a college town – Princeton, Ann Arbor, Madison, Columbus, Berkeley – that have cool, quirky, and local businesses.
So what can we learn from them to save our beloved Purple Bowl? We're going to find out.
Over the next few weeks, our smoothie bowl correspondent Stephen Whitlow – and avo toast junior correspondent Mel Kramer – will investigate what other college towns are doing to help their quirky local independents, and report back to TBB readers.
If you know of people we should speak with in Berkeley, Ann Arbor, Princeton, Bloomington, Boulder, Charlottesville, Madison, Athens (GA), Lawrence, Tuscaloosa, Evanston and/or Bellingham, please email triangleblogblog@gmail.com.
We're going to try to help Save Purple Bowl. It will be delicious.