It may be the midterm elections in North Carolina, but for fans of local politics there's much to write about, at least in the left half of the Triangle. Carrboro, Chapel Hill, Hillsborough, and Durham all have odd-year elections (which suppresses turnout), so after the spring primaries for statewide elections things are a little sleepy over here, at least electorally speaking.
But, on the other side of the Triangle, Raleigh – which recently moved its election to an even-year cycle – is set to decide whether it will stay on the path of being one of the most forward-thinking, pro-growth progressive cities on the East Coast, or if they'll slide back to their NIMBY-adjacent ways.
What's at stake
Raleigh has a mayor and seven city council members. The mayor and two city council members are elected at large, while the other five council members are elected by districts. (Fun fact: if Chapel Hill used the same constituents to elected officials ratio as Raleigh, we'd have a city council of one. It'd certainly make council meetings shorter).
Three years ago, in 2019, former council member Mary-Ann Baldwin defeated several challengers to become mayor, winning 38 percent of the vote. (The runner-up, Charles Francis, declined to ask for a run-off election). But, more importantly, three incumbents also lost their reelection bids that year, which meant that Baldwin came in with a council majority who backed housing reform.
Since then, Raleigh has:
While Raleigh covers just 17 percent of the land area of Wake County, it contains 41 percent of the population, and the current mayor and council seem determined to ensure that a lot of future growth in the region will take place in the city limits, not outside of it.
But, there are some people who aren't happy with growth. Livable Raleigh, the equivalent to CHALT in Chapel Hill, opposes much of the council's agenda, for the usual reasons ("We're full," one supporter told The Assembly). Others are upset with the city because of its decision to disband the citizen advisory committees (CACs), which were primarily used to empower NIMBY complaints. (See The Atlantic's Jerusalem Demsas on this point). And, still others are not happy about the city's difficulty in addressing the displacement of longtime residents, which has been a challenge for many places. While housing isn't the only issue, it's likely to be the decisive one.
What are the key races?
Mayor: Baldwin vs. two challengers
The headline race is, of course, the race for mayor. Baldwin is once again running against two challengers—Terrance Ruth and DaQuanta Copeland. Both Copeland and Ruth are critical of the mayor, and focus primarily on housing. At the same time, there's a big gulf between saying you want to do something about housing, and actually doing it, and there's not great evidence that either Ruth or Copeland have a workable plan. (A lot of this is due to the state legislature; the primary affordable housing strategy for local governments in NC is to make it advantageous to build a lot of affordable housing, and to directly subsidize it. Baldwin is doing both. For more on the city's affordable housing progress, see Raleigh Forward's write-up).
Ruth is a compelling, if inexperienced, challenger, and he's at a distinct fundraising disadvantage—according to recent campaign finance reports, Baldwin has 40X as much cash on hand as Ruth. Copeland is even further behind in fundraising. In addition, Baldwin was endorsed by the New and Observer, and the Indy, which has been critical of Baldwin in the past, chose to not endorse in the race. If Baldwin loses, it will be a major upset.
At-Large: Stormie Forte and Jonathan Melton vs five challengers.
For the at-large seats, Melton is seeking reelection, while Forte is seeking to be elected for the first time as an at-large council member. (Forte, who currently represents District D, was appointed in 2020 to fill a seat vacated by Saige Martin, who resigned after a scandal involving sexual misconduct).
In a crowded field, and with endorsements from News and Observer, the Indy, and the Wake County Democratic Party – which, unlike the Orange County Democrats, endorses in non-partisan races – it seems likely that both incumbents will win. The leading challenger is Anne Franklin, who served on Council in the early 1990's and has been a regular attendee at events and forums both in and out of her district. Franklin was also endorsed by the Indy (they suggested voters pick between her and Forte for the second seat).
District Races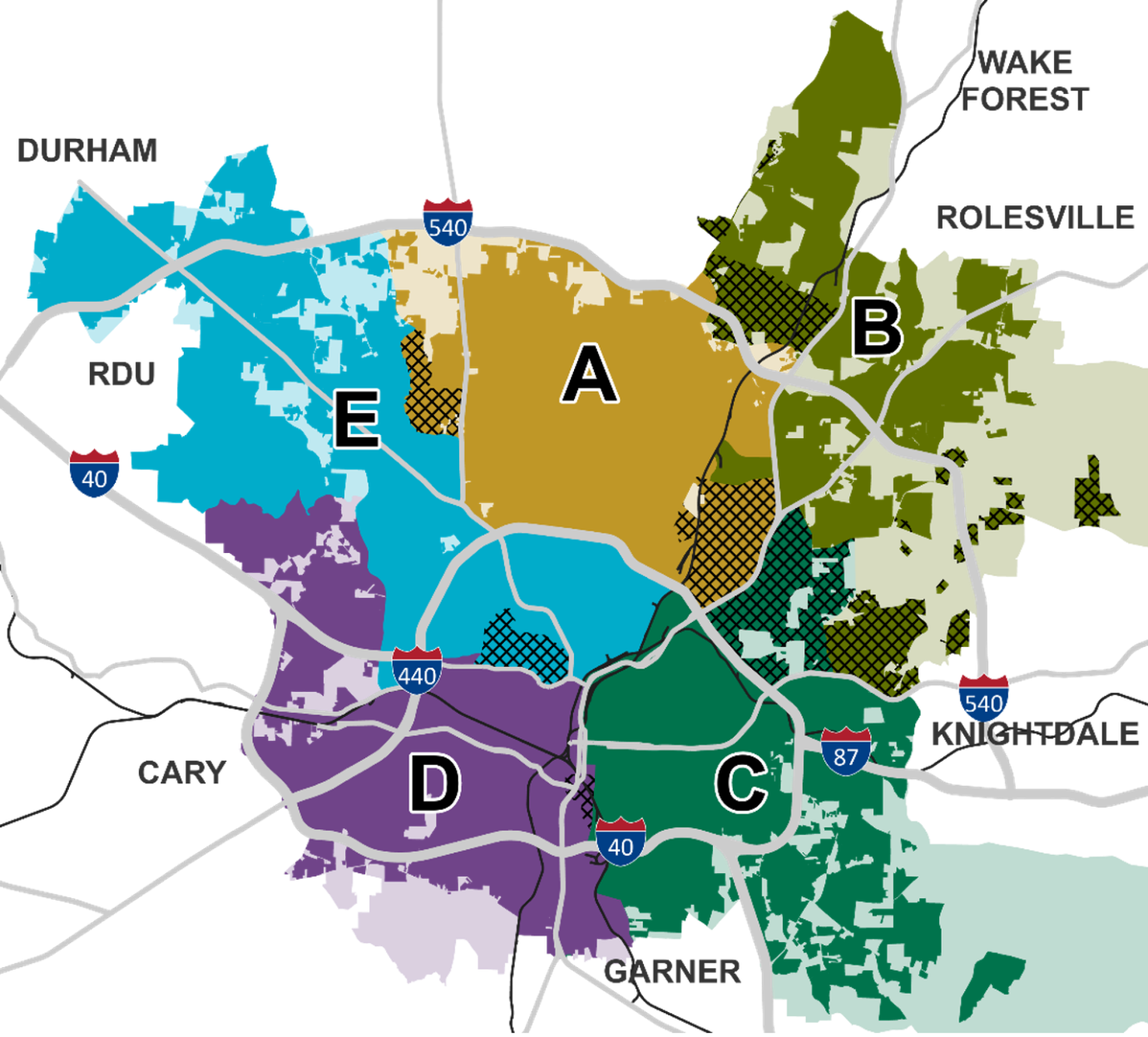 The district races are more interesting, in part because there are several—A, B, and D—that have a number of compelling candidates, even if more than a few of them seem willing to roll back the progress Raleigh has made in recent years. The Wake County Democrats endorsed a straight-NIMBY ticket, while the Indy and News and Observer took a more balanced approach, endorsing a mix of incumbents and challengers.
District A
With incumbent Patrick Buffkin choosing not to seek reelection, the seat is open and has 3 candidates. Cat Lawson, a former attorney who now teaches at Duke Law School, appears to have the edge. She most recently served on the Raleigh Study Committee tasked by Council to make recommendations on modernizing the Raleigh City Council, including change the term-lengths, raising compensation, and improving voter engagement. Lawson has been endorsed by Mayor Baldwin and former Mayor Charles Meeker, so it wouldn't be surprising to see her performance mirror Baldwin's.
The other candidates are Mary Black-Branch and Whitney Hill. Black-Branch received the News & Observer and Indy endorsements and has served on the City's Environmental Advisory Board. Professionally, she works in communications for the Chisolm Legacy Project, a Maryland-based nonprofit that provides resources for Black communities seeking to address climate justice. Whitney Hill is a small business owner, but seems to lack any recent work with Raleigh organizations.
While endorsements could make the difference in the race, financial resources may play a deciding factor in which candidate is best able to get their name in front of voters. In this race, that could give the edge to Lawson. She had raised about $26,000 through the most recent reporting period compared to Black-Branch's roughly $6,000.
District B
For the last three years, David Cox has often been the lone no vote on the council, making him the darling of the Livable Raleigh crowd. But his decision to not seek reelection creates an opening for a candidate who doesn't share his views.
Megan Patton, a manager in the customer service department of Spoonflower, a fabric manufacturer, has the endorsement edge, with support from the Indy, New & Observer and the Wake County Democrats, but Minu Lee, an undergraduate at N.C. State, appears to have the financial edge. Like District A, the Mayor's coattails—or lack thereof—will likely determine the race.
District C 
Corey Branch is seeking his third term and barring some unforeseen event, the incumbency advantage is likely to ensure Branch keeps his seat.
District D
This seat is open because current incumbent Stormie Forte decided to seek one of the At-Large seats since Nicole Stewart decided against seeking reelection. This race is the most intriguing of the District races because there are three competitive candidates:
Jenn Truman is a local designer who serves on the Raleigh Transit Authority and is a frequent user of the bus system. She also recently served on the Dix Edge Area Study that made recommendations to Council about land use and transit matters in response to development pressures arising from Dix Park and the Downtown South project. She's been endorsed by the Indy (who endorsed her and Harrison), as well as Mayor Baldwin, former Mayor Smedes York, as well as the current Chair of the Wake County Board of Commissioners, Sig Hutchinson.
Todd Kennedy has served on Raleigh boards as well, but has not been as active as Truman. Kennedy received endorsements from former Raleigh Mayors Nancy McFarlane and Charles Meeker. Because Truman and Kennedy share fairly similar approaches to the current City Council, there is a risk of voter cannibalization, which may open the door to a Harrison victory.
Jane Harrison is a researcher at NC State University in natural resources management. She is the preferred candidate of LivableRaleigh and seems to align with its less-sympathetic view of the current Council's policies regarding affordable housing. Harrison has also been endorsed by the Indy, the News & Observer, and the Wake County Dems.
District E
Incumbent David Knight is running for re-election. His opponent, Christina Jones, is opposed to most of the current council's agenda, and seems unlikely to pull off an upset victory.
Raleigh is also voting for a massive parks bond
If passed, Raleigh's $275 million parks bond will fund greenways, an 18-acre play plaza at the new Dix Park, a new pool, and a bunch of other improvements. Adjusted for population, this would be like Chapel Hill proposing a $36 million bond, which would be enough to build a really awesome greenway network here. Regardless of how the rest of the election turns out, we hope that Raleigh shows that it values park space as the city grows.
Why this matters
Even though issues around growth and development are not partisan issues, they have a substantial impact on the future of our state. Personally, I believe that in politics, population density is destiny. All things being equal, a state that has high population growth in its cities is more likely to vote for Democrats than one in which the population growth is largely occurring in exurban areas. If NIMBYism takes hold again in Raleigh, we'll see existing homeowners become a little richer, increased displacement of long-term residents, and even more rapid growth in Raleigh's car-dependent, Republican-leaning exurbs.
At the same time, if Raleigh elects for a council that it is a bit less committed to urbanism than the current council, we'll have some valuable lessons to consider on the left side of the Triangle. Is it better to protect current residents from change, or ensure that future residents have economic opportunity? Do we want growth to be concentrated in a few places, or should we allow it to blossom throughout our community? Do we seek to build affordable housing by engaging in protracted negotiations with developers, or do we try to create an environment where it is profitable to build housing for middle income people while using tax revenue to subsidize housing costs for the neediest among us?
These aren't easy questions to answer, and the Raleigh municipal elections aren't going to solve them for us. But, we will have eight representatives, some new, some old, to wrestle with them as Raleigh continues to grow.