In May each year, the Shorewalkers of New York hold an event called the Great Saunter, a 32-mile leisurely walk around the perimeter of Manhattan. It is a fantastic way to see the city while challenging yourself with a long distance urban hike.
I have done the Great Saunter a few times with family, but we've never managed to complete it.
However, in 2020, the year of the pandemic, the event went virtual, so I mapped out a course in Carrboro, Chapel Hill, and a bit of Durham, and decided this was the year I would do my 32-mile Saunter!
I mapped a loop route that was not along main thoroughfares, and had strategically placed pit stops (or woods), since many public restrooms were closed due to the pandemic.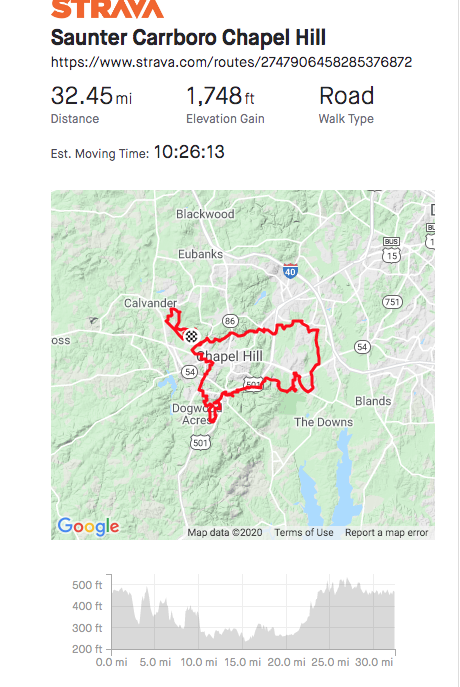 My friend Colleen and I headed out a glorious October fall day with a true Carolina Blue sky. We started at my house, meandered through Carrboro, Southern Village, Merritt's Pasture, the Botanical Garden, Mason Farm Preserve and Downing Creek. We then headed back along George King Road, through neighborhoods in eastern Chapel Hill, back to the Community Center, returning via the Bolin Creek Trail to Carrboro, where my route continued through North Carrboro. It was a glorious night with a full moon  when I finished, tired and elated.
Highlights:
Southern Community Park (because it provided pit stop #1)
Coffee at La Vita Dolce—must allow time to enjoy life's pleasures!
All of the greenways and sidewalks, including Libba Cotten, Roberson Path, Morgan Creek and Bolin Creek trails
Finley Golf Course clubhouse (because it provided pit stop #2).
Hidden trails connecting to Merritt's Pasture, to the Botanical Garden, from Mason Farm Preserve to the back of the Friday Center, and the Little Creek Waterfowl Impoundment Trail that runs parallel to Highway 54.
Suggestions to the towns from my observations:
Meadowmont's greenways REALLY need to extend along 54 to the offices/businesses located near the I-40 interchange.
Sidewalks/trails added along short stretches of Mason Farm and Barbee Chapel would provide more complete systems
A bridge across Little Creek at the Wildfowl Impoundment should be made accessible for public use. (One technically isn't allowed to cross the current structure, and it's a bit sketchy anyway.)
Public bathrooms: there should be more of them, and they should be OPEN. (This is a pet peeve of mine and part of a bigger public health issue everywhere.) The Community Center had reopened its playground, but the bathrooms remained closed. If a park is open, its bathrooms should be, too.
To anyone interested in doing their own Saunter, here are my recommendations: carry extra socks (pref. wool), a good supply of snacks/ water, a charger, & earphones, and have a great companion. Colleen walked the first 20 miles with me, and I listened to an audio book after that. It would have been a long slog had I done the whole thing solo.
Would I do it again? You bet! (October is just around the corner. Hmmm . . .)