Hello! It's Monday! And there's a lot going on in Chapel Hill, Carrboro, and Durham this week. Here's your daily roundup:
? Get your books on ?
The Friends of the Chapel Hill Public Library are hosting their August book sale next weekend – and we've heard that there will be thousands of children's books, an amazing collection of food and wine books for sale — not to mention fiction, history, art books, puzzles, and much, much more.
You are encouraged to bring your own bags. Friday's sale is Member's Only (join here) and Saturday and Sunday are both open to the general public. On Sunday, you can take as many books as you can shove into a bag for $10.
Friday, August 26: 3 pm – 6 pm (Members Only)
Saturday, August 27: 10 am – 5 pm
Sunday, August 28: 11 am – 3 pm ($10 Bag Sale)
The Local Reporter gets a new editor. Again.
Chapel Hill's local non-profit newspaper with close ties to CHALT has hired its fifth editor in three years. Terry E. Cohen is the new head honcho. We look forward to hearing more about her ties to the region and her vision for the paper to ensure that it operates ethically and independently from CHALT members and friends. As always, if you have any Local Reporter news to report, let us know.
Ann Arbor eliminated parking minimums
Ann Arbor's City Council voted (10-1) to eliminate mandatory parking minimums. Josh Halaka from member station WEMU reports: "When a business or development builds in Ann Arbor, they are required to provide a certain number of parking spaces, even if they don't need them. After last night's city council meeting, the market will decide how much parking is needed."
The Fundamentals of Carrboro
A must-read piece on Carrboro's challenges and opportunities from one of our favorite blogs, CityBeautiful21
CHTR: Another made-up metro map
Reddit u/PikaOnFire imagines what Chapel Hill Transit could look like.
"This is completely unrealistic but maybe it could be light rail/streetcar some day lol. I was inspired by the NS bus rapid transit plan https://nsbrt.org/."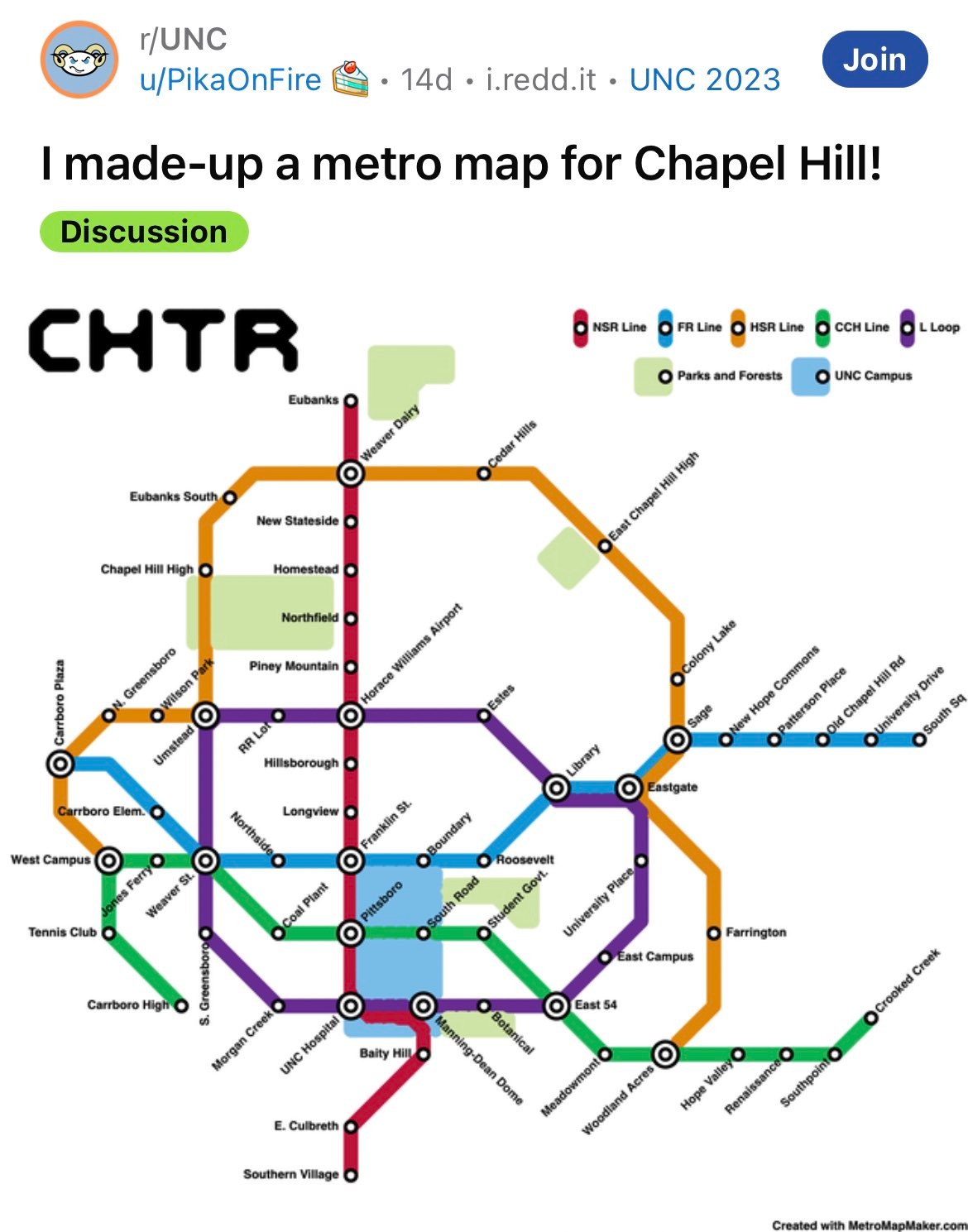 Link roundup