In response to my previous article noting significant overlaps between Chapel Hill's local anti-development organization CHALT and Chapel Hill's non-profit newspaper The Local Reporter, the paper added biographical information for its Board of Directors and current editor, David Schwartz.
Schwartz's bio now says the following:

But there's still a pretty big omission: Schwartz's biography does not note that he was a founding member of Chapel Hill Alliance for a Livable Town, more commonly known as CHALT.
CHALT's deep overlapping ties to The Local Reporter — and the lack of disclosures about those ties in the paper — is problematic when the paper then covers development projects or local politicians that CHALT has opposed.
What is CHALT?
CHALT is an "anti-development community group" that has "opposed nearly every major development proposal" in Chapel Hill since its inception in 2014/2015. They formed a PAC in 2017,  recruit and endorse local candidates to run for elected office, and are very influential in local elections.
In 2015, Schwartz was listed as the lead for planning and design for the organization. In 2016, he was listed as the lead for communications for CHALT.
He also remained on the CHALT listserv through at least October 2021 after becoming the editor of The Local Reporter in July of 2021. That means he was on the listserv during the contentious 2021 local election cycle while simultaneously overseeing election coverage at the paper.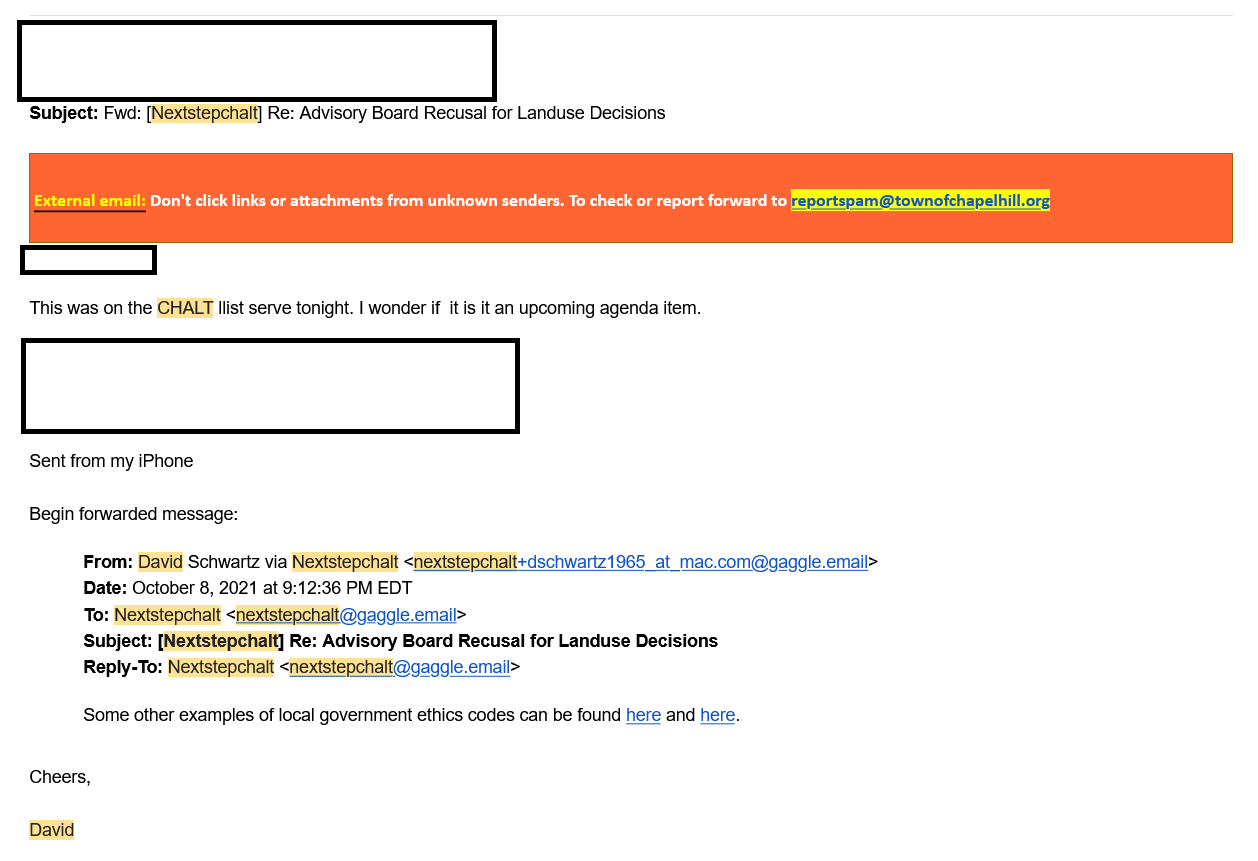 CHALT's core members discuss strategy, politics, and development projects on their listserv. From a FOIA request, I've reviewed emails that had been forwarded or cc'ed to the Town of Chapel Hill from the listserv, and/or its members over the past seven years.
The Board of Directors of Friends of Local Journalism, which publishes The Local Reporter, have also remained active on the private CHALT listserv. As documented previously, at least two also have access to the editor@thelocalreporter.press email address, and one runs the newspaper's social media accounts; all have written news stories for the paper about development projects under the byline Staff Reports. Until January of 2022, one board member also served as Assistant Treasurer of CHALT's PAC.
The Local Reporter 
There would be no issue if The Local Reporter touted itself as CHALT's community newspaper. That would make clear that our local non-profit newspaper has close ties to an advocacy group with an influential PAC, and that it espouses a particular point of view about local government and development issues.
But The Local Reporter, which has more than 3300 email news subscribers, touts itself publicly as having "no specific political agenda."
When the News and Observer pointed out the paper's overlaps with CHALT, the paper responded by saying they didn't know why the N&O would seek "to impugn TLR's integrity."
Disclosures matter
Journalism is guided by a core "code of ethics." One of journalism's core principles is transparency – journalists are expected to disclose conflicts of interest, both financial and personal, to their audiences.
This is codified in the Society of Professional Journalists' Code of Ethics, which states journalists should "avoid conflicts of interest, real or perceived. Disclose unavailable conflicts."
An outspoken opponent takes the helm

Schwartz has been an outspoken opponent of a number of development projects in Chapel Hill.
A number of his essays are on the now-defunct blog Our Town Chapel Hill, which currently redirects to the CHALT website. His commentary includes a lamentation about the Ephesus-Fordham form-based code and a parable about high-density development. One piece encourages the Town of Chapel Hill to make changes in how they plan future growth; another is entitled "Welcome to the Growth Machine" which talks about the town embracing a "pro-growth agenda."
The Local Reporter covers the same developments and topics that Schwartz opposed before joining the paper. One reporter, who asked not to be named, told me that Schwartz provided a list of sources to contact without mentioning their CHALT connections, sent along questions to ask them, and then heavily edited the piece copy after it was turned in.
"When I submitted my piece for editing, he cut large amounts of what I had written, leaving it lopsided," the reporter wrote.
Del Snow, the president of the Board of Directors of Friends of Local Journalism, touts this arrangement in posts for writers on NextDoor:

I spoke to several news editors and reporters at other publications who noted that this arrangement is unusual in a newsroom, particularly if an editor is not disclosing their own prior relationships with sources.
That's because the editor of a newspaper is a pretty unique role. Editors may have access to information that others don't. They talk to confidential sources and they reach out and ask questions. They often know information before it is made public.
This makes it more troubling that the editor of a paper is actively participating on a listserv run by a group that is very influential in local elections.
Last year, the week before the election, Schwartz wrote to a neighborhood listserv with an unsubstantiated rumor about town council fast-tracking approval for a development project. This was false. The development, however, was a key issue in the 2021 election and CHALT's endorsed candidate had made it the key issue of his campaign platform. The paper then covered the development project extensively.

Why this matters
The Local Reporter has been publishing since September 2019 and has had three editors so far.
For its first 18 months, a journalist edited the paper. Even so, there were issues – an unbylined piece published August 18, 2019 entitled "Why Businesses are Leaving Chapel Hill" quotes a person that one of the board members founded a company with, without disclosing that relationship, and contains phrases directly lifted from a CHALT article entitled "Hi-Tech Development in Chapel Hill: Progress and Challenges." Further issues during the first editor's appointment are detailed in a blog post on this topic.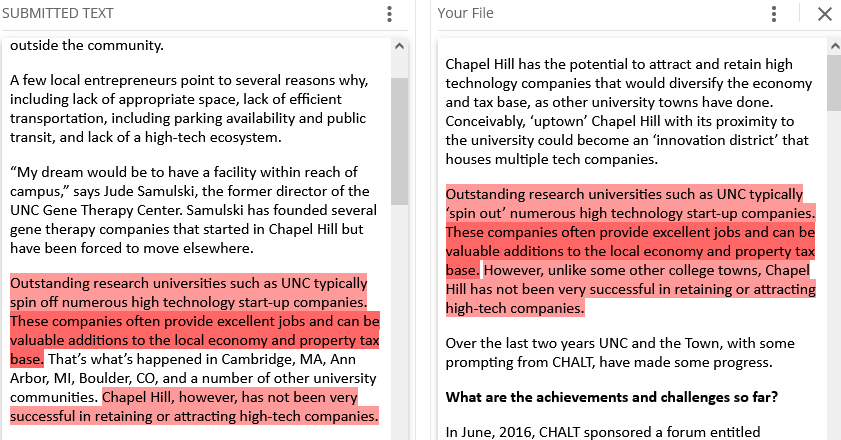 Nancy Oates, a former council member endorsed by CHALT, then edited the paper between March and June 2021. Oates' tenure was not announced by the paper; she served for almost four months before her role was disclosed. During Oates' tenure, the paper extensively covered the Aura development, which CHALT opposed.
The bulk of The Local Reporter's original news content is focused around elections, town council, and growth/development in Chapel Hill. As the News and Observer noted, "Roughly a quarter of the stories written [about development] by CHALT members, the editor or board members, or that quoted CHALT members, didn't identify those writers or their affiliations."
Last week, The Local Reporter posted a reporting opening on a journalism jobs board for a reporter who "will work with TLR's editor to identify stories to pursue and sources to interview."
The paper's fourth editor: Keith Barber
The Local Reporter is again in a moment of transition. Their new incoming editor is Keith Barber. He has worked in the past for Indyweek, the Chatham News-Record and the Carolina Public Press.
Barber's job will be tough, unless a strict firewall is placed between both the Board of Directors of Friends of Local Journalism and other CHALT members, and the paper's editorial side. In addition, it must be clear to readers that CHALT members are not influencing the content, framing, or sources used in stories. Prior relationships between the board, editor, writers, donors, and sources should be disclosed. The board shouldn't have access to the editor email account or the social media accounts.
At the same time, it looks like CHALT has deleted the page called "The CHALT Team." https://t.co/48TGMn70y3

Luckily, we have an archive of that as well. https://t.co/GsTQJtHffx pic.twitter.com/yV2SgkWJLM

— melody joy kramer (@mkramer) June 28, 2021
Independence and ethics
A recent NextDoor post from a current CHALT leader – who ostensibly has no role at The Local Reporter – notes that The Local Reporter recently reapplied for membership in INN – a consortium that distributes funding to non-profit newsrooms across the country. INN excludes advocacy groups and groups with a political agenda. The INN website notes "INN members share and follow community guidelines for standards in ethics, transparency, and independence. INN vets prospective members for independence and ethics and a primary focus on producing original news content."