I am lucky to live less than a mile from the downtown center of a mid-sized, American city (Durham, NC). My neighborhood (Duke Park) is even closer to a downtown-adjacent part of the city colloquially known as the "DIY District." I don't think there's much DIY-ing there these days, but it still retains colorful vestiges of  former glory days. It's home to Motorco, Fullsteam, CocoaCinnamon, that place you're allowed to throw axes, the "grown up" arcade that's mostly full of kids, my awesome gym, Courage Fitness Durham (don't worry guys, I'll be back soon), and – last but certainly not least – the national treasure that is the OG Durham Bulls Stadium. These days it's referred to as The Durham Athletic Park (DAP). Do not confuse this with the new Bulls Stadium that goes by The Durham Bulls Athletic Park (or DBAP… I think. Who can keep up?)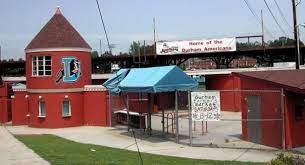 Another Durham treasure is the moody, synth-pop duo Sylvan Esso. Fresh off a new single (and the Grammy's red carpet), Amelia Meath and Nick Sanborn (the referenced duo), announced the rescheduling of two COVID-delayed shows to be held under the stars at The DAP (hint- it's the old one). Both shows sold out FAST, so the good folx of Sylvan Esso even added a third show.
The first of three shows was on Thursday, May 19, 2022. The music started around 7 PM with the opening acts and it actually took me a minute before I pieced together the fact that we were getting a free Sylvan Esso concert without having to leave our living room. Big win for this proud introvert.
I went to bed around 10 PM, lulled to sleep by the low but predictable throb and thrum of synthetic bass, a gentle (yet unexpectedly comforting?) reminder of the world carrying on beyond my walls. And maybe my last thought, before falling into the oblivion of unconsciousness, was "I can't believe I get to live in such an amazing place."
As it turns out, my neighbors were feeling something else that evening. And I was not prepared for the avalanche of hyperbole that was about to bury me. The first sign of "the trouble" was this post from @TriangleManNC:
Members of the neighborhood listserv enjoying the Sylvan Esso concert. pic.twitter.com/WF77FKKkih

— Triangle Man (@TriangleManNC) May 20, 2022
If you live in a neighborhood with a listserv or (praying for you) NextDoor, you can probably guess where this is going. In my neighborhood, popular topics generating over-the-top controversy include houses being built six blocks away, houses being torn down six blocks away, the audacity of people who throw dog poop their neighbors' waste bins, people who do not ever throw dog poop in a waste bin, a stranger ringing a doorbell at 3 in the afternoon, libraries, stormwater, traffic, the removal of street parking for bike lanes, and (seriously praying for you) the removal of any trees, anywhere, for any reason.
I sensed in this moment that my neighborhood listserv must be nearing criticality.
Reader – I was not disappointed. There, at the top of my inbox, was an email thread with the subject line "Where's the loud music coming from?" Where, indeed?  As predicted, the many emails in this thread represented all the usual suspects. The majority of complaints can be aggregated into a few overarching complainants:
People who don't like (any) loud music
People who don't like (this) loud music
People who like loud music, but certainly not after 10 PM
People who are upset they have no control over the loud music so they call the police/city
People who feel compelled by the loud music to launch a negative publicity campaign against Sylvan Esso
People insulted that "the city" did not personally notify them to explain there might be loud music in their (immediately adjacent to downtown) neighborhood
People leveraging the email thread to complain about something else (in this case a development they do not support).
In hindsight, I can't say that I'm surprised by this reaction. But I am disappointed. Durham has always taken pride in the city's scrappy reputation and sense of collective responsibility. The unspoken, but oft-executed, social contract promising communal support and acceptance is one of things our family loves most about our home city. I feel like we (all) lost something meaningful over the last few days. Maybe it's the loss of believing that my people would look out for me and pull me up, rather than jump on me and push me out, if I feel like cranking up the "stereo" (meaning the tiny wireless speaker that plays music from my phone) one day.
I'm not a Sylvan Esso super-fan. In fact, I only know one or two songs well enough to name them. I don't even particularly like electronic/synth-pop music. That's more of my husband's jam. My favorite genre of music is "people singing while accompanied by one acoustic instrument."
But I do love my city. And Sylvan Esso is woven into the tapestry telling the story of Durham. A more recent addition, perhaps, but certainly an established one. Because of that, I'm choosing to embrace the "booms, thumps, and twangs," "discordant sounds" and "some real crazy vocals" (as described by my neighbors) for a few nights because it's an opportunity to show our collective appreciation for two of our own, who are making good on a promise to uplift their hometown.
As a trained city planner, I spend a lot of time thinking about how and why we experience our communities in the ways that we do. In fact, I get paid every day to think about this and, based on what I learn, make informed, expert recommendations for policies, programs, investments, projects, and more. When distilled to its most elemental form, the goal of my job is adequately preparing people (and places) for unanticipated changes and forces out of their control. And it's hard.
At the end of the day, no matter where you live, you are going to bump up against things that you don't like and things that you can't control. As a professional planner, that is one of the only guarantees I can make to you. We do our best to put a framework in place protecting the "health, safety, and welfare" of the people living in our communities. But it has to be a flexible framework because, in the words of Ani DiFranco (one of my favorite "people singing while accompanied by one acoustic instrument") "what doesn't bend breaks." [Warning: Explicit lyrics]
When we choose to live among other people, especially in a city, it's an absolute guarantee that we will experience things beyond our control. Often, these things are loud and occasionally they are inconsiderate (looking at you, neighbor who hosted the outdoor karaoke party that didn't end until 3 AM). But other times, it's magnificent. And sometimes, if you're really lucky, it's the sound of your hometown band, floating over your city, through your neighborhood, and into your heart.