This afternoon, the town of Carrboro will hold a groundbreaking celebration of the 203 Project, more officially known as the Orange County Southern Branch Library and Cultural Center for Carrboro. This building, decades in the making, will transform downtown Carrboro in many ways, some of which have been hotly debated here and elsewhere.
But it will also change how residents and visitors come to downtown. As some have lamented—and others have celebrated—this new project will come with 171 parking spaces in a three-story deck, many of which will be available to the public. If the library is the destination we all think it will be, many visitors will make the library their first or last stop in downtown Carrboro. In between, they might go to a grocery store, a coffee shop, a restaurant, or pick up a few gifts. Carrboro's downtown is compact enough that many people would walk if we make it easy.
If we don't change anything else, visitors will have two options to get from the library to Weaver Street Market (likely the most popular destination):
Walk through a series of parking lots, or
Walk on a narrow sidewalk on Greensboro St.
Neither of these are great options, particularly if you're pushing a stroller, operating a mobility scooter, or trying to keep on eye on younger kids as you cross a busy street.
But, look at a map of downtown Carrboro and you can see another option—a linear park that connects the 203 project to the Weaver Street lawn.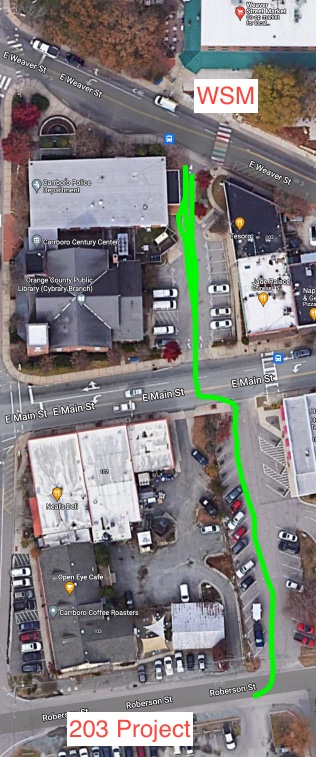 Carrboro already owns the lot between E. Main Street and Weaver Street, and is currently using it for police parking. Here's what it looks like on a Thursday morning: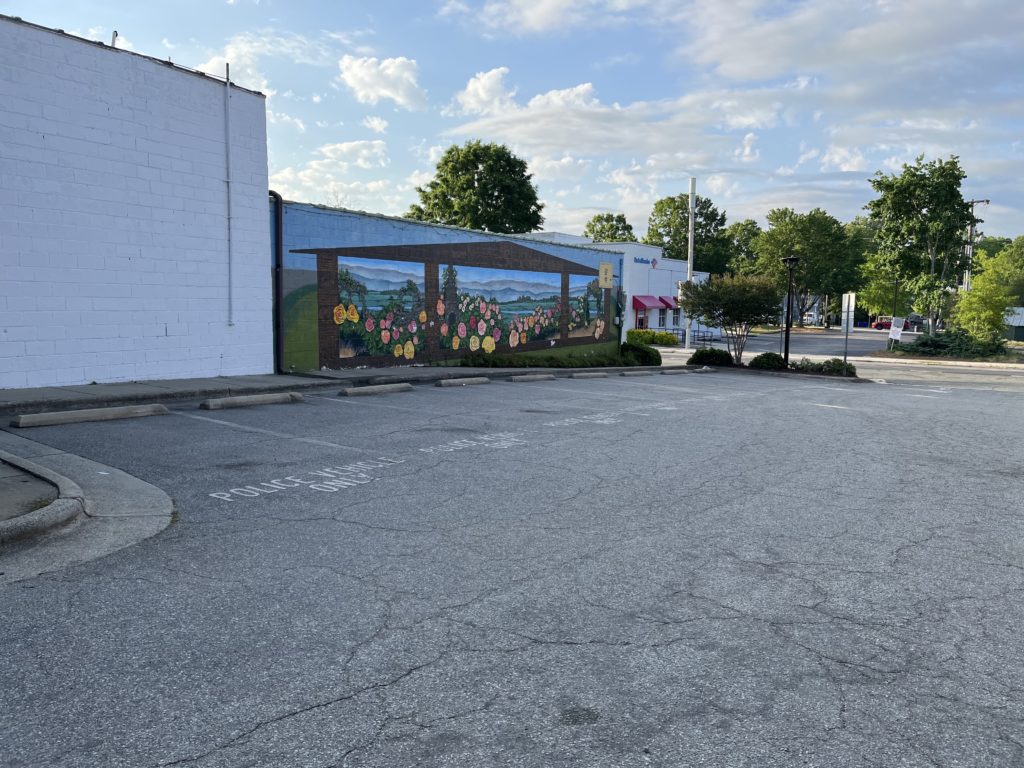 The other lot is owned by a private company, but it would be worth exploring possibilities to acquire the space. Even connecting Weaver Street and Main Street would be a boon for local businesses.
For now, it would be wonderful to explore temporarily closing off the police station parking lot—perhaps on Sunday mornings—and encouraging people to imagine what we could do with this space. If Carrboro commits to solving its parking problems, all kind of space will open up downtown for creative placemaking. We should use today's celebration of the 203 Project to start a conversation about all the ways that we can make our community stronger. Talking about a linear park would be a good place to begin.
Quick Take: Linear Parks and Flexible Access
Think this sounds like a great idea but you're still not quite sure how it works? Here's what you need to know.
What's a linear park? A linear park is any publicly accessible right-of-way (typically longer than it is wide) connecting urban places and spaces. Linear parks can be as small as a block or several miles long. Linear parks are often created from repurposed infrastructure (i.e., rails to trails) or to activate underused spaces like alleys and surface parking lots.
It sounds like you're describing an alley – are you sure it's a park? In addition to enhancing access, a linear park provides opportunities for greening urban spaces. Examples include landscaping, permeable or pervious pavement, bioswales and bioretention areas,  appropriate lighting, accessibility features, and more. A bonus of greening lots and alleys is that it also reduces stormwater runoff!
Well, okay. That seems pretty cool. But is it safe? I get a little nervous walking through desolate alleys and parking lots. YES! One of the best parts about linear parks and green alleys is that the improvements often increase the number of people around keeping lots of eyes on the street! Linear parks also incorporate lighting, public art, and amenities like benches and swings, encouraging people to travel through or stay in the park.
What if we change our mind or need the space for parking for a special event? A great component of linear parks, green alleys, and pedestrian plazas is that they are flexible! Many communities incorporate ways to convert spaces by using bollards or other removeable structures that can block or let in traffic, as needed. Flexible options like this increase infrastructure efficiency, maximize the highest and best use of scarce land, and save money!
Are there any examples of communities that have successfully done this? SO MANY! From Europe to right here in North Carolina, there are numerous examples in a range of sizes from a one-block alley to citywide elevated linear parks. Here are a few favorites:
Shelton Avenue Linear Park Statesville, NC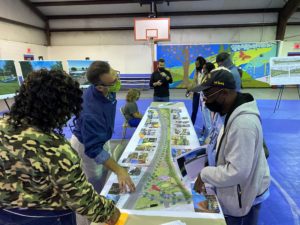 A one-mile long multiuse path and park creating a community gateway, safer right-of-way along a busy road, and recreational amenities for kids and adults.
Downtown Linear Park System; Winter Haven, FL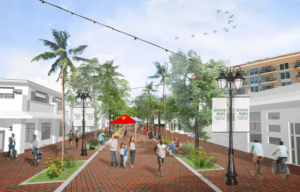 Part of the Chain of Lakes regional trail network, Winter Haven's downtown linear park system connects various points of interest in the city such as the library, downtown, and lakefronts, and provides safe, non-vehicular access to pedestrians and cyclists. The city intends to continue expanding the linear park system and has created conceptual plans for flexible access points with the flexibility to allow or prohibit vehicle access based on use and need.
Green Alleys and Lots (Various Locations)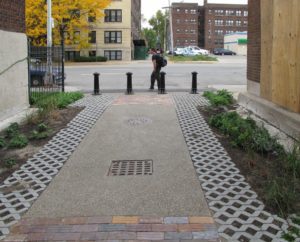 Alleys may be operated as pedestrian-only environments or as shared streets.  Bollards, signs, and design features can help identify intended use. Benefits of green lots and lots include mitigating urban heat islands, reduced stormwater runoff, safer and quicker access for pedestrians and cyclists, increased public green space, locations for public art and amenities, and more. Many communities have grant or incentive programs for converting underutilized lots and alleys to green spaces.