This coming Saturday, November 18, from 10 am to 2 pm, the Carrboro Bicycle Coalition and the Town of Carrboro are hosting an event called Life on Wheels.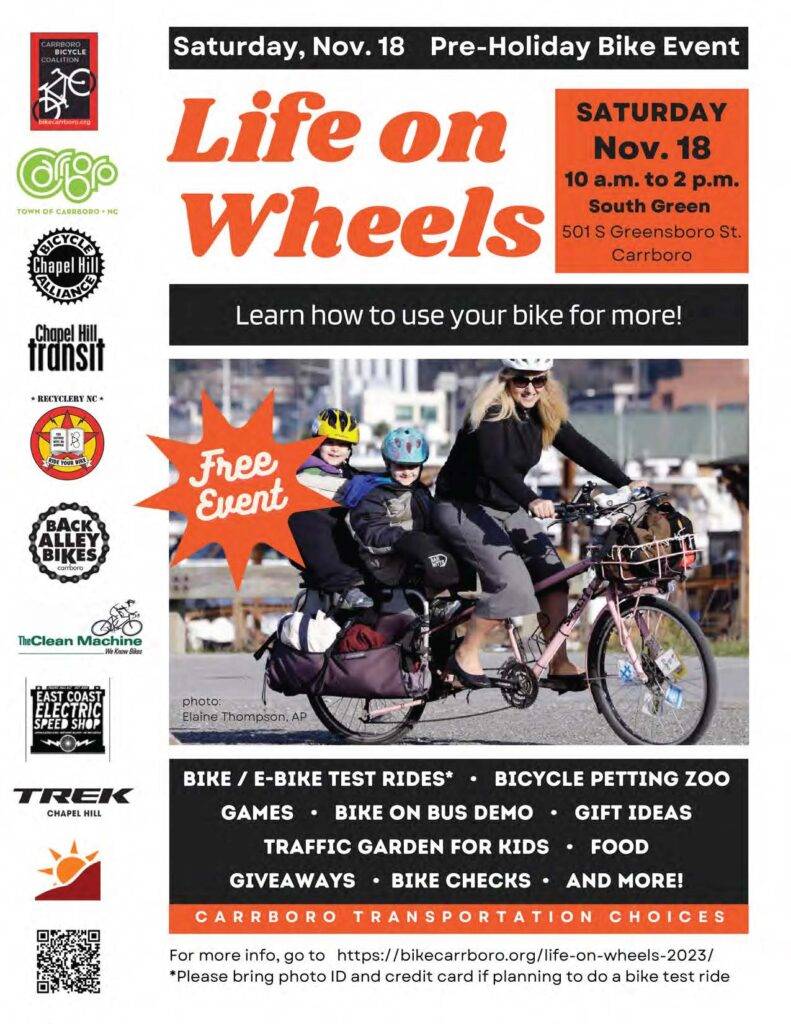 This event is going to be a lot of fun. The purpose is to demonstrate all the ways you can use your bike for day-to-day activities. There will be four local bike shops participating:
As well as the following organizations:
During the event there will be demonstrations from all four bike shops, in addition to games, a demo for learning how to put your bike on a bus, a traffic garden for kids to learn bike safety, and food/coffee.
Where:
South Green – 501 South Greensboro Street, Carrboro
(Right next to Craftboro Brewery)
When:
Saturday, November 18 from 10 AM until 2PM
Members of the bicycle organizations will be bringing their own bikes to show them off.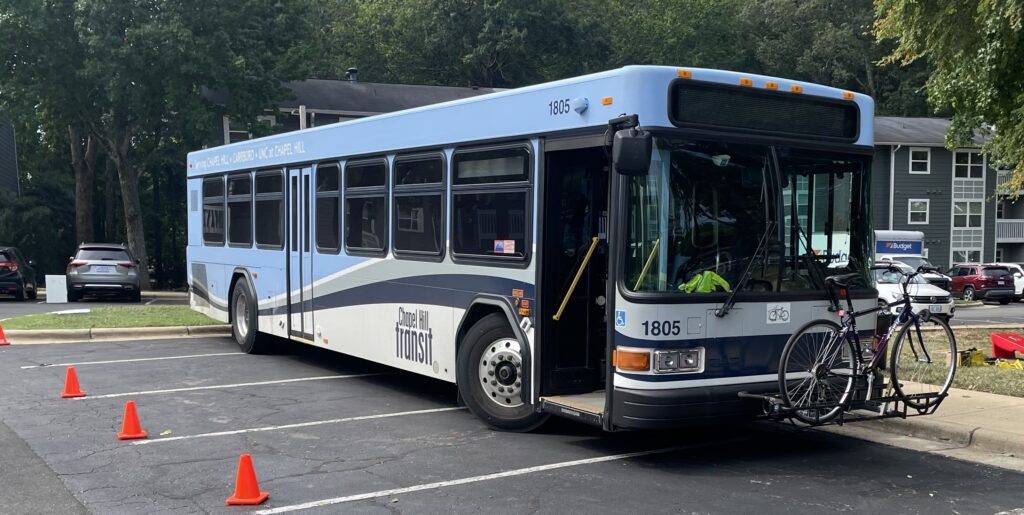 It's going to a lot of fun. Come on out and see some cool bikes, try out a bike and see how useful and fund they are for many tasks!
BIKE CARRBORO sent the following directions out if you'd like to get to the event by bike:

If you are biking to the event, there are several ways for you to get there WITHOUT riding down S. Greensboro Street! See the map below for better ways to get there. 
1. (Red line) From the west on Jones Ferry
Turn Right on Barnes St
Turn Left on King St
Turn Right on Lantern Way
Turn Left on S. Peak
Turn Left on Daffodil
Turn Right on Old Pittsboro
Take the 2nd exit from the roundabout to enter South Green onto Twin Hills Dr.
 (alternate: continue on Jones Ferry to the Community Worx Thrift Shop and follow route 2).
2. (Purple line) From W. Main Street
Enter the parking lot for Community Worx Thrift Shop
Find the bike path that bisects the parking lot (to the left when you enter) Go straight on the bike path until it ends
Turn left onto Carr Street
Turn Right onto S. Greensboro
Turn Right onto Old Pittsboro Rd.
Stay on Old Pittsboro until you reach the roundabout on S. Greensboro Street.
Take the 2nd exit from the roundabout to enter South Green onto Twin Hills Drive
3. (Green Line) From E. Main Street
Turn left onto Roberson Street
Turn left into Roberson Place on Sweet Bay Place
Take your second left and you will see an entrance to the Roberson Place Bike Path.
Turn Right on the Bike Path and follow it down to the end.
At the end of the bike path, turn Left onto Purple Leaf, go through the bollards, and you will arrive at South Green.
4. (Blue Line) From Campus
Take Cameron Avenue to Merritt Mill Road
Cross Merritt Mill and continue straight to access the Libba Cotten Bikeway
Turn left on Brewer Lane. Follow the curve to the left (becomes Hargraves St)
Turn right on Wesley
Stay straight to access the Roberson Place Bike Path
At the end of the bike path, turn left onto Purple Leaf, and continue straight through the bollards to arrive at South Green