I want to tell you about a cool app that every resident should have on their phone. It is called "Chapel Hill Connect" or "See Click Fix". This app can be used to report non-emergency issues in an orderly way, and it permits the town to assign, track and address in the most efficient (and compliant) way possible. I have used it countless times to report downed trees, missing stop signs, and fallen street signs, among other things. I mention this app in our article about how to contact the town for other matters. There is really no better way to report and get things addressed. The benefits
One place to report anything: parks, sidewalks, street lights, trees.
No need to know who to contact, what department, or an individual.
You can track progress and resolution from the app.
You can help the town by being an extra set of eyes.
We have had some gusty weather lately. And, since hurricane season isn't quite over, we could have more. Trees will fall, and they can be down all over town. The town does not perform daily patrols to look on every street for fallen trees or limbs. This is where we can all play a part. Below, I will show an example of a ticket I reported and how to open your own.
In this screenshot, I took a photo and reported a tree that had fallen and blocked the Morgan Creek Greenway. I reported it on Sunday afternoon around 4:30PM, as I went on a run along the greenway. Monday morning, at 6AM, the ticket was acknowledged by town staff and, by 9:00 AM, it was handled. This is often the norm for cases like this. Sometimes, they may take a day or two. For example, a downed street sign I reported in my neighborhood took a few days, but it was not a critical issue.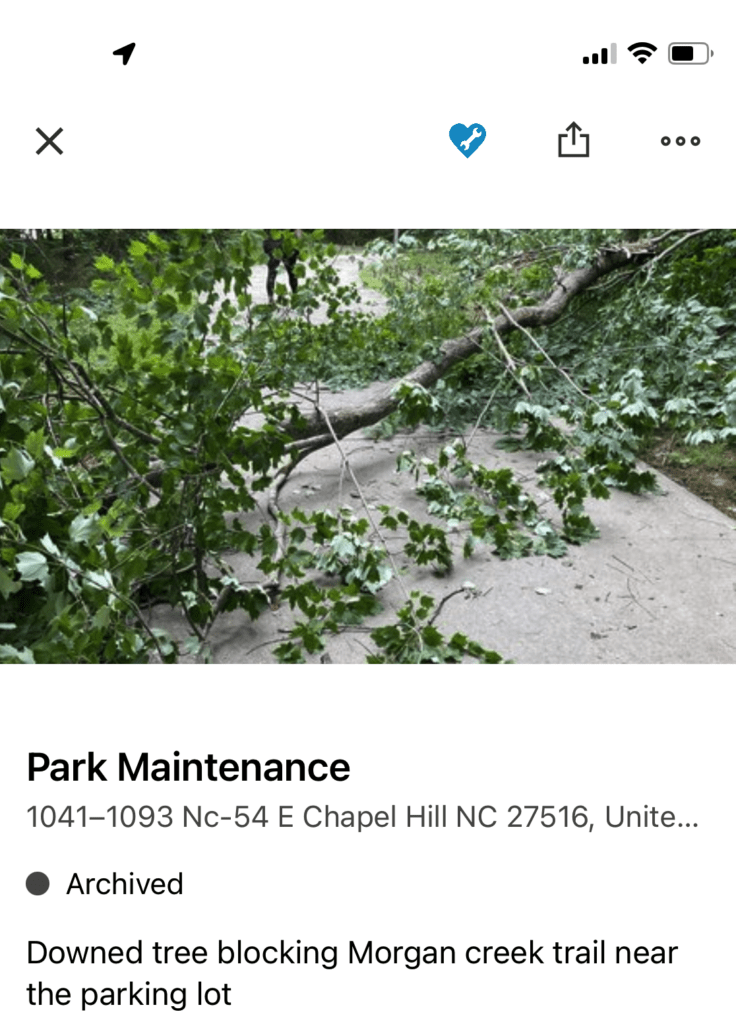 Here is the ticket history. You can see the public works team jumped right on it first thing Monday morning!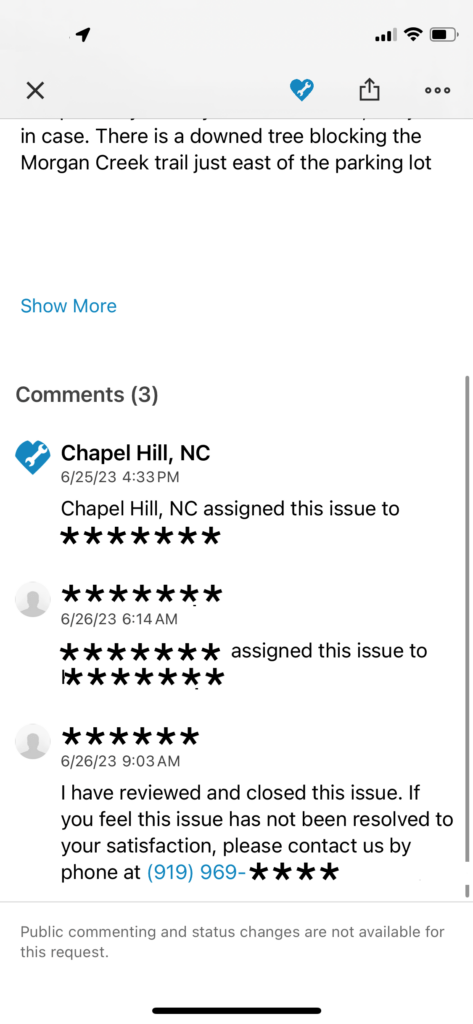 OK. Now that you have seen an example , let's get to how to report an issue. It is super easy. I started up the app, and tapped on 'New Request'
I had already taken the photo on my phone of the downed tree. So I am going to pick the photo from my photo library. However, you can click the camera icon instead and take the photo immediately.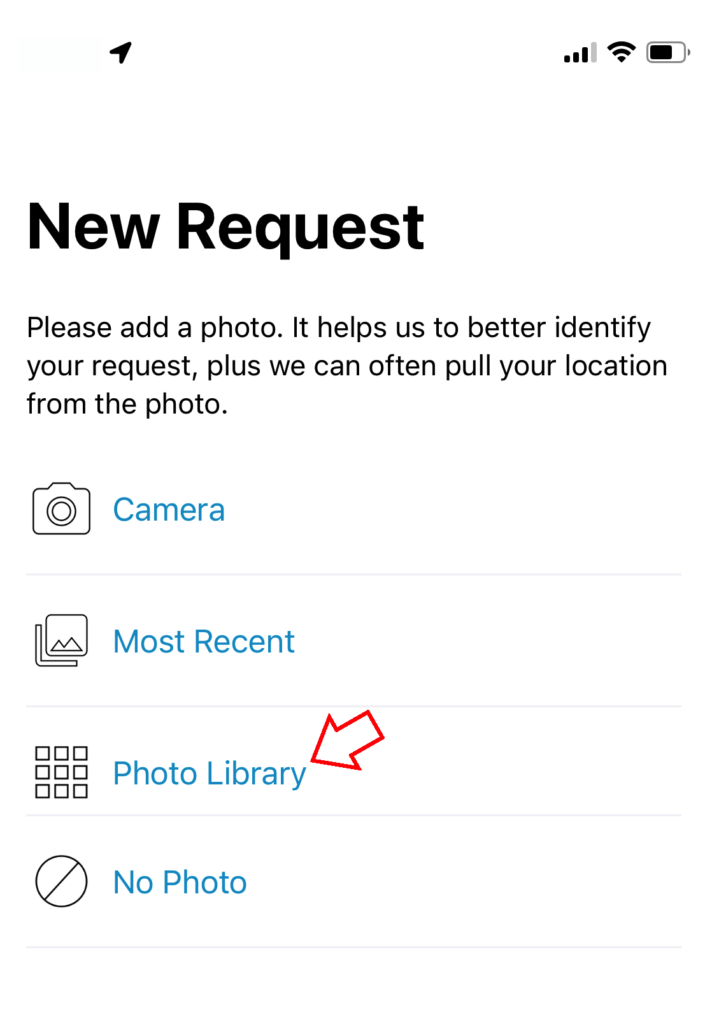 I then select the photo I want to add. Note, if appropriate, you can actually add more than one photo. I do not often find than necessary. Then click the 'Next' button.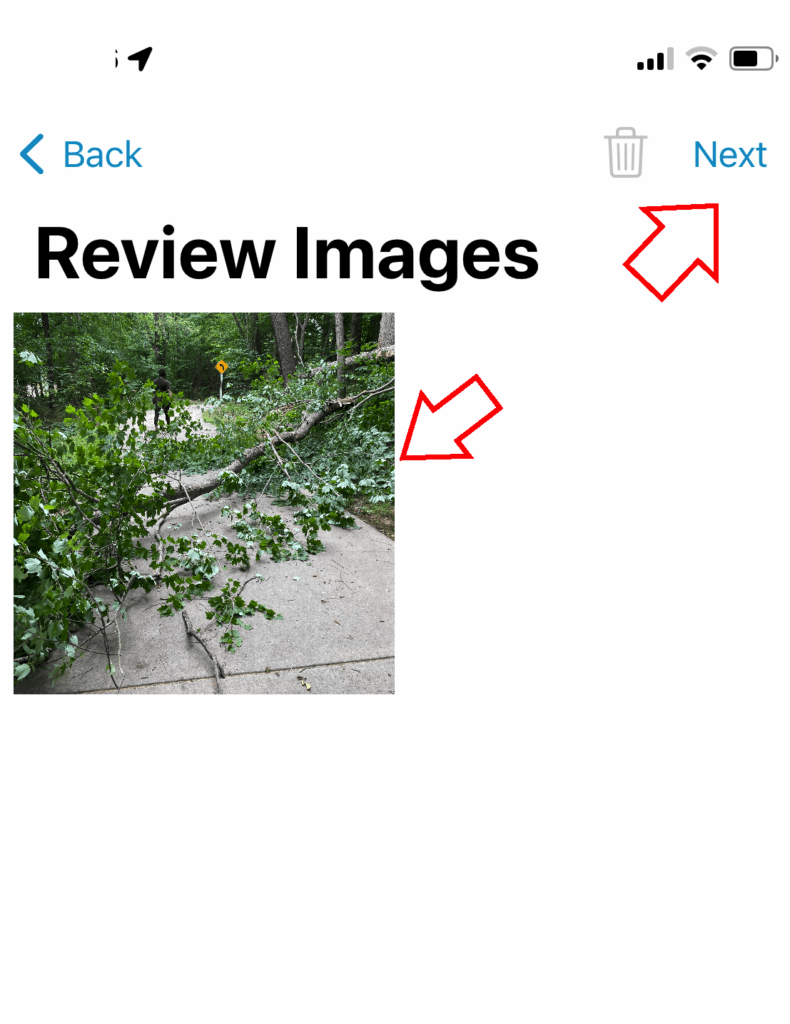 My phone geotags the photos. So the location is already marked. If this is not accurate, or your phone does not tag location on photos, you can slide the map around to align the 'x' to the location where you are reporting. This is handy if you decide to report the issue later, like when you have arrived home.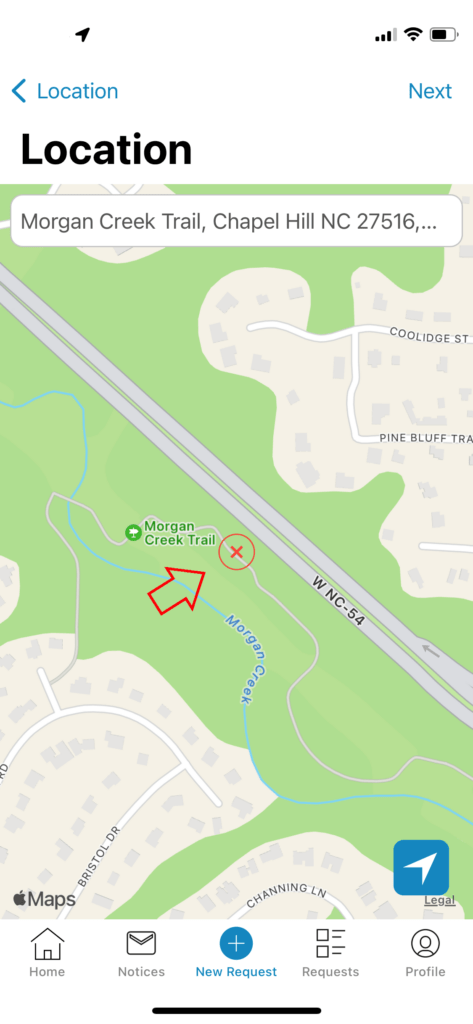 On this screen, just type a short synopsis of what you are reporting. My motto is short and sweet. Just provide enough information to allow the town crew to decide how best to take action. If they have questions, they will actually ask in the app and you can respond. When you have finished, press submit and you are done! Shortly, a town staff member will assign the ticket to the team that needs to see it and act.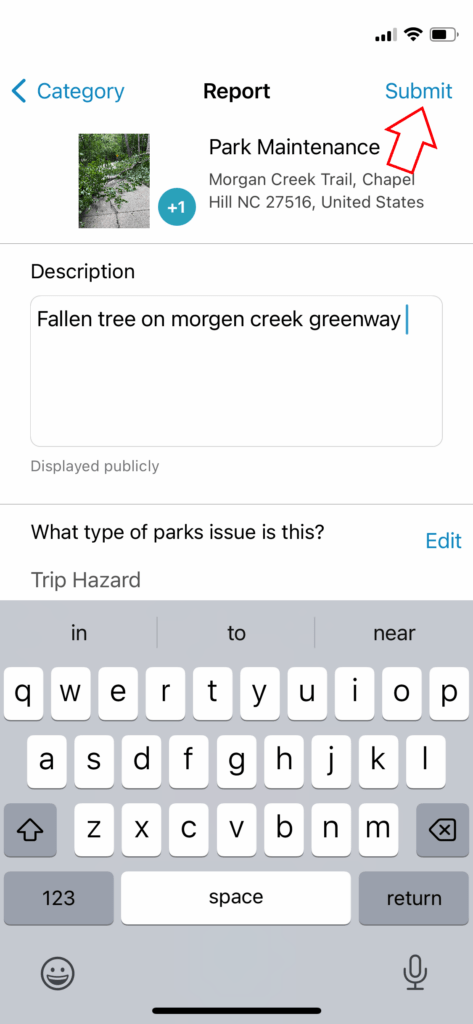 A few final words. My experience is that on most tickets I have submitted, the town is very quick to acknowledge the issue. If you open more than a couple, you will see the same names responding and assigning public works crew.
I really appreciate these folks, and I always make sure I thank them when they have completed the work. Some tickets I have seen opened by others have been a little mean. These staff are out there – sometimes in bug and snake infested brush – clearing downed trees, or making repairs to town parks. They do hard work, in all weather and seasons. Be sure to let them know you appreciate them when the task is done (and please be nice!)
A other item of note. The town employs staff that are trained, and insured to cut and clear trees and brush. The town also has an arborist on staff. If you feel the urge to remove a tree or brush on public property or land, please don't do that! It's a potential liability, and the town likely has to review your work afterwards anyway, to ensure no one gets hurt.
Just open a ticket and they will respond promptly. By taking matters into your own hands, not only do you potentially endanger yourself, you can also put other town residents at risk and create liability issues for the town.
Bottom line, see a tree down? Leave it to the pros!