This post was reviewed by Gerry Cohen.
Beginning with the 2023 municipal elections, North Carolina voters will be required to show photo ID when they check in to vote. Voters who vote by mail will be asked to include a photocopy of an acceptable ID when returning their ballot by mail.
What photo ID can I use to vote in NC?
Any of the following that is unexpired or expired for one year or less:
North Carolina Driver's License
U.S. Passport/U.S. Passport Card
State ID ("non-operator ID"), from the NC DMV
NC Voter Photo ID card, issued by a county board of elections (available soon)
College/university student ID approved by NCSBE

Both employees and students can use UNC ID

Charter school employee ID approved by NCSBE
State/local government employee ID approved by NCSBE
a driver's license/non-driver ID from another state, DC, or US territory (only if voter is registered in NC within 90 days of election)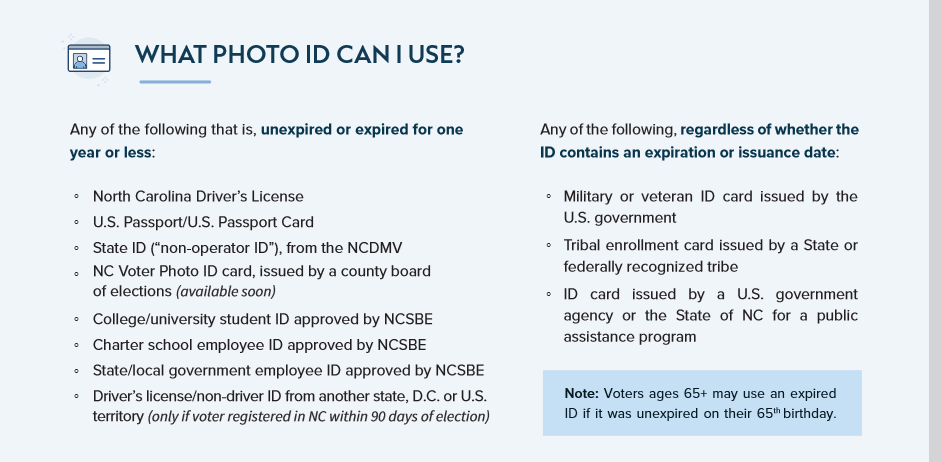 Any of the following, regardless of whether the ID contains an expiration or issuance date:
Military or veteran ID card issued by the U.S. government
Tribal enrollment card issued by a State or federally recognized tribe
ID card issued by a U.S. government agency or the State of NC for a public assistance program
Source: NC State Board of Elections
Triangle Blog Blog voter checklist
Check your voter registration now. You can look it up here. This is really important particularly if you've moved in the past year.
Make a plan to vote during early voting. This ensures that if there's a problem, you can sort it out. The early voting schedule with hours for the November 2023 municipal elections in Orange County should be set by late July.  Early voting runs from October 19-November 4.
Forward this post to 5 friends. Every vote counts in North Carolina, and this information must be shared early and often.
When is the deadline to register to vote in North Carolina?
The regular voter registration deadline is October 13, 2023, for municipal elections taking place on November 7, 2023.
How do I register to vote in North Carolina?
North Carolina offers two primary ways to register:
Online or in person at the DMV
Use N.C. Division of Motor Vehicles (NCDMV) services. Existing DMV customers (persons with an NC Driver License or NCDMV non-operator ID) may submit a voter registration application online (or if already registered to vote in NC may report an address change online)
Learn more at Complete Your Registration Online Through the DMV.
Note: Certain agencies, including the DMV, are required to offer voter registration services. For more information, visit the National Voter Registration Act (NVRA) page.
By mail
Fill out the English N.C. Voter Registration Application (fillable PDF) or the Spanish N.C. Voter Registration Application (fillable PDF) and submit it by mail. Learn more at Complete Your Registration by Mail.
Third party groups and political parties may be conducting voter registrations drives where they distribute paper voter registration forms, and often assist the voter in filling out the form and return the filled out form to the board of elections. Paper voter registration forms are also available at various campus locations and at public libraries.
Note: The federal Uniformed and Overseas Citizens Absentee Voting Act (UOCAVA) allows certain voters an expedited means to register and vote by mail-in ballot. Find more information at Military and Overseas Voting.
Where are the early voting locations in Orange County, North Carolina?
Orange County offers early voting to all registered Orange County voters who wish to vote early, in-person rather than voting absentee by mail or on Election Day.
Orange County early voting locations have not yet been released. In the past, they have included the Seymour Senior Center, Carrboro Town Hall, the Chapel of the Cross, the Efland Ruritan Club, Orange Works at Hillsborough Commons, and the Chapel Hill Library.
When the information is released for 2023, we will update this post with hours, locations, and directions.
Can I register to vote on the same day that I vote?
Same Day Voter Registration is available during the Early Voting period at all Early Voting sites. If completing Same-Day Registration, one must provide proof of residency in Orange County, and must vote during Early Voting rather than on Election Day. More information about this process can be found HERE.