If you go to a council meeting in Chapel Hill, you'll often hear people start their comments by telling you how long they've owned a home here. The implication, it appears, is that their longevity as homeowners in Chapel Hill should carry more weight before council than everyone else who lives here (Notably, half of Chapel Hill's residents are tenants and rent).
A recent Viewpoints from Edward Marshall made this point abundantly clear. Marshall pointed out – not once, but twice – that he has lived in Chapel Hill for 30 years in his column arguing against allowing different housing types like duplexes in Chapel Hill.
Why is that important?
Because Chapel Hill is a really different place than it was in 1993, when Marshall purchased a home here. And how Chapel Hill has changed over the last 30 years has changed who can now flourish in Chapel Hill.
Let's set the stage a bit. 1993. Meatloaf was singing about doing anything for love. Home Improvement and Seinfeld topped the TV airwaves. UNC won the NCAA tournament, their third.
And down in Chapel Hill, a sleepy little college town was….still pretty sleepy. In-state tuition at UNC was $1,454. (In today's dollars, that's $3,037.16)  Room and board were $4,050 combined ($8,459.76 today.) Chapel Hill's artists, musicians, and poets could afford to live on North Street, a short hop from Franklin Street – for a few hundred bucks a month. The vacancy rate, as of Nov. 1993, was 1.6% in the Triangle.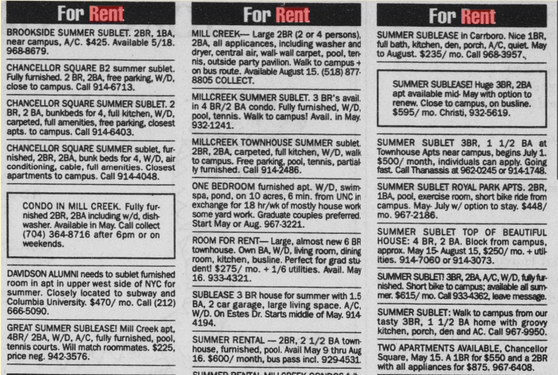 Ninety one homes were sold in May 1993 in Chapel Hill. The average sales price of those homes was $150,603 ($314,584 in today's dollars). Buying a home cost roughly 2.3 times the salary of an average full humanities professor in NC 30 years ago, and four times the salary of the average assistant humanities professor.
In 1995, roughly 41% of Town of Chapel Hill employees lived in Chapel Hill zip codes.
Fast forward 30 years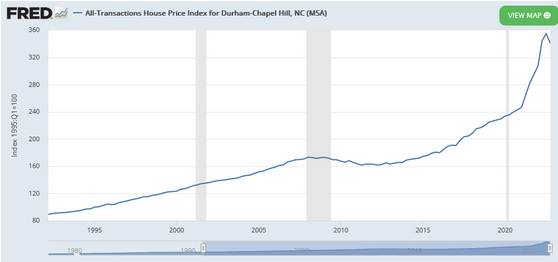 Tuition in 2023 jumped to $7020. Room, fees, and board are now a whopping $14,994 for in-state students.
The median sales price for a home in Chapel Hill last month was $674,000, up 22% from last year.  Buying a home in Chapel Hill now costs more than five times the salary of the average full humanities professor, and roughly nine times the salary of an average assistant humanities professor. We're seeing professors priced out of Chapel Hill – not to mention staff and graduate students. The commuting circles for UNC are expanding outwards. Commutes are lasting longer.
Between 2010 and 2022, we saw a 20% decrease in owner households earning less than $150,000/year.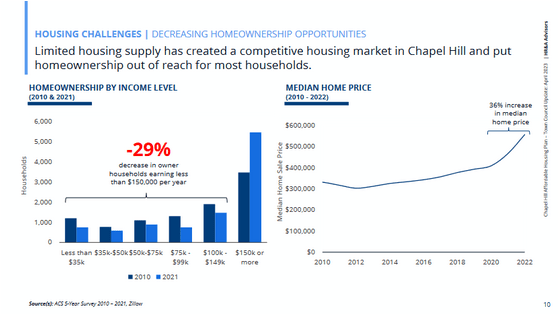 As we wrote yesterday, "If past is prologue, we anticipate that many of the people opposed to adding housing choices in our community will, like Marshall, open their remarks tonight by mentioning how many years they've lived in Chapel Hill, as if their perspective matters more if they've been here for thirty years instead of three. But the topic under discussion on Wednesday isn't whether the Chapel Hill of the 1990s was great or not. It's whether we want to make Chapel Hill a place where people born in the 1990s can thrive.
Voting yes for this text amendment will change our town. But so will voting no. We live in one of the fastest growing regions of the country. If we do nothing, we are on a glide path towards making our town a place where the average home sells for $1M, pricing out anyone who makes less than six figures and has help from family members to make a down payment.
If we want to retain the spirit of Chapel Hill, not just the buildings that we temporarily call home, we need to consider this text amendment in a broader context. Are we interested in preserving Chapel Hill for some, the people lucky enough to already own houses here and the even richer people who will someday buy their homes? Or can we build a Chapel Hill For All, a place where people from all backgrounds can thrive.
Data for this piece was taken from UNC's Office of Institutional Research and Assessment, the Daily Tar Heel, the News and Observer, the American Community Survey, Redfin, the Census Bureau, and the St. Louis Federal Reserve Bank,