Earlier today, Linda Brown, one of CHALT's coordinators, doxxed us in the semi-private NextDoor group she runs. Our addresses were posted, along with our names.
We can't respond in Linda's group. That's because she has blocked us all from participating in the group. We are appreciative of the many people who reached out to us with screenshots, and we are responding here instead.
This was highly inappropriate. We know that all of our names and addresses are publicly available online — but posting them collectively in a private group of several hundred people is a direct invitation to harass us for expressing different points of views about local issues.
We are asking Linda Brown to remove this post immediately.
Posts like these make people scared to speak up in local politics. We know of graduate students and non-tenured faculty who do not speak up because there are possible job ramifications to advocating for greenways and different kinds of housing. Many of the loudest voices in these conversations are tenured professors with a lot of political and social power.
We were also horrified to see the comments on this post. They are ugly, ugly, ugly. We are sharing one below, which was in response to someone saying they might have to move out of Chapel Hill because it's growing more expensive.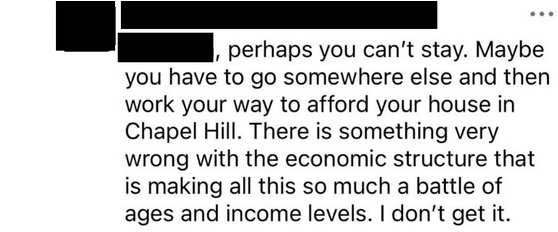 Here's the deal: We have a different point of view — that we should have ample housing, that we should build out our greenway networks, and that we should welcome people of all different income levels and ages to our community.  We want to build a Chapel Hill where people at every stage of life and at all income levels can find a home.
It's fine to disagree. It's appropriate to argue. What's not acceptable is to post everyone's address as an invitation to harass. We hear a lot about the need for "civility," and this is about as far from civil as you can get.
We expect this to get worse in the coming weeks as election season heats up. If you see behavior like this on a listserv or a private online space, please let us know: triangleblogblog@gmail.com
And know this: We don't plan to stop writing about what's going on in local civics, and advocating for a more inclusive, kind and sustainable community.
Geoff Green
Martin Johnson
Melody Kramer
John Rees
Stephen Whitlow