Last month, at the Chapel Hill Town Council meeting to discuss the American Legion property, a man spoke about the modest home he and his wife purchased decades ago when they were graduate students at UNC. He noted that they were unable to afford to join the local swimming pool at the time because it was too pricey.
We were struck by his remarks, because it is extremely unlikely that someone living on a graduate school stipend at UNC could afford to purchase a home — any home — in Chapel Hill in 2023. The median price of sold homes in Chapel Hill, according to Zillow, was $615,000 as of November 2022 – up 20.2% over the year before. This year, graduate stipends for doctoral students at UNC were raised to $20,000. If a doctoral student was able to save their entire salary, it would take them more than eight years just to put up a down payment for the average house here.
Missing middle housing is naturally more affordable
That's why we're really excited about the conversation the Chapel Hill Town Council plans to have about allowing a greater variety of homes of all shapes and sizes — duplexes, triplexes, quadruplexes —to be built in our neighborhoods. In much of Chapel Hill, these middle-class, workforce housing choices are currently illegal to build. That means only the biggest and most expensive housing can get built.
In effect, we have outlawed the starter home, which was a rite of passage for so many of our parents and grandparents. We are forcing young families to either rent where jobs and good schools are located, or buy an affordable home so far from areas of opportunity that they will spend countless hours driving.
Listen to Council Members Anderson and Miller-Foushee talk about how these housing choices can benefit our communities.
Who would benefit from more housing choices?
Most of our housing falls into two categories: expensive homes located on large lots in sprawling, car-dependent neighborhoods, or large apartment complexes. While these choices work for some, our limited housing supply leaves many people with insufficient housing choice, including:
Older adults who are no longer able to live on their own, but want to have their own living space.
Single people who want to own their own home in Chapel Hill, but prefer something more manageable than a 2,500 square foot house with a large lawn to care for.
Young families who need to live close to work, or prefer the community offered by older neighborhoods.
People who are experiencing difficult life changes, like job loss and divorce, but want to stay in their community and close to their children.
The AARP recently published a primer on missing middle housing which profiles different people who benefit from having smaller, more attainable housing choices. Here are some: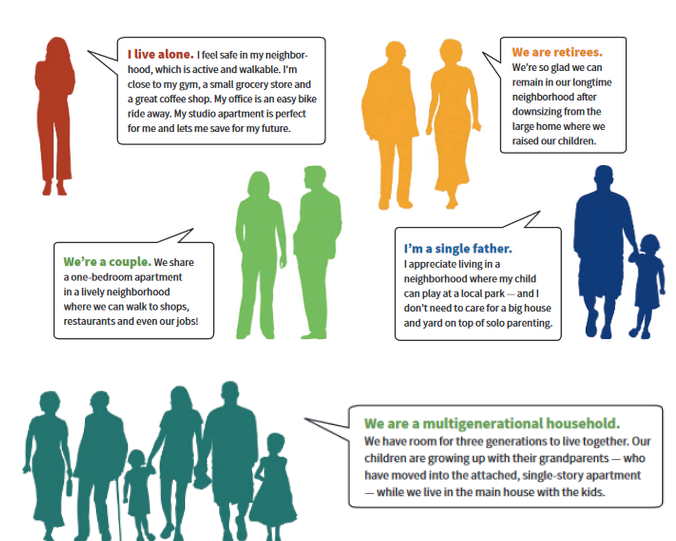 Where we live shapes much of our lives — from our commute times to where our kids can attend school. Allowing for a range of housing choices means more people can share in the opportunities we have in Chapel Hill.
Here is what we mean when we say missing middle housing: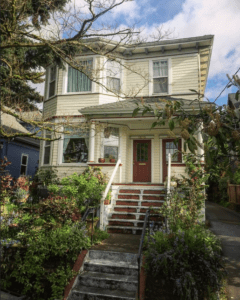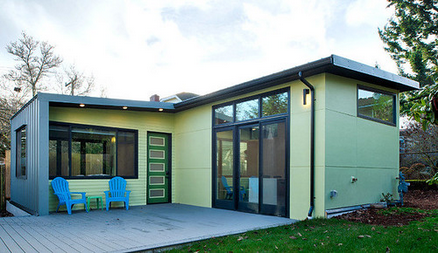 People at different stages of their lives make different housing choices
The proposed text amendments will help us create a stronger community:
If you have an aging parent or an adult child with special needs, you can build a backyard cottage for them so they can live independently but have you close by in case they need help.
If you find yourself facing difficult life circumstances or want to downsize after your kids go to college, you can stay in your neighborhood, where you have friends and family, instead of having to move far away.
If you want to go back to school, or change your career, you can build an addition to your home that will make it possible for you to have some extra income.
If you live alone, you can buy a one or two bedroom house in a cottage court.
If you live in a multigenerational household, and want to share housing costs with family members without living in the same house, you can buy a triplex with three small apartments.
Chapel Hill isn't the first place to tackle this

Chapel Hill is not the first town to make it possible to build different types of housing to accommodate all the different types of families who need places to live. In fact, it's how we used to build neighborhoods before we started planning everything to accommodate cars instead of people.
Many other communities across the country have enabled more diverse housing choices in recent years, and in almost every case there is a determined group of opponents that use scare tactics to argue for the status quo. We are starting to see such emails circulating here. There are a few important things to keep in mind:
Our neighborhoods will change, as they have done for decades. Re-legalizing modest, mixed-income housing means we can shape our neighborhoods and communities to have affordable choices for all of our neighbors.
These changes are permissive not mandatory. No one is forcing anybody to do anything. Folks who want to keep their single-detached homes or build new ones can continue to do so.
We don't want to live in a place where people tear down homes and can only build McMansions. We want a return to protecting mixed-income neighborhoods.
Design rules will limit the look-and-feel of these new homes to what is allowed for single-detached homes in the neighborhoods today.
It's going to be ok, and probably even better!
Take a deep breath. You live in one of the most attractive places in America. If you own your home, there is next to nothing the town can do that will cause your property value to decrease. If UNC closes, and UNC Hospital goes under, and CHCCS gives Donald Trump Jr. a lifetime appointment as superintendent, and RTP inexplicably vaporizes, it may be time to start worrying about that. But a new triplex down the street? You might get a few cool neighbors, but your investment is going to be just fine.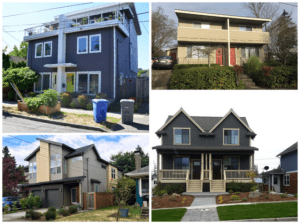 If you're excited about this, tell the town council!
Too often, our elected officials only hear from people when they're angry. If you support expanding housing opportunities in your neighborhood, let the council know. You can write to them here: mayorandcouncil@townofchapelhill.org
This piece was written by Stephen Whitlow, Martin Johnson, Geoff Green, and Melody Kramer.