Triangle Blog Blog contributor Geoff Green sent this note Friday to the mayor and town council members in Chapel Hill and we wanted to share it with you.
I want to thank you for approving the Complete Community Framework and the Everywhere to Everywhere Greenway Plan, and for your decision to move forward on implementation of the greenway plan.
Coincidentally, yesterday for the first time my 14-year-old son rode an e-bike to East Chapel Hill High School. I've attached photos below. It's a nearly six-mile trip with significant elevation changes, so I'm confident that makes him the only 14-year-old from my neighborhood to get to school on his own. The ebike provides him the freedom to go places on his own that is lacking for so many of our children who are not old enough to get drivers licenses, or whose parents can't spare the cost of a car for their kids to use. And the facilities that the town has already constructed are just (barely) good enough that I'm comfortable for him making the trip.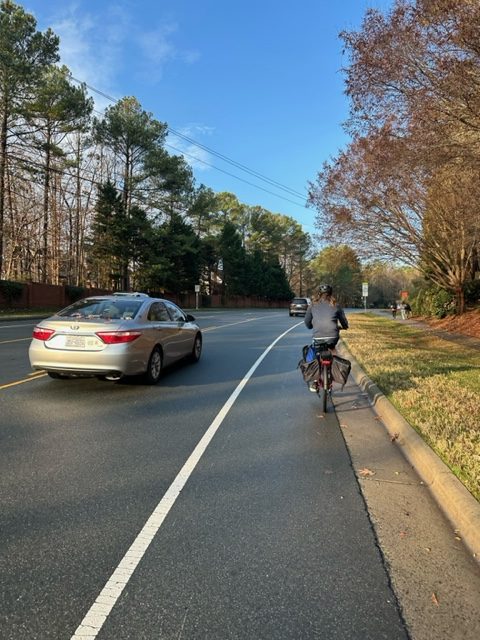 As his father, I'll admit it was a little frightening for me. While a portion of the trip takes place on the Booker Creek Trail, part of the town's existing network of greenways, too much of it takes place on narrow sidewalks and mediocre bike lanes, such as those on Weaver Diary Road, where he runs a reasonable risk of serious injury, not to mention the rounds about at Weaver Dairy Road and Sage Road where there are no bike accommodations. (After arriving home, he noted with surprise that there was a car occupying the Weaver Dairy bike lane as he was riding home.) There are also fraught crossings of Fordham Boulevard and Franklin Street.
That's why I'm so thrilled for the Everywhere to Everywhere Greenway Plan. It will give so many more people of all ages safe and environmentally sustainable opportunities to get to school, to work, and to recreation. Teenagers will be able to reach so many more destinations without being ferried by parents or older teen drivers. In conjunction with the Housing Choices Initiative, this will help create a connected, accessible community for all. And hopefully my ninth grader won't be the last to bike from home in east Chapel Hill to school in north Chapel Hill.