We're thirty minutes into the Nov. 16 meeting of the Chapel Hill Town Council, and in the words of The Carpenters…"we've only just begun."
7:30: We open with a petition from the Save Legion Park group. Virginia Gray opens with quoting Joni Mitchell. She notes "Some of us remember Joni Mitchell. Others have never heard of Joni Mitchell." (they are planning to build a park)
7:40: Someone should tell these kids in the apartment complex that doesn't allow them to play about Ephesus Park—which is right next to the American Legion site.
7:41: "Delight in the songs of our 88 species of birds…" as the 3 minute bell chimes.
7:42: People are concerned about trees being clear cut, but don't they realize some of the courts or other amenities they recommend will require clear cutting? Like a field?
7:44: And here's a counter petition supporting the use of part of the Legion site for affordable housing. This is a great way to govern — dueling petitions!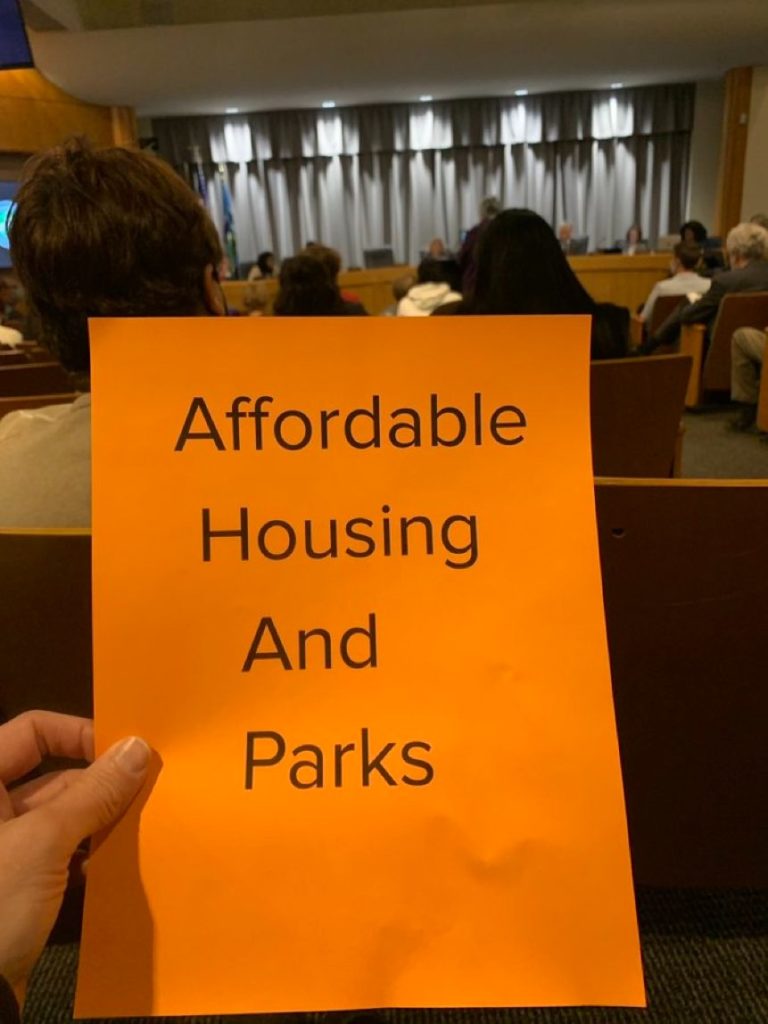 7:46: Alice Jacoby, a member of the Orange County Affordable Housing Coalition, speaks in favor of building parks and housing at the Legion site. Several in the audience stand up with orange signs that read "affordable housing and parks" before the Mayor reminds them that signs are no longer allowed at Town Council meetings. Also, no cheering or clapping. At the end of the comment, we have copious snapping of fingers instead.
7:47: TBB is currently developing a formula that will take the signatories of each petition, weight each person's vote (if you own your house, of course your vote counts more! Super bonus if you've lived here for more than 20 years), and come up with the scientifically proven ideal outcome for the Legion site.
7:49: Oh hey, coal ash makes an appearance! Something else that's not on the (very long) agenda.
7:52: And now public comment against a park at all at Legion Park. We've got all sides represented tonight! (Ed note: The plan is to put housing AND a park on the land, as we have detailed extensively.)
7:56 We have a new poet laureate. We commission him to write a sestina about the Legion Park area, a limerick about greenways, and an ode to the NSBRT.
7:57: Team Transit is here to give an update on the LUMO: Brian Litchfield, Caroline Dwyer, Matt Cecil, and Diedra Whittenburg-McEntyre.
7:59: Tonight's presentation lays the groundwork for both the BRT and transit oriented development. (See TBB's coverage of the BRT here).
8:00: The town is planning to submit a proposal for federal funding in August. But they have to meet several deadlines before then, including adopting changes to its land use ordinances in February 2023.
8:03: Chapel Hill is competing with Nashville, Memphis, Jacksonville, and Louisville for funding. Maybe the FTA will allow us to settle things with a basketball game?
8:04: Six months ago, we had a large funding gap, but thanks to changes in the federal funding process, and a generous contribution from Orange County, we're now much closer to realizing this project. (Which has been in the works for fourteen years).
8:06: Caroline Dwyer—"Planning is a spectrum." Notes that Transit Oriented Development (TOD) responds to particular needs in specific places.
8:07: In the most recent Federal Transportation Administration's evaluation of the NSBRT, the town received a low-medium rate for "Transit Supportive Plans & Policies." Fortunately, getting a better rating doesn't require money. We just need to change policy.
8:10: Dwyer notes that the TOD is being developed with equity in mind.
8:12 Matt Cecil, NS BRT is a step toward building a complete community. Notes that Chapel Hill would be one of the smallest communities to have a BRT.
8:14: Whittenburg-McEntyre to council members—"where do we need you and when do we need you?" She answers her own question, "All the time."
8:19: Council members comments on the proposal. Amy Ryan notes that she wants to see more green infrastructure in the project, and asks about areas that have been identified for TOD development. Mayor notes that there's some "glaring errors" in the map.
8:24: Now starting a discussion on use of ARPA (recovery act) funds on downtown projects, presented by Dwight Bassett. the town's economic development manager.
8:25: First ask is $500,000 for a streetscape enhancement and mobility study to make downtown "more inviting for all that visit."
8:30: Councilmember Searing asks about the use of the funds to cover the $9 million cost overrun on the downtown parking deck, and Bassett emphasizes the need for a parking deck and streetscape investment (no matter the cost, it seems!)
8:33: After some words from Councilmember Stegman, Bassett goes onto the downtown bathroom question and presents a preferred option — $75,000 per year for additional cleaning to allow the downtown bathrooms to be open 24/7.
8:37: Bassett: "I am very cautious with my dollars," shortly before asking for an extra $9 million for a parking deck which was originally going to cost $25 million and will now cost $48 million.
[9:06: The TBB Live Blog Blog is ending for now but we'll be back in the morning with more to share!]