This piece has been updated to reflect the spaces in Chapel Hill and Carrboro that have dedicated pickleball facilities or facilities that can convert to pickleball courts.
Last night, approximately 80-100 pickleball players – dressed in white and holding their paddles – descended on the Chapel Hill Town Council session at the library. One carried a sign that said "We are inclusive!" Another had a sign that said "We are diverse!"
Council members were there to hear a staff presentation on ARPA funding allocations, and to talk through ARPA community partner projects, which include things like mitigating early learning loss, food for families, and water bill debt forgiveness.
The pickleballers were there to make the case that some of the ARPA money set aside for parks and rec should go to building them more courts. In an email to Council earlier, they also said that they would be able to match up to $400,000 to help build pickleball courts.
From the slides presented last night, we can see that Parks and Rec has spent part of their ARPA budget on much-needed repairs for the Cedar Falls artificial turf, where people play soccer. There are a number of items on this list that we'd like to see — particularly the adaptive playground and the splash pad. We were excited to see that a feasibility study has been conducted for both attractions.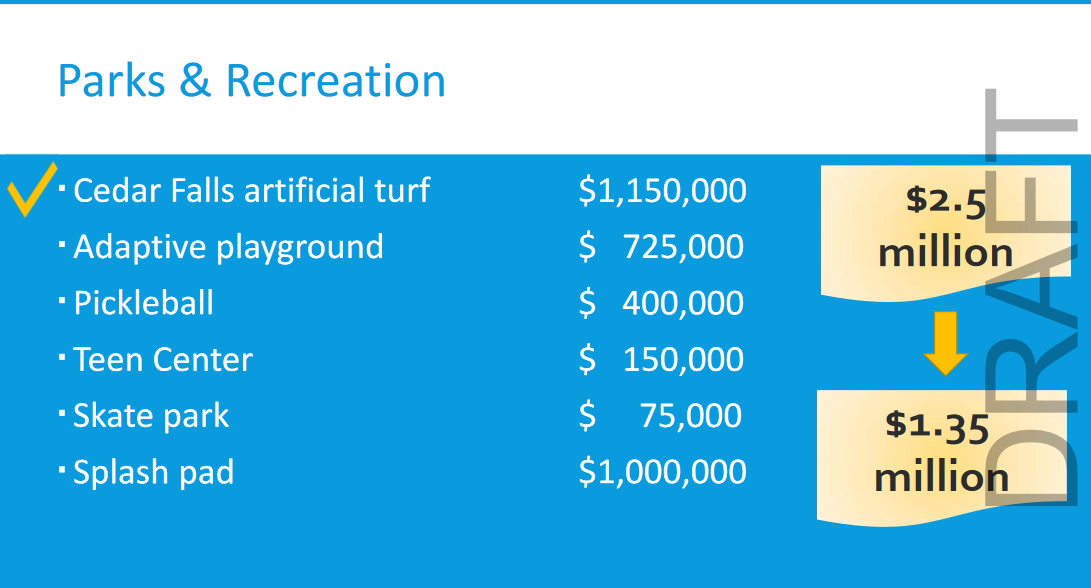 So what happens now?
We're not sure. For the past few weeks, the Chapel Hill tennis faction and the Chapel Hill pickleball faction have been squaring off in the public email box for the Mayor and Town Council.
Tennis players are upset that the pickleballers have taken over their spaces. They're "continually disturbed by the noise levels from the adjacent pickleball courts" and they're upset that "pickleball players play a game and then hang out for hours outside the courts, which add to the noise level and busyness."
We understand the importance of having activities and spaces for our growing senior residents. Hell, we like pickleball.  Carrboro and Chapel Hill currently have 25+ places where people can play pickleball, including 6 pickleball-only courts, 5 outdoor courts at the Southern Village In-Line Hockey Rink that are used for pickleball, and 20 tennis courts that can convert to pickleball play.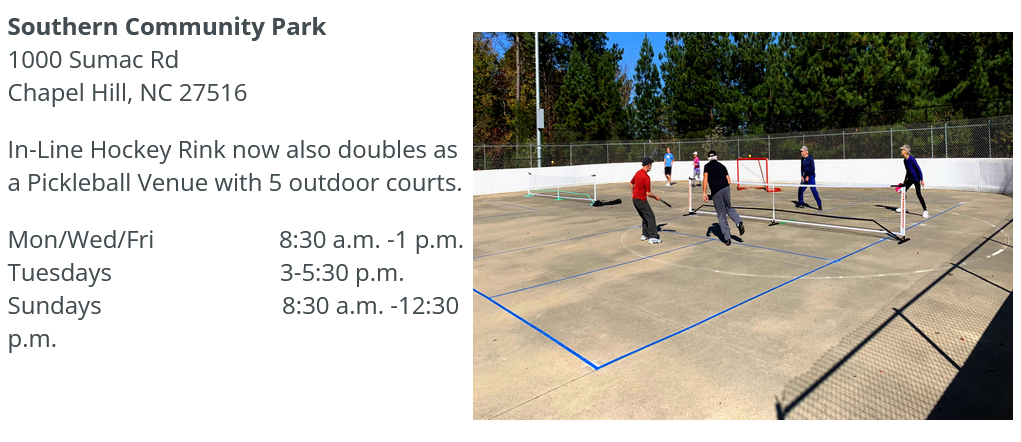 We have 0 adaptive playgrounds. We have 0 splashpads. We have 1 skate park in need of repair.
Chapel Hill Town Council has some difficult choices to make — and we don't envy the position they're in as they contemplate how to proceed.