On Tuesday June 21, Dr. Jenny Schuetz, a Senior Fellow at Brookings Metro and the author of Fixer-Upper: How to Repair America's Broken Housing Systems will join Stephen Whitlow, who serves on the Planning Commission for the Town of Chapel Hill, is a member of NEXT, and writes for Triangle Blog Blog, for a wide-ranging discussion focused on housing affordability and zoning reform nationwide, as well as in the Triangle region.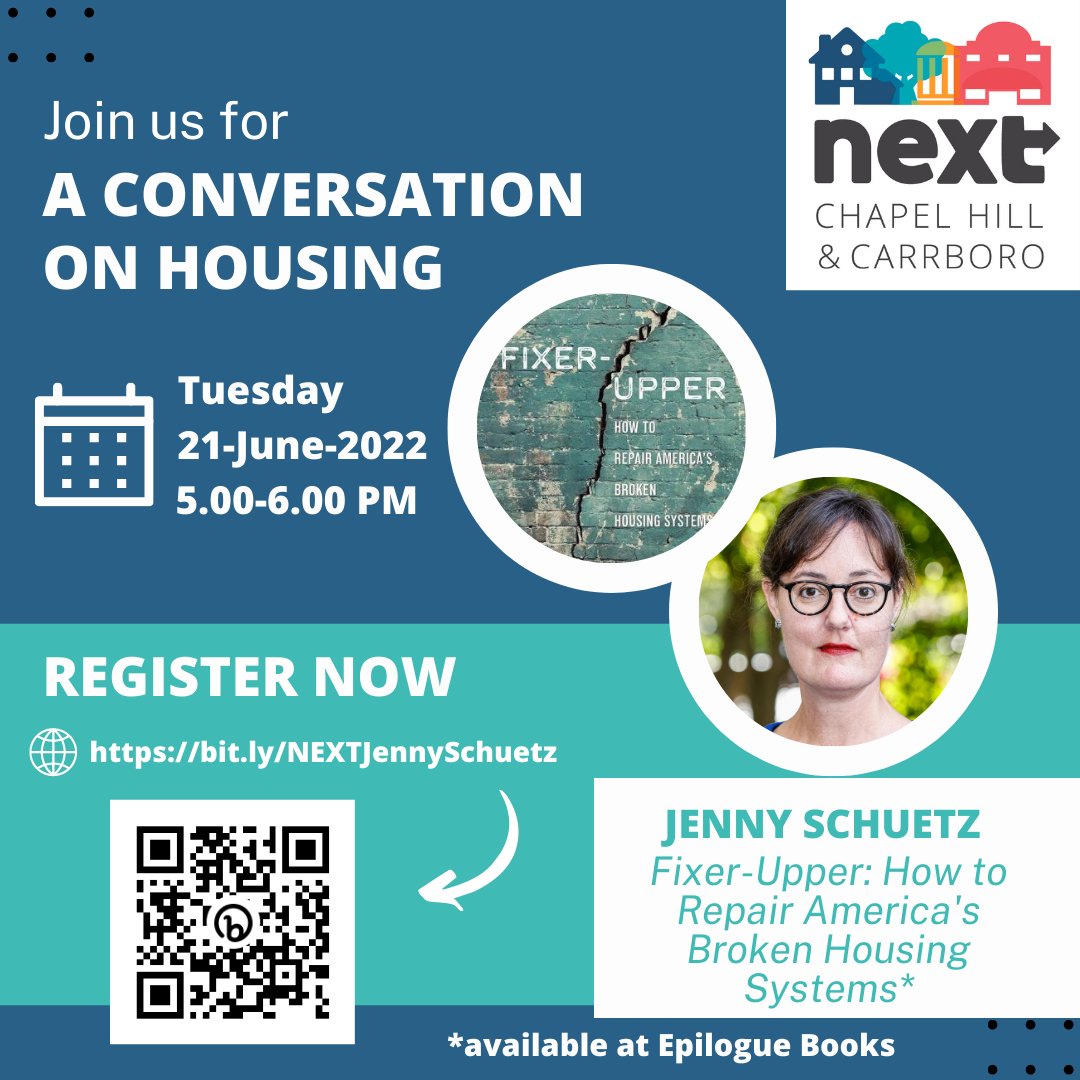 You can register for the talk here and purchase her book at Epilogue Books in Downtown Chapel Hill. (It is also available (in full-text) through the UNC Library.)
Schuetz leads the Future of the Middle Class initiative at Brookings, a project which seeks to advance public understanding of challenges facing the middle class and barriers to upward mobility.
In advance of her talk, we've compiled some of her writing and research.
On this episode of the Brookings Cafeteria, an expert on housing policy discusses her new book that addresses America's housing challenges and proposes practical changes to make more housing available and affordable for all Americans. Jenny Schuetz is a senior fellow in Brookings Metro and author of the new book, "Fixer-Upper: How to Repair America's Broken Housing Systems," publishing this month by Brookings Institution Press. You can find it on our website, Brookings.edu. She's interviewed by Brookings Press Director Bill Finan.
Many of these supply-constrained metro areas do in fact feature building booms in select areas — downtown or in gentrifying neighborhoods — but the vast majority of urban and suburban land is generally set aside for single-family homes and has almost no construction happening in it.
As cities across the United States have rebounded from the Great Recession, an increasing number of households in urban areas are facing high rent burdens in order to remain in their current neighborhoods. Several policy options have been used to maintain or increase the supply of below-market-rate housing, including inclusionary zoning (IZ), tax increment financing, and household-based subsidies such as vouchers. In this article, we describe the problem of affordability in rising markets and review existing evidence on how well local policy approaches work. The most widely used policies, local IZ and statewide "fair share" laws, have produced relatively small numbers of affordable units and are therefore unlikely to substantially mitigate the effects of rising housing costs. More effective policies to develop and preserve affordable housing, particularly in high-opportunity neighborhoods, will require increased public and private funding and political support.
Moving commuters in individual cars (especially sole-occupant vehicles) requires much more physical space compared to shared buses or trains. Smaller shares of transit riders mean more traffic congestion and longer commute times for everyone. The transportation sector is one of the largest contributors to greenhouse gas emissions and localized air pollution; more drivers and fewer transit riders leads to worse air quality and more negative health outcomes in the region. 
First, building homes near job centers and public transportation reduces vehicle miles traveled—a major source of GHG emissions. Second, mixed-use development that integrates housing with stores, restaurants, and services allows people to run daily errands and socialize by walking or cycling instead of driving. Third, small homes—including townhouses, duplexes, and apartments in multifamily buildings—use less energy than single-family detached homes.
In a new study, I examine what state governments can—and should—do to encourage healthy housing markets. I identify four broad goals to guide statewide housing policies, discussed in more detail below. To illustrate the range of existing state policy approaches, I examine the types of policies uses by five contrasting states: California, Massachusetts, Oregon, Utah, and Virginia.