Robert "Bob" Drakeford, the first and only Black mayor of Carrboro who planned the Chapel Hill-Carrboro bus system, increased the town's commercial base, and created many of Carrboro's bikeways, died on Monday. He was 77.
Mayor Drakeford was elected in 1977 and served until 1983. Much of his focus was on public transit and advancing cycling infrastructure in the town. He also served as the president of the North Carolina Association of Black Mayors.
Originally from New York, Drakeford moved to North Carolina to attend UNC, where he received a master's degree in planning and public health. In a 1983 interview with the Daily Tar Heel, he said "We took a town that was in the '40s really and brought it into the '80s in less than six years."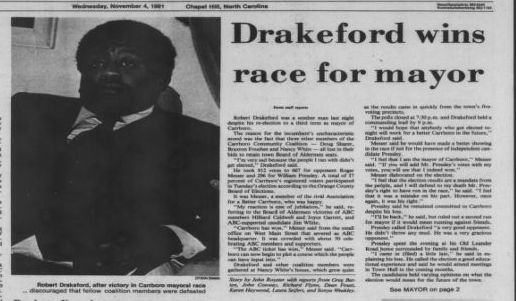 In an episode of his podcast from February 2022, Drakeford reflects on his time as mayor and championing public transportation.
"The town of Carrboro – as it is now — I changed it into what it is now," he said. "Basically, Parks and Recreation to the Carr Mill Mall to the bus system … that's a map I drew at my kitchen table. And that's the main bus system. And without Carrboro, there would be no bus system."
The entire episode, available below, is worth a full listen.
In a town press release, Mayor Damon Seils remembered the progressive planner who created the Carrboro Community Park, now known as Hank Anderson Park.
"Mayor Drakeford brought a planner's sensibility and a forward-looking vision to a Carrboro that was ripe for both," he said. "Many of his priorities, from expanding public transportation and improving pedestrian and bicycle infrastructure to fostering a welcoming, inclusive community, are at the heart of what we in Carrboro continue to reach for today.
"I offer sincerest condolences to Mayor Drakeford's family from the community he made a better place."
Read more: